Insights on Excellence® Research
The Insights on Excellence® (IoE) benchmarking data brings forward emerging organizational performance trends to ASQE and ASQ members after unprecedented years of change and disruption across industries. In 2020, the foundational data set gathered established the global performance benchmarks for organizations across four levels of maturity, creating the base metrics for ASQE's IoE Benchmarking Tool—a leading benefit within all three of the ASQE Organizational Membership levels. The corresponding growing library of research can be used by our members and the quality community to define a pathway to improved performance year over year.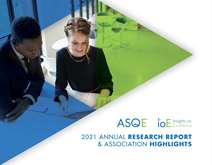 2021 ASQE Insights on Excellence Annual Research Report
Each year, the goal of this report is to deliver actionable guidance to our member communities to pursue best practices in organizational excellence and operations. Since ASQExcellence (ASQE) published our 2020 Annual Research Report, the challenges of the COVID-19 pandemic have continued to present significant disruption across most industries and changed the ways in which business is done. This year's report presents a year-over-year comparison of our 2020 benchmarking data set with new 2021 research, identifying emerging trends and providing insights on what concerns are most prevalent throughout the quality community during these uncertain times. In this report, you will see a comprehensive collection of updates to the benefits available to our ASQE Organizational Members, including the new membership levels and resources such as our Insights on Excellence (IoE) benchmarking tool. In addition, we are pleased to share a look forward to the future, as ASQE continues to evolve and create new offerings, and further develop our connection with ASQ.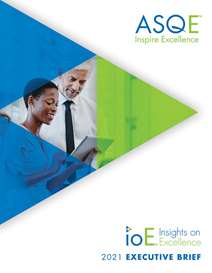 2021 ASQE Insights on Excellence Executive Brief
Achieving and sustaining organization-wide quality excellence is a difficult challenge, but developing and maintaining these initiatives during a completely unprecedented global pandemic is beyond complex. In 2017, when ASQ published "The Rising Economic Power of Quality" research report, the global economy was finally climbing out of the 10-year Great Recession, but had yet to face the immediate need for digital transformation that the 2020 pandemic demanded. Now, as ASQE builds upon this research in 2021 with the publication of our second Insights on Excellence Executive Brief, we see the challenges faced by organizations in the aftermath of the pandemic have changed significantly from those seen from 2017-2020—the data in our reports clearly shows that implemented solutions suddenly need change and a fresh perspective.