Featured Book
Featured Book
The ASQ Pocket Guide to Root Cause Analysis
Andersen, Bjørn; Natland Fagerhaug, Tom, November 2013
All organizations experience unintended variation and its consequences. Such problems exist within a broad range of scope, persistence, and severity across different industries. Some problems cause minor nuisances, others leads to loss of customers or money, others yet can be a matter of life and death.
The purpose of this pocket guide is to provide you with easily accessible knowledge about the art of problem solving, with a specific focus on identifying and eliminating root causes of problems.
Root cause analysis is a skill that absolutely everybody should master, irrespective of which sector you work in, what educational background you have, and which position in the organization you hold. The content in this little pocket guide can contribute to disseminating this skill a little further in the world.
Member Price: $
20.30
List Price: $

29.00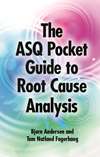 ---
---
Contact Quality Press
North America: 800-248-1946
Mexico: Mobile/cell 001-877-442-8726;
other phone 001-882-442-8726
All other locations: +1-414-272-8575
Fax: 414-272-1734
Email: books@asq.org
---
---
Subscribe to Quality Press News
Our monthly e-newsletter
Become an Author
View our proposal guidelines, including current calls for authors.
---
Coming Soon to Quality Press
May 2020
The ASQ Certified Quality Improvement Associate Handbook, 4th Edition by Grace L. Duffy and Sandra L. Furterer (H1571)
Connected, Intelligent, Automated: The Definitive Guide to Digital Transformation and Quality 4.0 by N.M. Radziwill (H1567)
June 2020
Building an Innovation Management System with ISO 56000 by Peter Merrill (H1576)
The ASQ Certified Quality Auditor Handbook, 5th Edition by Lance B. Coleman Sr., Editor (H1570)
July 2020
The ASQ Certified Quality Manager / Operational Excellence Handbook, 5th Edition by Douglas Wood and Sandra L. Furterer, Editors (H1569)
Learn more about Quality Press
Find information about ordering and connecting with Quality Press.