Featured Book
Featured Book
The ASQ Certified Quality Improvement Associate Handbook, Fourth Edition
Grace L. Duffy and Sandra L. Furterer, editors, June 2020

Quality Improvement: Basic Principles and Practices
The ASQ Certified Quality Improvement Associate (CQIA) certification introduces the basics of quality to organizations and individuals who are new to quality. This book, and the Body of Knowledge (BoK) it supports, form a foundation for applying proven quality principles and practices that are used around the world.
This handbook follows the CQIA BoK in both content and sequence. Let it serve as your guide in preparing for the ASQ CQIA examination, and refer to it frequently as you learn and implement these ideas and tools in your organization. ASQ's experts help you navigate:
Quality terms, benefits, and philosophies
Team organization, roles, responsibilities, and dynamics
Continuous improvement concepts, processes, and tools
Root cause analysis and risk management
Supplier and customer relationships
This edition features ample material that stretches beyond the content of the BoK, making it useful for any quality practitioner—not just those who plan to become certified. In this book, you'll find a thorough overview of quality tools and history—presented in an accessible manner and easily understood by non-engineers. Start on your quality path here.

Grace L. Duffy is the author of 15 books and over 260 published papers and articles. She is an ASQ Certified Manager of Quality/Organizational Excellence, Quality Improvement Associate, and Quality Auditor. Grace is a certified Lean-Six Sigma Master Black Belt and Manager of Process Improvement.

Dr. Sandra L. Furterer is an Associate Professor and Associate Chair at the University of Dayton in the Department of Engineering Management, Systems, and Technology. She is an ASQ Certified Manager of Quality/Organizational Excellence, an ASQ Certified Six Sigma Black Belt, an ASQ Certified Quality Engineer, an ASQ fellow, and a certified Six Sigma Master Black Belt.
Member Price: $
73.50
List Price: $

105.00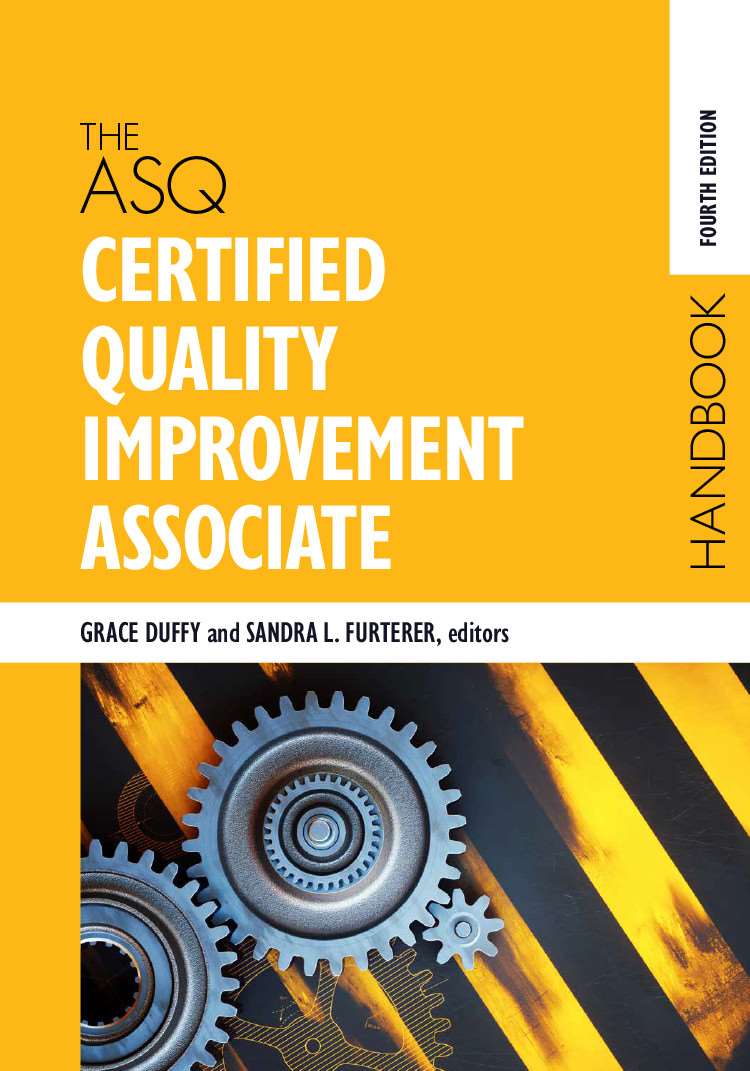 ---
---
Contact Quality Press
North America: 800-248-1946
Mexico: Mobile/cell 001-877-442-8726;
other phone 001-882-442-8726
All other locations: +1-414-272-8575
Fax: 414-272-1734
Email: books@asq.org
---
---
Subscribe to Quality Press News
Our monthly e-newsletter
Become an Author
View our proposal guidelines, including current calls for authors.
---
Coming Soon to Quality Press
June 2020
The ASQ Certified Quality Improvement Associate Handbook, 4th Edition by Grace L. Duffy and Sandra L. Furterer (H1571)
Connected, Intelligent, Automated: The Definitive Guide to Digital Transformation and Quality 4.0 by N.M. Radziwill (H1567)
July 2020
ISO 56000: Building an Innovation Management System: Bring Creativity and Curiosity to Your QMS by Peter Merrill (H1576)
The ASQ Certified Quality Auditor Handbook, 5th Edition by Lance B. Coleman Sr., Editor (H1570)
Beyond Compliance Design of a Quality System: Tools and Templates for Integrating Auditing Perspectives by Janet Bautista Smith and Robert Alvarez (H1573)
Learn more about Quality Press
Find information about ordering and connecting with Quality Press.