Featured Book
Featured Book
Mistakes in Quality Statistics and How to Fix Them
Donald W. Benbow, June 2021
Throughout Don Benbow's extensive career, teaching mathematics and statistical courses to college students and corporate employees, one common question always popped up: how do you fix statistical errors in quality? Most textbooks and courses tend to emphasize how to perform statistical analysis and give little attention to errors that can occur in the process. This book intends to teach readers how to avoid common pitfalls by providing examples and scenarios based on similar real-world events. The book also provides "caveats" (or quick tips) to help readers navigate their way through statistical methodology.

Donald W. Benbow has conducted industrial statistics courses for companies for over three decades. In addition, he taught mathematics, statistics, freshman engineering, quality assurance, and computer science course at Marshalltown Community College. He has a BS degree in mathematics from Iowa State University and a MS degree in mathematics from Michigan State University. He is co-author of The Certified Quality Technician Handbook, The Certified Six Sigma Black Belt Handbook, and Introduction to 8D Problem Solving. He is ASQ credentialed as a CQA, CQT, CQE, and CRE.
Member Price: $
28.00
List Price: $

40.00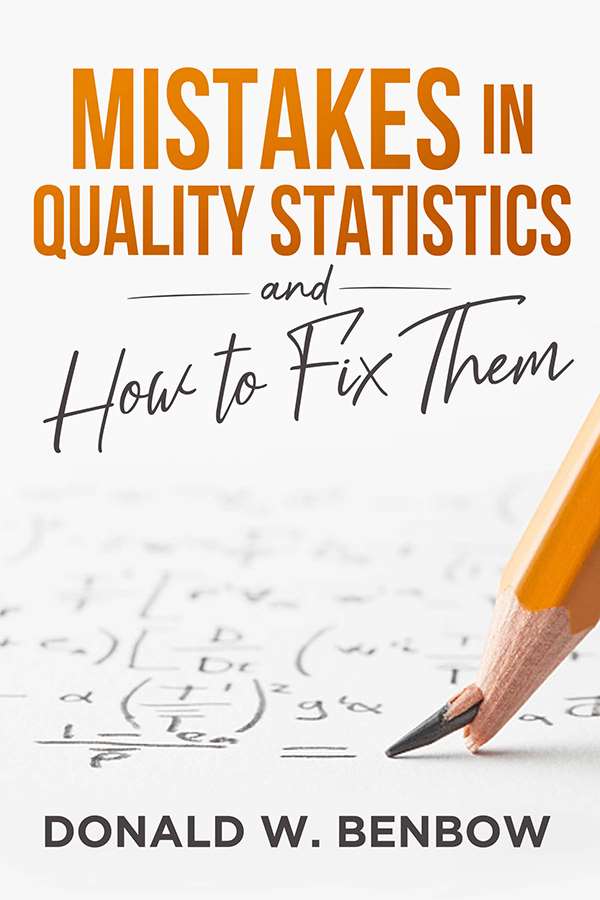 ---
---
---
Contact Quality Press
North America: 800-248-1946
Mexico: Mobile/cell 001-877-442-8726;
other phone 001-882-442-8726
All other locations: +1-414-272-8575
Fax: 414-272-1734
Email: books@asq.org
---
---
Subscribe to Quality Press News
Our monthly e-newsletter
Become an Author
View our proposal guidelines, including current calls for authors.
---
New Release!
Mistakes in Quality Statistics and How to Fix Them by Donald W. Benbow (H1582)

Coming Soon to Quality Press
(Dates are subject to change.)
July 2021
Limitations of Big Data Analytics by William D. Mawby (H1585)
September 2021
Complex Service Delivery Processes, Fourth Edition by Jean Harvey (H1588)
Nuclear Auditing Handbook: A Guide for Quality Systems Practitioners by Karen Douglas (H1590)
October 2021
Cloud Ops by Alka Jarvis, Prakash Anand, and Johnson Jose (H1586)
November 2021
The ASQ Certified Quality Process Analyst Handbook, Third Edition edited by Sandra Furterer (H1579)
Handbook of Investigation and Effective CAPA Systems, Third Edition by Jose Rodriquez-Perez (H1589)
Learn more about Quality Press
Find information about ordering and connecting with Quality Press.