Featured Book
Featured Book
The ASQ Certified Medical Device Auditor Handbook, Fourth Edition
Scott A. Laman, February 2021
The ASQ Certified Medical Device Auditor Handbook (formerly The Biomedical Quality Auditor Handbook) was developed by the ASQ Medical Device Division (formerly Biomedical Division) in support of its mission to promote the awareness and use of quality principles, concepts, and technologies in the medical device community. It principally serves as a resource to candidates preparing for the Certified Medical Device Auditor (CMDA) certification exam. The fourth edition of this handbook has been reorganized to align with the 2020 certification exam Body of Knowledge (BoK) and reference list. The combination of this handbook with other reference materials can provide a well-rounded background in medical device auditing.

Updates to this edition include:
• A discussion of data privacy, data integrity principles, and the Medical Device Single Audit Program (MDSAP)
• Current information about federal and international regulations
• New content regarding human factors and usability engineering, general safety and performance requirements, labeling, validation, risk management, and cybersecurity considerations
• A thorough explanation of quality tools and techniques


About the Editor
Scott A. Laman
is Senior Manager, Quality Engineering and Risk Management at Teleflex, a medical device company. He holds B.S. and M.S. degrees in Chemical Engineering from Syracuse University. Scott is a PMI-certified PMP, Fellow of the American Society for Quality (ASQ), and has seven professional ASQ certifications.
About the ASQ Medical Device Division:
The Medical Device Division provides training opportunities through division conferences, regional discussion groups, joint programs with other ASQ divisions and sections, sessions with regulatory agencies, activities with other professional organizations, and presentations at the World Conference on Quality and Improvement. Its members include medical device manufacturers and users; hospital and healthcare professionals; regulatory personnel; instrumentation producers and users; government agency personnel; and contractors, consultants, and suppliers to these groups.
Member Price: $
105.00
List Price: $

150.00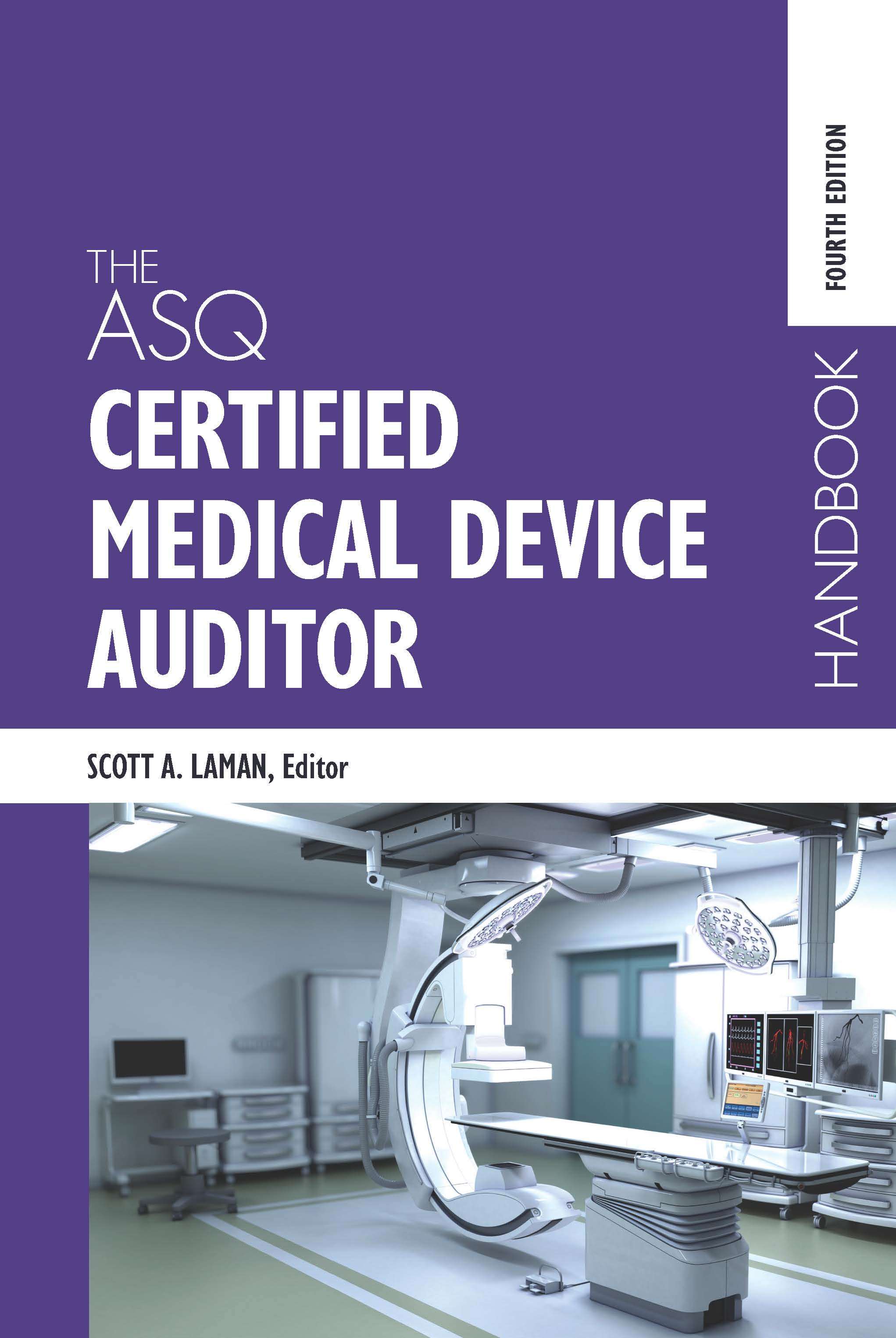 ---
---
---
Contact Quality Press
North America: 800-248-1946
Mexico: Mobile/cell 001-877-442-8726;
other phone 001-882-442-8726
All other locations: +1-414-272-8575
Fax: 414-272-1734
Email: books@asq.org
---
---
Subscribe to Quality Press News
Our monthly e-newsletter
Become an Author
View our proposal guidelines, including current calls for authors.
---
New Releases!
The ASQ Certified Medical Device Auditor Handbook, Fourth Edition by Scott A. Laman, General Editor (H1572)

Insights to Performance Excellence 2021-2022 by Mark Blazey and Paul Grizzell (H1587)

Coming Soon to Quality Press
(Dates are subject to change.)
May 2021
The ASQ Certified Food Safety and Quality Auditor Handbook, Fourth Edition (formerly The Certified HACCP Auditor Handbook, Third Ed.) by Steve Wilson (H1574)
June 2021
Mistakes in Quality Statistics and How to Fix Them by Don Benbow (H1582)
July 2021
Limitations of Big Data Analytics by Dr. William Mawby (H1585)
August 2021
Complex Service Delivery Processes, Fourth Edition by Jean Harvey
September 2021
Cloud Ops by Alka Jarvis et. al. (H1586)
October 2021
The ASQ Certified Quality Process Analyst Handbook, Third Edition edited by Sandra Furterer


November 2021

Handbook of Investigation and Effective CAPA Systems, Third Edition by Jose Rodriquez-Perez
December 2021
The ASQ Metrology Handbook, Third Edition edited by Heather Wade
Learn more about Quality Press
Find information about ordering and connecting with Quality Press.