Quality Press Book Sale:
Members and nonmembers can receive an additional 10% off member prices on all titles published by Quality Press, May 1–May 31, with promo code MAY2020.
Featured Book
Featured Book
Managing Organizational Risk Using the Supplier Audit Program
Coleman Sr., Lance B., April 2018
Risk elimination. Risk management. Risk mitigation. These terms are an increasingly important part of the lexicon of executive-level management as they strive to succeed in a business environment having global competition, geographically diverse suppliers, and new technologies. In this new, globally expansive marketplace, more than 50 percent of value creation is achieved outside of an organization's walls, or, in other words, through their suppliers. This, too, is where the majority of product realization risk lies.
This book defines what risk-based thinking is and how to apply it from the perspective of helping manage organizational risk through the supplier audit process. It provides a detailed and useful discussion of the practical application of risk-based supplier auditing principles. It can be a primer for those new to the profession of supplier auditing, and it also shares tips and best practices that would benefit experienced auditors as well.
The first section explores supplier management, supplier auditing, and the supplier audit process. The second section discusses the skills, both traditional and nontraditional, needed to ensure a successful supplier audit. Relevant aspects of ASQ's Certified Quality Auditor (CQA) and Certified Supplier Quality Professional (CSQP) Bodies of Knowledge are discussed in detail.
The author's friends and colleagues from around the globe shared their own stories in "Case in Point" vignettes interspersed throughout the book, providing first-hand case studies from, among others, the medical device, logistics, automotive, and aerospace industries.
Member Price: $
38.50
List Price: $

55.00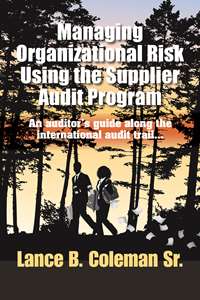 ---
---
Contact Quality Press
North America: 800-248-1946
Mexico: Mobile/cell 001-877-442-8726;
other phone 001-882-442-8726
All other locations: +1-414-272-8575
Fax: 414-272-1734
Email: books@asq.org
---
---
Subscribe to Quality Press News
Our monthly e-newsletter
Become an Author
View our proposal guidelines, including current calls for authors.
---
Coming Soon to Quality Press
June 2020
The ASQ Certified Quality Improvement Associate Handbook, 4th Edition by Grace L. Duffy and Sandra L. Furterer (H1571)
Connected, Intelligent, Automated: The Definitive Guide to Digital Transformation and Quality 4.0 by N.M. Radziwill (H1567)
July 2020
ISO 56000: Building an Innovation Management System: Bring Creativity and Curiosity to Your QMS by Peter Merrill (H1576)
The ASQ Certified Quality Auditor Handbook, 5th Edition by Lance B. Coleman Sr., Editor (H1570)
Beyond Compliance Design of a Quality System: Tools and Templates for Integrating Auditing Perspectives by Janet Bautista Smith and Robert Alvarez (H1573)
Learn more about Quality Press
Find information about ordering and connecting with Quality Press.