Book of the Week
Featured Book
The Lean Strategy
Balle, Michael; Jones, Daniel; Chaize, Jacques; Fiume, Orest , June 2017
A groundbreaking and revolutionary book that will transform how lean is understood, practiced, and used within organizations.

A lean strategy is about gaining a competitive edge by offering better quality products at competitive prices and making a sustainable profit by eliminating waste through engaging employees in discovering deeper ways to think about their own jobs and smarter ways of working together. In its current form, lean has been radically effective, but its true powers have yet to be harnessed.

Lean Strategy harnesses that power and delivers a new way of creating value from lean. Leading lean experts address popular misconceptions about the basics of lean/TPS, showing the true purpose of tools, methods, and attitudes that leverage the intelligence of every employee doing the work. You'll learn how to think—and then act—differently, tapping the power of every person in your organization in a disciplined manner that generates unparalleled, sustainable success that is responsive to today's most pressing challenges.
Member Price: $
35.00
List Price: $

35.00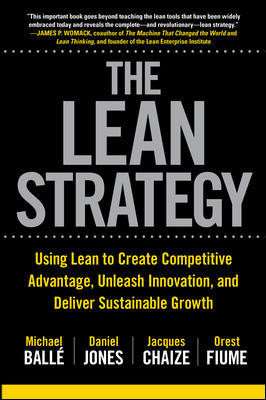 ---
---
Contact Quality Press
North America: 800-248-1946
Mexico: Mobile/cell 001-877-442-8726;
other phone 001-882-442-8726
All other locations: +1-414-272-8575
Fax: 414-272-1734
Email: qpress@asq.org
---
---
Subscribe to Quality Press News
Our monthly e-newsletter
Become an Author
Proposal guidelines and online submission form, including current calls for authors.
---
Coming soon to Quality Press
December
The Certified Quality Technician Handbook, Third Edition

Applied Statistics Manual: A Guide to Improving and Sustaining Quality with Minitab

Learn more about Quality Press
Find information about ordering and connecting with Quality Press.