Featured Book
Featured Book
Structuring Your Organization For Innovation
Jane Keathley and H. James Harrington, December 2020
Organizations face many ongoing challenges, which can lead to restructuring— an expensive, disruptive solution that doesn't always offer successful outcomes or better results. As a business leader in a competitive environment, you must find ways to improve your organization's innovative thinking. Breaking down silos and driving innovation can lead to greater agility in discovering new opportunities and developing creative solutions. In this book, you'll learn how to design a structure that will help foster innovation, agility, and performance by focusing on organizational structure through the eyes of your customers. You will explore five core structural areas—management, process, product, sales and marketing, and services— that can be used to advance innovation.

Structuring Your Organization for Innovation also includes:
• Key characteristics of each organizational structure, including the pros and cons
• Strategic, operational, and tactical considerations
• Real-world case studies
• Tools and tips for practical application

Jane Keathley provides services to regulated organizations in healthcare related industries, including start-up companies, focusing on developing innovative products and services while maintaining effective and compliant operations. She has published and presented widely in quality and other forums.

H. James Harrington is a quality system expert with more than 60 years of experience. He has been involved in developing quality management systems worldwide, has authored more than 55 books, and is the past president of the American Society for Quality.
Member Price: $
21.00
List Price: $

30.00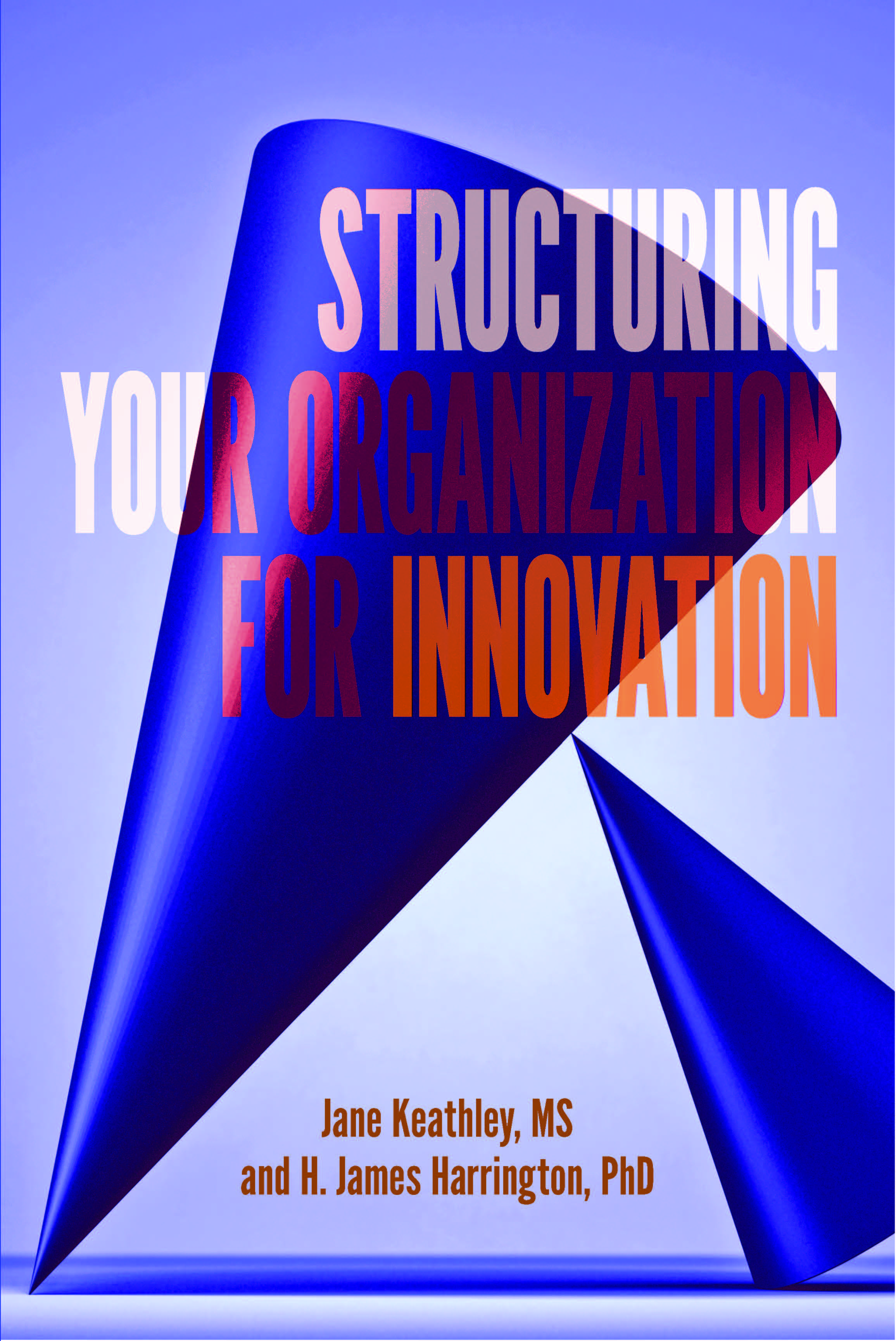 ---
---
Contact Quality Press
North America: 800-248-1946
Mexico: Mobile/cell 001-877-442-8726;
other phone 001-882-442-8726
All other locations: +1-414-272-8575
Fax: 414-272-1734
Email: books@asq.org
---
---
Subscribe to Quality Press News
Our monthly e-newsletter
Become an Author
View our proposal guidelines, including current calls for authors.
---
New Releases!

Structuring Your Organization for Innovation by Jane Keathley, MS and H. James Harrington, PhD (H1577)
Lean Healthcare: A Practical Guide for Executing Lean Improvement with Real-World Case Studies, Second Edition by Dennis Delisle (H1580)

Coming Soon to Quality Press



(Dates are subject to change.)
January 2021
Excelling on a Digital Transformation Journey: A Field Guide to Help You Define Your Success by Therese Costich (H1583)
The ASQ Certified Manager of Quality/Operational Excellence Handbook, Fifth Edition by Sandra Furterer and Douglas Wood, General Editors (H1569)
February 2021
The ASQ Certified Medical Device Auditor Handbook, Fourth Edition by Scott Laman, General Editor (H1572)

March 2021
The ASQ Certified Food Safety and Quality Auditor Handbook, Fourth Edition (formerly The Certified HACCP Auditor Handbook, Third Ed.) by Steve Wilson (H1574)
April 2021

Mistakes in Quality Statistics and How to Fix Them by Don Benbow (H1582)

Insights to Performance Excellence (2021-2022) by Mark Blazey and Paul Grizzell (H1587)




May 2021

Limitations of Big Data Analytics

June 2021

Smart Cities Framework

July 2021

Nuclear Auditing Handbook by the ASQE's Energy and Environment Division

August 2021

Complex Service Delivery Processes, Fourth Edition by Jean Harvey

September 2021

Cloud Ops by Alka Jarvis et. al.

October 2021

The ASQ Certified Quality Process Analyst Handbook, Third Edition

November 2021

December 2021
Learn more about Quality Press
Find information about ordering and connecting with Quality Press.