Book of the Week
Featured Book
The Certified Supplier Quality Professional Handbook
Mark Allen Durivage, editor, December 2016
The importance of a safe, reliable, cost-effective, high-quality, integral, and nimble supply chain cannot be overstated. Equally critical are the supply chain processes (e.g., strategic, procurement, quality assurance, technical, regulatory) that ensure these requirements are met. By extension, then, the supply chain professional is of paramount importance as a creator, driver, and full participant in these business-critical activities. ASQ's Certified Supplier Quality Professional (CSQP) certification provides valuable credentials to quality professionals in the growing field of supplier quality engineering. Due to globalization of the supply chain, supplier quality engineers are becoming more important in a broad spectrum of industries, including manufacturing and service industries.

The purpose of this handbook is to assist individuals taking the Certified Supplier Quality Professional examination and provide a reference for the practitioner. Throughout this handbook, several examples are provided based upon the collective experience and knowledge of the authors and editor. However, these examples are not explicitly specified in regulations, leaving decisions to the company, as well as the burden of justifying practices using sound scientific principles that provide the context of the rationale.
Member Price: $
89.00
List Price: $

135.00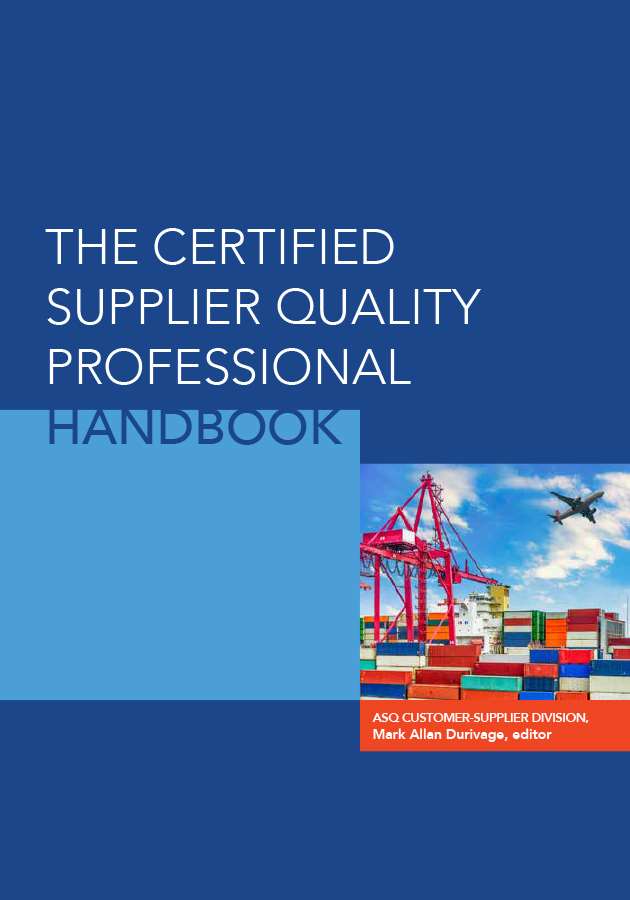 ---
---
Contact Quality Press
North America: 800-248-1946
Mexico: Mobile/cell 001-877-442-8726;
other phone 001-882-442-8726
All other locations: +1-414-272-8575
Fax: 414-272-1734
Email: qpress@asq.org
---
---
Subscribe to Quality Press News
Our monthly e-newsletter
Become an Author
Proposal guidelines and online submission form, including current calls for authors.
---
Coming soon to Quality Press
September
A Practical Field Guide for ISO 14001:2015
Learn more about Quality Press
Find information about ordering and connecting with Quality Press.