Book of the Week
Featured Book
The Certified Quality Technician Handbook, Third Edition
Walker, H. Fred; Benbow, Donald W.; Elshennawy, Ahmad K., November 2018
The quality technician is a person responsible for understanding and utilizing quality concepts and tools, statistical techniques, metrology and calibration procedures and protocols, inspection and test techniques, quality auditing, and preventive and corrective action in the context of product/process/service improvement or in correcting problems. Quality technicians frequently work in the quality function of organizations in the various measurement and inspection laboratories, as well as on the shop floor supporting and interacting with quality engineers, mechanical inspectors, and production/service delivery personnel.
This book supports individuals preparing for, or those already performing, this type of work. It is intended to serve as a ready reference for quality technicians and quality technicians-in-training, as well as a comprehensive reference for those individuals preparing to take the ASQ Certified Quality Technician (CQT) examination. Examples and problems used throughout the handbook are thoroughly explained, are algebra-based, and are drawn from "real world" situations encountered in the quality profession.
To assist readers in using the book as a ready reference or as a study aid, the book has been organized so as to conform closely to the 2018 CQT Body of Knowledge (BoK).
Member Price: $
89.00
List Price: $

135.00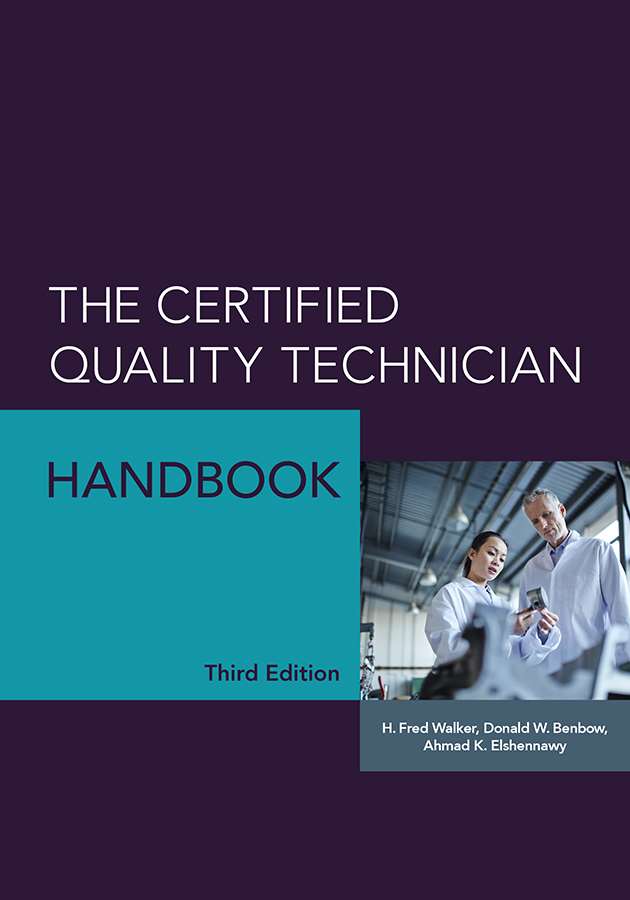 ---
---
Contact Quality Press
North America: 800-248-1946
Mexico: Mobile/cell 001-877-442-8726;
other phone 001-882-442-8726
All other locations: +1-414-272-8575
Fax: 414-272-1734
Email: qpress@asq.org
---
---
Subscribe to Quality Press News
Our monthly e-newsletter
Become an Author
Proposal guidelines and online submission form, including current calls for authors.
---
Coming soon to Quality Press
December
Applied Statistics Manual: A Guide to Improving and Sustaining Quality with Minitab
January
Splitting the DMAIC: Unleashing the Power of Continuous Improvement
Risk Management Using Failure Mode and Effect Analysis (FMEA)
Data Quality: Dimensions, Measurement, Strategy, Management, and Governance

Learn more about Quality Press
Find information about ordering and connecting with Quality Press.