The ASQ Supply Chain Management Primer (e-book)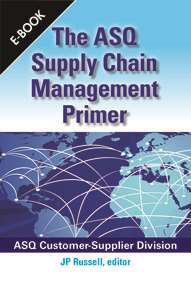 The ASQ Supply Chain Management Primer (e-book)
ASQ'S Customer-Supplier Division, J.P. Russell
PDF,
128 pages, Published 2013
Dimensions: 6 x 9
ISBN: 9780873898751
Item Number: E1451
Member Price: $
28.00
List Price: $

40.00
Looking to purchase for a course or large group?
Description
Written to promote the application of basic and sound supply chain management principles, the author and contributors wrote this book for a global audience of practitioners and their managers. In this book, accepted methods used in national and international commerce are highlighted to help readers and include most of the described methods from decades of use in quality management programs. These methods are equally important when managing for environment, safety, security, and sustainability.
Supply chain management is a system. Like all systems, it is composed of many connected processes, all working in harmony to achieve organizational objectives. There are five basic activities we must implement for superior achievement of those objectives. The processes in typical sequential order are:
Define your requirements
Select a supplier
Award the business
Build and strengthen relationships
Monitor the performance
These five activities apply to all organizations, whether government, industry, healthcare, or education to create an enterprise system.