ASQExcellence Organizational Membership
New Organizational Membership packages coming in 2021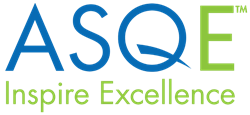 Organizations like yours are increasingly focusing on advancing a culture of quality-based practices to accelerate business value and drive growth. ASQE Organizational Membership provides organizations of all sizes the resources and tools to further their pursuit of performance excellence, with the leading benefit of the Insights on Excellence (IoE) Benchmarking tool and annual research.
ASQExcellence (ASQE) was founded in January 2020 as a trade association to set the standard for quality-driven offerings and insights worldwide, empowering the organizations it serves to achieve excellence. ASQ & ASQE are independent organizations who share a mission of bringing value and quality solutions to individuals and organizations. ASQ serves a membership of quality professionals through educational advancement. ASQ and ASQE complement and enhance each other by providing member value for both individuals and organizations.
Key Benefits of Organizational Membership
Currently, ASQE is pleased to offer two levels of Organizational Membership, Corporate and Enterprise, which encourages the learning and implementation of quality methodologies across teams to pursue organizational excellence practices. This provides active means for organizations to extend resources, tools, education, and discounts to linked employees worldwide. Use these benefits to help strengthen supply chains, enhance the customer experience, and reach bottom-line goals.
Coming in 2021, ASQE's Organizational Membership Levels and Benefits will expand into three levels, each with added value and offerings. These new Benefits provide organizations with the following:
Flexibility to customize their membership tools and resources by selecting the level that best suit their needs
Affiliate Employee access, which allows them to engage with ASQ and ASQE in the ways most relevant for them

For those ASQE members whose employees:

want to engage in ASQ business and receive full membership benefits of ASQ, enjoy either one of the included ASQ Affiliate Memberships or a 25% discount on additional ASQ Individual Memberships

simply need to complete training or participate in quality resources and tools, they can register to become an Affiliate Employee on asq.org and obtain tailored access to ASQ resources

Exclusive member events, Insights on Excellence (IoE) research, and content to empower teams to further their actionable pursuit of quality best practices

Plus! ASQ and ASQE members can further explore the IoE suite of benchmarking resources now, including the 2020 Insights on Excellence Annual Research Report, and integration with future benefits. Click on "Explore IoE Resources" to access reports and watch how quality methodologies impact the future of organizational excellence practices.

To get started on becoming an ASQE Organizational Member, compare levels to determine which best matches your organization's needs and apply today:
Levels & Benefits
ASQE Organizational Membership Levels & Benefits – Current

Corporate

Enterprise

Member Level Fees
$5,000
$25,000
Quality Resources & Tools
Unlimited linked employee access to ASQ online quality resources
Yes
Yes
Access to the exclusive members-only content on www.asq.org including Case Studies, Benchmarking Studies, Research.
Yes
Yes
E-Newsletters and exclusive monthly content gifts (webcasts, ASQTV, topic bundles)
Yes
Yes
Magazines and Journals
Quality Progress (electronic access) - ASQ's flagship publication, read by more people than any other magazine on quality, features in-depth articles describing the application of innovative methods. Topics include knowledge management, process improvement, and organizational behavior.
Yes
Yes
Quality Progress (hard copy)
Yes
Yes
Journal of Quality Technology (electronic access) - Covers the technical aspects of quality control, reliability, and related disciplines.
Yes
Yes
Quality Management Journal (electronic access) - A source for practical application of quality research in the broad field of management.
Yes
Yes
Quality Engineering (electronic access) - Co-published with Taylor & Francis, this journal examines in-depth, practical applications of quality technology for engineers.
Yes
Yes
Lean & Six Sigma Review (electronic access) - The first magazine addressing the specific needs of Six Sigma professionals.
Yes
Yes
Software Quality Professional (electronic access) - Addresses the application of quality principles to the development and use of software and software-based systems.
Yes
Yes
Technometrics (electronic access) - Published in conjunction with the American Statistical Association, this journal focuses on statistics for the physical, chemical, and engineering sciences.
Yes
Yes
Member Communities
Limited access to myASQ for engagement in events, networking, learning opportunities, topic discussions and QBoK content
Yes
Yes
Professional Development
Member pricing on ASQ Training, Books & Standards, Conferences, Certification and more
Yes
Yes
Member pricing on ASQ Events, including online, hybrid and in-person conferences
Yes
Yes
Four complimentary registrations to ASQ's World Conference on Quality and Improvement
No
Yes
Complimentary Invitations to ASQE's exclusive Excellence Roundtable Event
No
Yes
Future Levels & Benefits
| ASQE Organizational Membership Levels & Benefits – Coming in 2021 | Partner | Ambassador | Leader |
| --- | --- | --- | --- |
| Member Level Fees Starting At: | $6,000 | $15,000 | $25,000 |
| Industry Benchmarking: | | | |
| Access to the IoE Benchmarking tool for teams, Annual Research Report, and Forbes Insights Research Executive Brief | Included | Included | Included |
| Access to 300+ Industry Partner Reports on asq.org | Included | Included | Included |
| Opportunity to connect with resources for Malcolm Baldrige Award | Included | Included | Included |
| Quality Resources & Tools: | | | |
| Included ASQ Affiliate Memberships for key individuals, including access to Sections, Technical Communities, and digital journal subscriptions | 10 Members | 30 Members | 50 Members |
| Unlimited linked Affiliate Employees – eligible for 25% discount to obtain ASQ Affiliate Membership (above) | Included | Included | Included |
| Member Pricing on all ASQ Quality Press Books / Standards | Included | Included | Included |
| Online access to ASQ's Quality Resources: publications, tools, case studies, webcasts, and journals for all linked Affiliate Members and Employees | Included | Included | Included |
| Voting Rights for ASQE Society – 1 each for Contact or Delegated Representative | 1 Contact | 1 Contact | 1 Contact |
| Eligibility for positions on ASQE Board of Directors and applicable committees | Eligible | Eligible | Eligible |
| Talent & Team Development: | | | |
| Member Pricing on all ASQ Certifications and Quality Education | Included | Included | Included |
| Annual Credit for ASQ e-Learnings (on-demand, virtual) | $250 | $500 | $1,000 |
| ASQE International Team Excellence Awards Annual Entry (includes application fee and criteria) | Add-on | Add-on | Included |
| Engagement, Networking & Events: | | | |
| Complimentary ASQ-Hosted Conference Registrations Included – Annual Value to Redeem | $1,000 | $4,500 | $7,500 |
| Excellence Roundtable (ERT) Event Invites + Annual Member Exclusive Networking Opportunities | 1 Participant | 2 Participants | 3 Participants |
| Organizational Member Calls for ASQE Business with ASQE Board of Directors – As Scheduled | Included | Included | Included |
| Opportunities for featuring Member Case Studies (Spotlights) in ASQE materials, e-newsletters, & participation in Ascend Virtual Workshop Series | Included | Included | Included |
Future A La Carte Benefits
Customizable A La Carte Benefits: Add-Ons – Coming in 2021

ASQE Member Price

1-hour Virtual Meeting to review IoE benchmarking results report with ASQE contacts
Complimentary
ASQE International Team Excellence Awards (ITEA) Annual Entry (Application Fee & Criteria) – for Partner and Ambassador
$675 first entry
$575 additional entries – for ALL
ASQE Organizational Affiliated Members, Affiliated Employees, and ITEA participants enjoy member rates when registering for ASQ Conferences
See Member Rates posted at Events page
Preferred Pricing on ASQ Conference Exhibitor & Sponsorship Packages
Contact ASQ Media Sales
Phone: 866-277-5666
Email: mediasales@asq.org
Preferred Pricing on ASQ Quality Progress Magazine Advertising
Per Rates Listed
Professional connection opportunities with:

Baldrige Fellows Program and connection to National Award resources and materials
ANSI to serve on Technical Advisory Groups (TAGs) through application process
ASQ's Provider Network resources (Coming in 2021)

Complimentary