New Organizational Membership packages available!
Organizations like yours are increasingly focusing on advancing a culture of quality-based practices to accelerate business value and drive growth. ASQExcellence (ASQE) Organizational Membership provides organizations of all sizes with resources, a team recognition program, and tools to further their pursuit of performance excellence, with the leading benefit of the Insights on Excellence benchmarking and annual research. Learn more about ASQE.
Explore how an Organizational Membership can benefit your team using this downloadable Org Chart example.
Key Benefits of Organizational Membership
ASQE's Organizational Membership levels and benefits are expanding into three customizable levels, each with added value and offerings to empower teams to pursue organizational excellence practices. In addition to member-exclusive benefits, Organizational Members can also contribute to the annual advancement of the Insights on Excellence suite of benchmarking research and participate in the International Team Excellence Award (ITEA) program.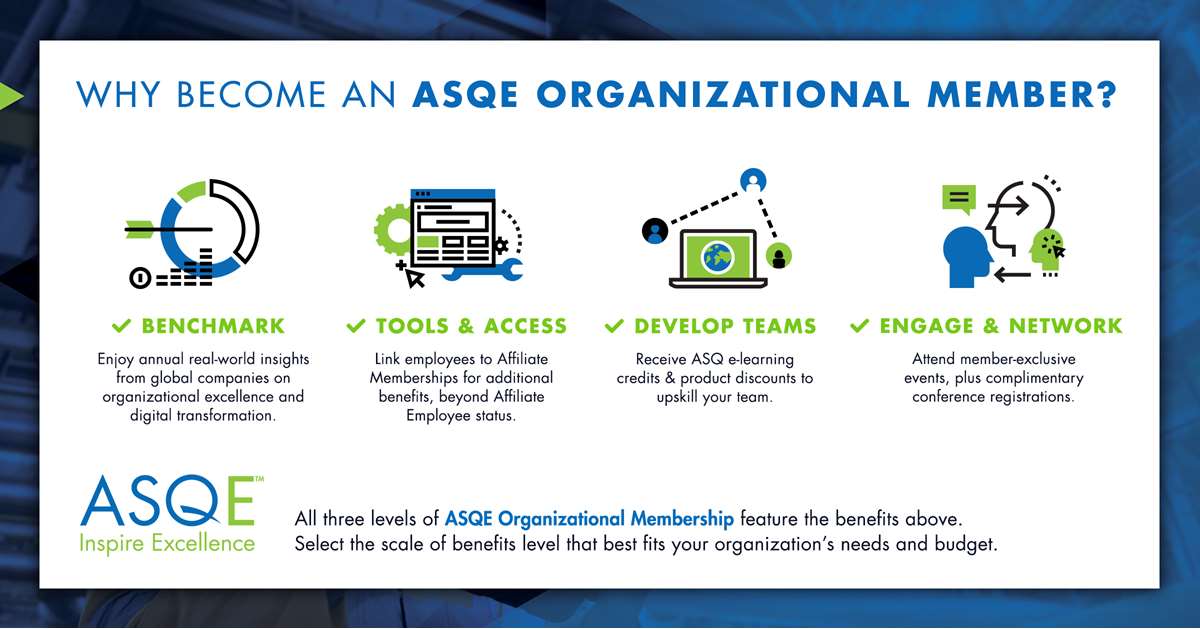 Ready to get started? Compare levels to determine which best matches your organization's needs and apply today!
Levels & Benefits
| ASQE Organizational Membership Levels & Benefits | Partner | Ambassador | Leader |
| --- | --- | --- | --- |
| Member Level Fees Starting At: | $6,000 | $15,000 | $25,000 |
| Industry Benchmarking: | | | |
| Access to the IoE Benchmarking tool (coming in 2021) for teams, Annual Research Report, and Insights on Excellence research reports | Included | Included | Included |
| Access to 300+ Industry Partner Reports on asq.org | Included | Included | Included |
| Opportunity to connect with resources for Malcolm Baldrige Award | Included | Included | Included |
| Quality Resources & Tools: | | | |
| Included ASQ Affiliate Memberships for key individuals, including access to Technical and Geographic Communities, and digital journal subscriptions | 10 Members | 30 Members | 50 Members |
| Unlimited linked Affiliate Employees – eligible for 25% discount to obtain ASQ Affiliate Membership (above) | Included | Included | Included |
| Member Pricing on all ASQ Quality Press Books / Standards | Included | Included | Included |
| Online access to ASQ's Quality Resources: publications, tools, case studies, webcasts, and journals for all linked Affiliate Members and Employees | Included | Included | Included |
| Voting Rights for ASQE Society – 1 each for Contact or Delegated Representative | 1 Contact | 1 Contact | 1 Contact |
| Eligibility for positions on ASQE Board of Directors and applicable committees | Eligible | Eligible | Eligible |
| Talent & Team Development: | | | |
| Member Pricing on all ASQ Certifications and Quality Education | Included | Included | Included |
| Annual Credit for ASQ e-Learnings (on-demand, virtual) | $250 | $500 | $1,000 |
| ASQE International Team Excellence Awards Annual Entry (includes application fee and criteria) | Add-on | Add-on | 1 Included |
| Engagement, Networking & Events: | | | |
| Complimentary ASQ-Hosted Conference Registrations Included – Annual Value to Redeem | $1,000 | $4,500 | $7,500 |
| Excellence Roundtable (ERT) Event Invites + Annual Member Exclusive Networking Opportunities | 1 Participant | 2 Participants | 3 Participants |
| Organizational Member Calls for ASQE Business with ASQE Board of Directors – As Scheduled | Included | Included | Included |
| Opportunities for featuring Member Case Studies (Spotlights) in ASQE materials, e-newsletters, & participation in Ascend Virtual Workshop Series | Included | Included | Included |
A La Carte Benefits
Customizable A La Carte Benefits: Add-Ons

ASQE Member Price

1-hour Virtual Meeting to review IoE benchmarking results report with ASQE contacts
Complimentary
ASQE International Team Excellence Awards (ITEA) Annual Entry (Application Fee & Criteria) – for Partner and Ambassador
$675 first entry
$575 additional entries – for ALL
ASQE Organizational Affiliated Members, Affiliated Employees, and ITEA participants enjoy member rates when registering for ASQ Conferences
See Member Rates posted at Events page
Preferred Pricing on ASQ Conference Exhibitor & Sponsorship Packages
Contact ASQ Media Sales
Phone: 866-277-5666
Email: mediasales@asq.org
Preferred Pricing on ASQ Quality Progress Magazine Advertising
Per Rates Listed
Professional connection opportunities with:

Baldrige Fellows Program and connection to National Award resources and materials
ANSI to serve on Technical Advisory Groups (TAGs) through application process
ASQ's Provider Network resources (Coming in 2021)

Complimentary