Insights on Excellence from ASQE
IoE Benchmarking Tool Coming in 2021 for ASQE Organizational Members
The results from ASQE's Insights on Excellence (IoE) Benchmarking Data Set allows ASQE to bring real-world metrics and quality insights to both ASQE and ASQ members. This foundation data set has established a maturity model of performance levels, based on eight categories of criteria. ASQE is pleased to share two key research reports below, providing actionable guidance in the pursuit of organizational excellence.
Insights on Excellence (IoE) 2020 Annual Research Report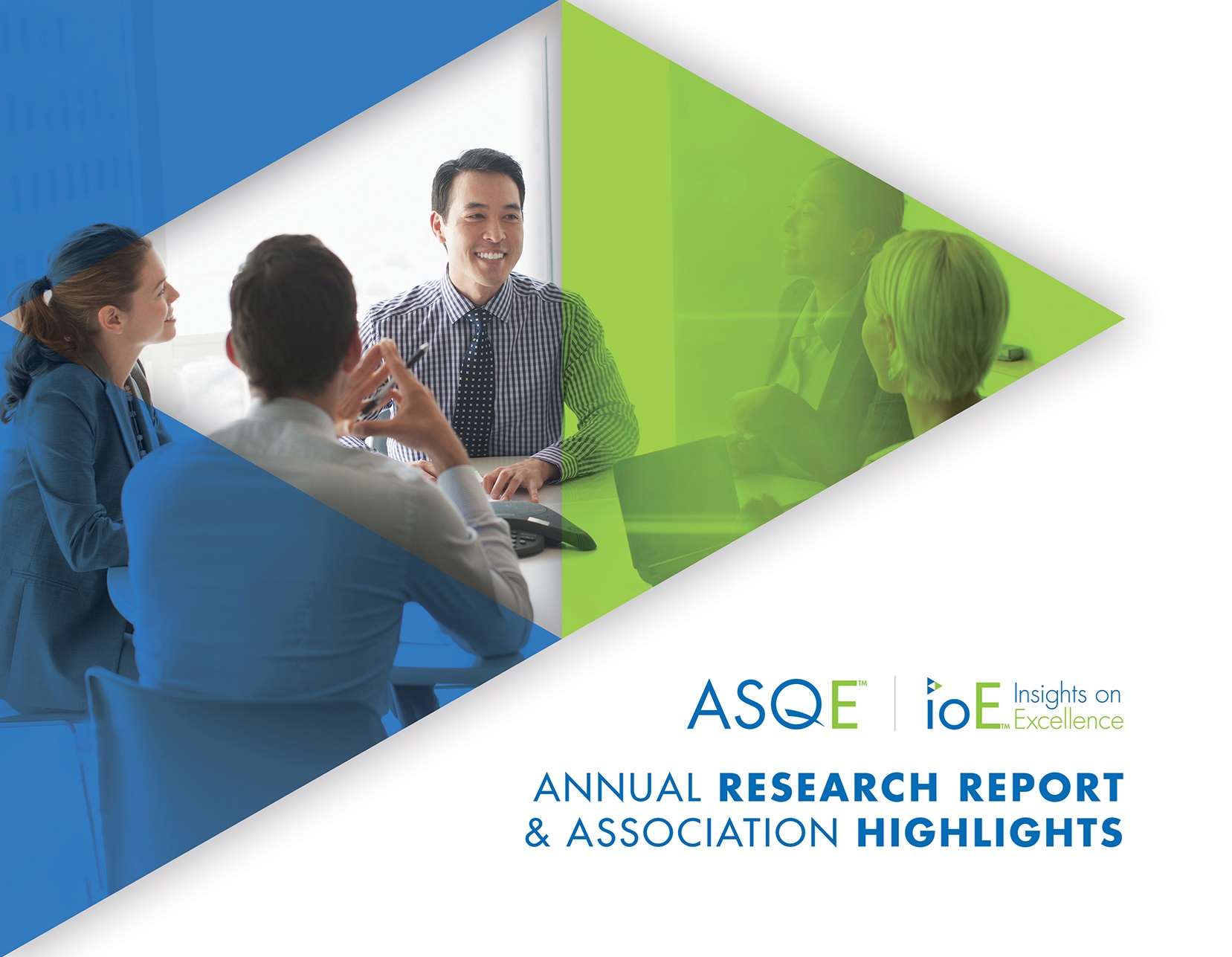 On behalf of the quality professional community, this inaugural Annual Research Report showcases additional emerging industry trends from the Insights on Excellence (IoE) benchmarking research, as well as association highlights from both ASQE and ASQ. Each year, the goal of this report is to deliver actionable guidance to our global quality community and deliver exciting updates about available membership benefits and resources.
Complementary to the ASQE + Forbes Insights Executive Brief collaboration of key takeaways, this report's research focuses on a deeper exploration of the topic "Barriers & Disruptors", in addition to the unique challenges posed by digital transformation. This data empowers quality professionals and executives to illustrate the importance of their role within their organization, as well as understand how to use ASQ resources and tools to advance improvement initiatives. See the summary below of global IoE benchmark data set scores, in relation to the IoE maturity level of organizational excellence and operations. Together, the ASQE + Forbes Insights Executive Brief and 2020 IoE Annual Research Report provide members with real-world insights to inspire the advancement of organizational excellence best practices.
---
ASQE + Forbes Insights: Navigating The Road To Quality In Today's Technology-Driven Companies – Executive Brief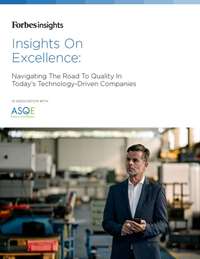 Organizations are increasingly focusing on advancing a culture of quality-based practices to accelerate business value and drive growth, especially during challenging times. ASQE's IoE benchmarking tool is populated with a foundational data set of initial responses from more than 1,000 Forbes and ASQE organizational member contacts. Nearly half of the respondents were C-suite executives or vice presidents representing a variety of industries, including manufacturing, automotive, airlines, financial services, life sciences, energy and consumer goods.
In addition, top quality professionals provide insights on how the disruption of the COVID-19 pandemic has brought quality-based principles to the forefront. Explore more by downloading ASQE's latest research "Navigating The Road To Quality In Today's Technology-Driven Companies".
Watch how the Insights on Excellence tool and benchmarking results assist in driving global research efforts on digital transformation – presented by Forbes Contributor and author Michael Gale.
---
About IoE

The leading benefits of ASQE Organizational Membership are the Insights on Excellence (IoE) Benchmarking tool and annual research, providing organizations of all sizes with resources to further their pursuit of performance excellence. Forbes Insights and ASQE are proud to partner in the development of this innovative ASQE members-only tool to provide year-over-year measurement and research. Each year, this research drives member-only engagement, events, and tools to make better informed business decisions and define a pathway to improve performance year over year. Key findings of this benchmarking survey will be included in "ASQE Insights on Excellence Report" which will be published annually, beginning in Q4 of 2020.
Organizational Benefits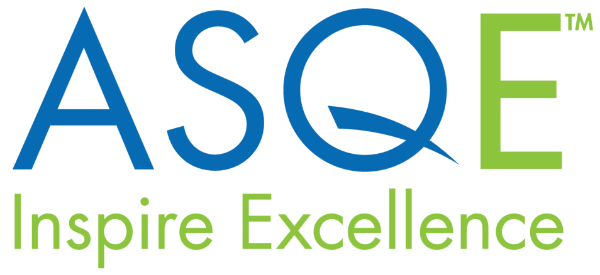 ASQExcellence (ASQE) was founded in January 2020 as a trade association to set the standard for quality-driven offerings and insights worldwide, empowering the organizations it serves to achieve excellence. ASQ and ASQE are independent, yet complementary, organizations that share a mission of bringing value and quality solutions to individuals and organizations. ASQ has individuals as members and ASQE is comprised of organizational members. ASQE provides expertise, insights, thought leadership, networks and solutions to a global membership of organizations and their affiliated individuals.
Discover more about the benefits of ASQE's Organizational Membership today!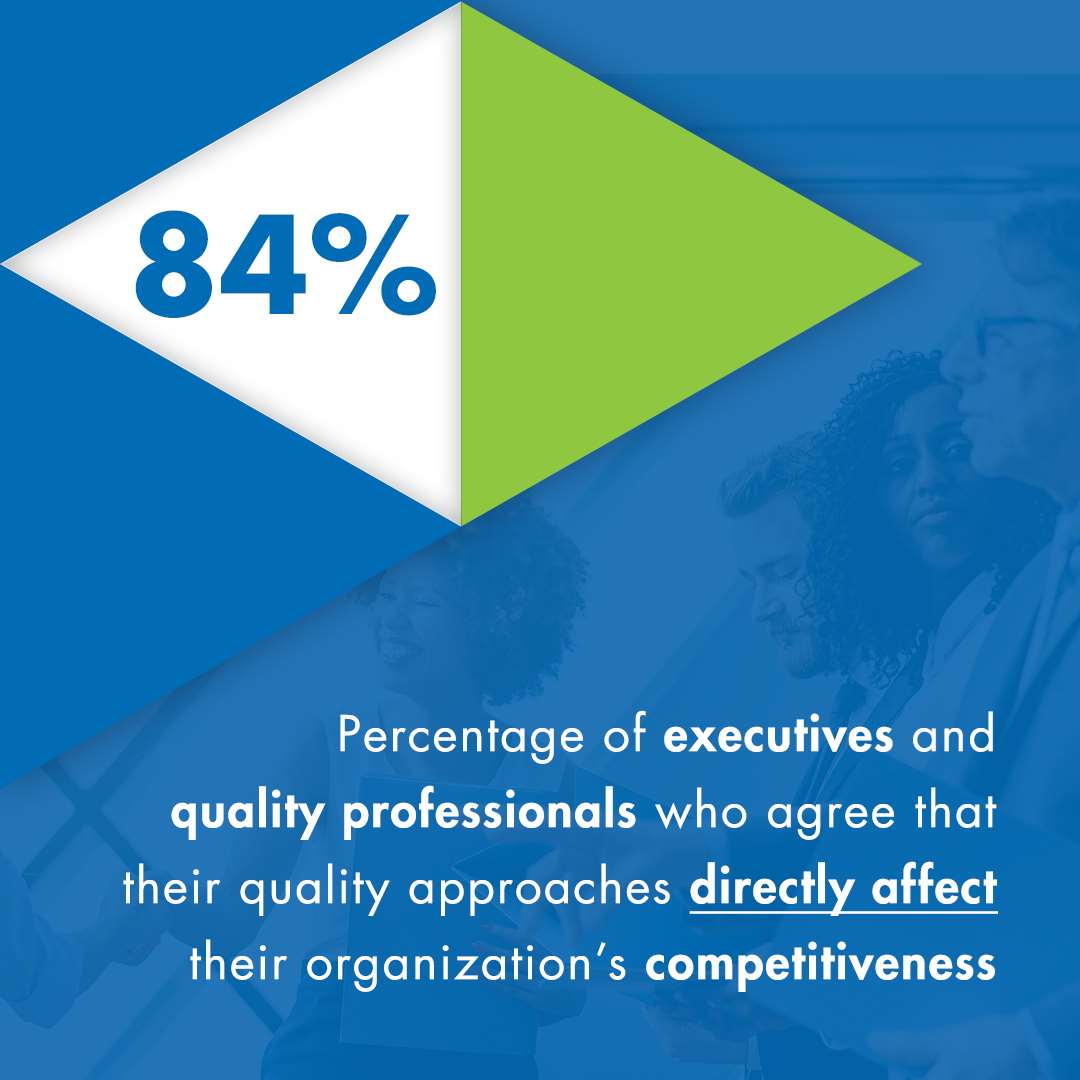 About Excellence Roundtable

Each year, the Excellence Roundtable (ERT) event provides primary and executive contacts of ASQE's Organizational Membership companies the opportunity to connect and engage with annual benchmarking research driven by the IoE benchmarking tool. This event provides peer-to-peer networking, innovative problem-solving techniques, and the exclusive experience to connect with experts across multiple industries. Starting in 2021, each level of the new ASQE Organizational Membership enjoys the ability to participate in thought-leadership activities featured at this members-only event.
"People take action after bad things happen. It takes a big event like a major recall or the pandemic to get companies aligned to have good prevention plans in place."
---
"As a non-profit organization dedicated to training, certifying and supporting the field of quality, we knew that who we partnered with to deliver Insights on Excellence was going to be essential to achieving our goals. Forbes Insights is a globally-recognized strategic research organization with the resources to bring our vision to life and provide comprehensive data so we can help organizations move forward on a path to excellence."
---