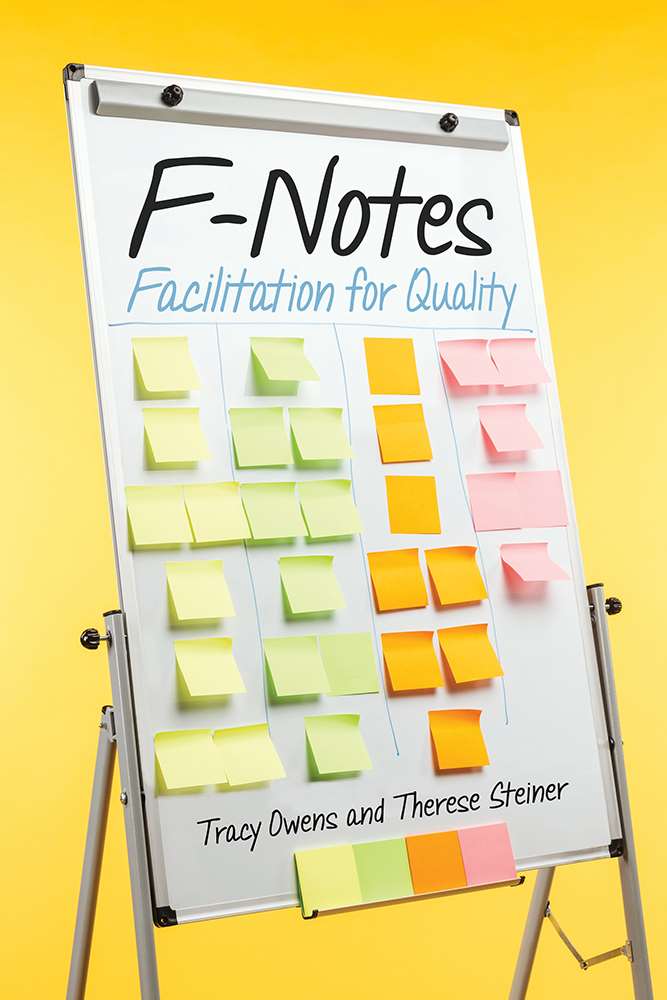 F-Notes
Facilitation for Quality
Tracy Owens And Therese Steiner
Softcover,
216 pages, Published 2020
Dimensions: 6 x 9 inches
ISBN: 978-1-95105-841-8
Item Number: H1581
Member Price: $
28.00
List Price: $

40.00
Looking to purchase for a course or large group?
Keywords
workshop facilitator
project management
quality tools
Description
There are many occasions when a project leader will preside over a team meeting that ends up falling short of the desired outcomes. Entering a room full of people who are expecting you to guide them to results can be a source of tremendous pressure, even when you feel fully prepared as a leader. This book offers a deeper understanding of how a workshop needs to be managed, how a team can be guided, and how workshop tools should be deployed to achieve a team's objectives.
F-Notes: Facilitation for Quality
offers several updates to traditional quality tools to better suit non-manufacturing environments. If you work in an service, office, non-profit, or professional setting, you will find these tools helpful (and you will use them to achieve real results). This book also offers five new tools invented or refined by the authors for those who practice or promote quality, innovation, and effective workshop management to add to their toolbox.
Tracy Owens, CQE, CMQ/OE, is a process improvement consultant in Dublin, Ohio. Tracy holds a masters degree in international business from Seattle University, and he was elected to the 2016 class of ASQ Fellows. He is the author of two previous books from Quality Press: Six Sigma Green Belt, Round 2 (2011) and The Executive Guide to Innovation (2013, co­author), and several articles in Quality Progress magazine.
Therese Steiner, ASQ CSSBB, is the Director of Operational Effective­ness and Customer Experience at LexisNexis, where she has worked for 20+ years since completing her Juris Doctorate degree at the University of Dayton School of Law in 1999. Therese is a 2020–2021 ASQ Board Member and Geographic Communities Council Region Director. Therese has been a speaker on Customer Experience and Quality topics at global and regional conferences, including ASQ WCQI and OPEX World Summit, as well as at local meetings for ASQ and other organizations.