ISO 56000: Building an Innovation Management System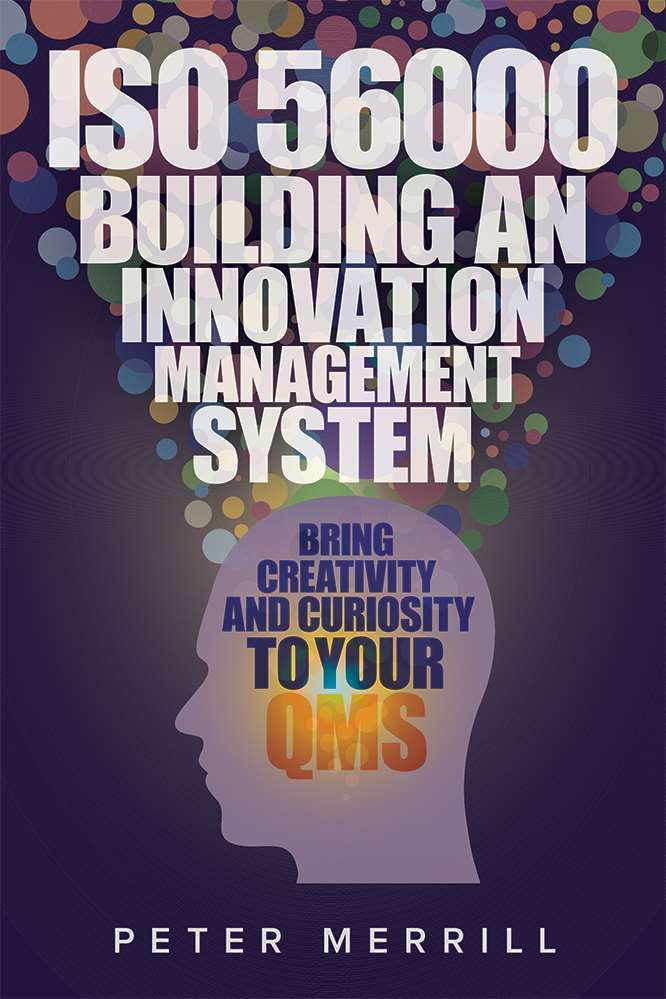 ISO 56000: Building an Innovation Management System
Bring Creativity and Curiosity to Your QMS
Peter Merrill
Softcover,
256 pages, Published 2020
Dimensions: 6 x 9 inches
ISBN: 978-1-9510582-65
Item Number: H1576
Member Price: $
42.00
List Price: $

60.00
Looking to purchase for a course or large group?
Keywords
QMS (quality management system)
ISO 56002
innovation management
Quality 4.0
Description
Innovation management can provide a competitive edge in the business world, and research shows a major correlation between profitability and innovation. The challenge, however, is how to integrate innovation management with quality management. Enter the ISO 56000 series of standards on innovation management systems (IMS). Specifically, ISO 56002 provides guidance on how to develop a systems approach to managing innovation. In this book, author Peter Merrill shares with readers the thinking behind each of the clauses in the standard. He explains real-life, practical applications of the guidance the standard provides and shows how to integrate an IMS with a quality management system based on ISO 9001 and be prepared for the future.

In this book, you will discover how it:
• Details the strategy and leadership necessary to manage innovation using ISO 56002 and explaining the cultures of creativity and execution that must coexist
• Defines the competences, tools, processes, and assessments that are needed to build an IMS in your organization in order to succeed at innovation
• Explains the principles that are the basis of innovation management
• Shows the vital role of innovation and creativity in the progression of organizations in today's Industry 4.0/Quality 4.0 era
• Underlines the idea that innovation management and quality management must work together from practical and financial standpoints

Peter Merrill has been a quality professional for many years and is an expert on simplifying complex ideas. Currently, he helps companies develop their approach to innovation. He writes extensively on innovation, including the "Innovation Imperative" column for Quality Progress magazine. His previously published books include Innovation Generation, Innovation Never Stops, and Executive Guide to Innovation.