About the Quality Body of Knowledge (QBOK®)
To meet the knowledge and professional development needs of the quality community, ASQ offers the
Guide to the Quality Body of Knowledge (QBOK®), Version 2.0
. Originally published in 2009 and updated in 2015, this guide contains:
Definitions and background for the QBOK activity
The framework of topics that make up the QBOK
Process models for QBOK development activities
Information about how you can participate in developing and distributing information on quality
Download the Guide to the Quality Body of Knowledge (QBOK®) Version 2.0 (PDF)
The QBOK Framework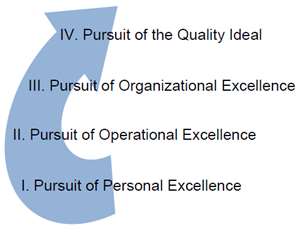 Since the 2009 publication of the
Guide to the Quality Body of Knowledge,
the framework of topics has been updated to reflect the changing needs of the quality community. Chief among the changes made for version 2.0 is stronger focus on innovation.
The QBOK Management System
A strategic management system based on ASQ's stewardship for quality knowledge helps ensure the vitality, reliability, and accessibility of the QBOK.
The Quality Body of Knowledge (QBOK®) Framework of Topics
The journey begins with base quality competency. Individual processes, skills, and quality philosophy form the underpinning for the rest of the journey.
Improving enterprise systems and increasing quality in all aspects of an organization then prepare the way for a focus on sustainability and holistic living. A quality mindset adds rigor to creativity, innovation, and social responsibility, and quality becomes integrated into movements, not just organizations and communities.
Although not all topics in the framework can be listed here, a more detailed look at some of the topics at the highest levels follows.