Benchmarking Studies
Did you know ASQ members have exclusive access to hundreds of benchmarking studies, as well as opportunities to participate in new projects that are underway?
We've partnered with the American Productivity & Quality Center (APQC) to bring members access to a collection of benchmarking reports and metrics. APQC helps organizations work smarter, faster, and with greater confidence. It is the authority in benchmarking, best practices, process and performance improvement, and knowledge management.
ASQ members can access articles at any time. Simply log in with your member ID and password to access data from organizations in a variety of industries. Each study also includes case studies on individual organizations.
Benchmarking the Global State of Quality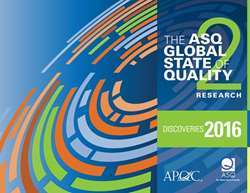 ASQ is partnering with APQC to collect and study data on the global state of quality. The goal is to provide an initial view and regular updates to help organizations compare quality and continuous improvement advancements to each other, their regions, and their economic sectors.
In 2016, ASQ and APQC conducted the second iteration of the Global State of Quality Research. It provides an analysis of almost 1,700 organizations and addresses topics including customer influence, industry standards trends, training systems, and governance standards. Download the global state of quality reports and learn more today.


Benchmarking Reports Available for ASQ Members
Below is a sampling of APQC reports available to ASQ members. Use the advanced search to find more benchmarking studies by topic. See the full list of search results for all benchmarking and metrics documents. You can also refine your search and narrow your results by keyword and topic.

Need help finding the right information? Research assistance is a member benefit! Simply Ask our ASQ Librarian.

Featured Benchmarking Reports
Transferring and Applying Critical Knowledge

Read about 19 best practices for identifying, transferring, and applying knowledge. This benchmarking report includes case studies from organizations including Accenture, Kraft Foods Group Inc., Lockheed Martin, Wipro Ltd., and more.





Effective Project Management Offices
This research report uncovers trends among best-practice project management offices. Learn about thirteen best practices in four main areas: strategy, practices, technology and automation, and measures and reporting.


Using Enterprise Quality Measurement to Drive Business Value

Learn about foundational practices for evaluating quality, as well as emerging practices in use at leading organizations to stay on top of quality efforts.