Calls for Content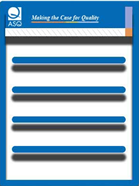 Write a Case Study
Have a success story to share about using quality tools and approaches? Reach hundreds of thousands of readers by publishing it as an ASQ case study.
Submit a story now for consideration.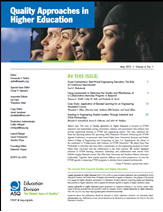 Quality Approaches in Higher Education has selected a case study in healthcare education by Rosa K. Hand, Mary A. Dolansky, E. Erin Hanahan, Vinothini M. Sundaram, and Nancy Tinsley as the recipient of its best paper award for 2014.
Quality Approaches in Higher Education welcomes submissions from faculty from two- and four-year institutions, as well as from professionals from the student services arena, institutional research, professional development, business affairs, and more. See complete author guidelines.

The Lean Enterprise Division seeks articles for a new column in the quarterly Six Sigma Forum Magazine. Share how you overcame your struggles through a kaizen blitz, ideas about what makes a good lean practitioner, or perspectives on lean in a service environment.
Send article submissions to Lance Coleman.






Most Wanted
ASQ is especially on the lookout for submissions on:
Organizational culture
Innovation
Metrics
Risk management
Supply chain
Integrating standards
Submit Content Now
Why Write for ASQ?
Which ASQ Venue is Right for You?
Writing Center