What We Do
For people passionate about improvement, ASQ is the global knowledge network that links the best ideas, tools, and experts. ASQ has the reputation and reach to bring together the diverse quality champions who are transforming our world.
ASQ Offerings
ASQ Membership
When members join ASQ, they join a community of people passionate about quality who make our world work better. ASQ also provides memberships to organizations and institutions.

Networking
ASQ is home to a robust group of communities at the local, regional, and global levels.

Certification
ASQ offers 18 certifications, and has issued nearly 180,000 certifications to professionals worldwide. Certifications are an essential development tool to help quality professionals stand out in the workplace.

ASQ Learning Institute™
The ASQ Learning Institute® houses all of ASQ's learning offerings in one convenient location.

World Conference and Events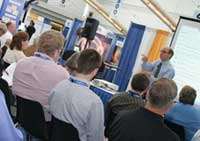 ASQ connects the quality community through events, conferences, and meetings throughout the year. The ASQ Annual World Conference on Quality and Improvement is our premier event. Other ASQ conferences include the Lean and Six Sigma Conference.

Knowledge Center
ASQ's Knowledge Center provides one-stop online access to quality tools and resources.

Standards
ASQ provides support to a number of volunteer groups that develop and approve international and American National Standards. This includes the most widely known standards, such as ISO 9001, ISO 26000, and ISO 14001, as well as other standards and technical reports that apply quality management principles, tools and technology.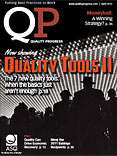 Quality Press
Quality Press is the world's largest publisher of quality related products, including books and magazines. ASQ publishes six journals and magazines, including Quality Progress— our flagship publication.

Research
ASQ participates in notable research that adds to our Quality Body of Knowledge (QBOK®). Our premier work is the Futures Study, conducted every three years beginning in 1995. ASQ also engages in annual surveys on manufacturing outlook and salaries for quality professionals that serve as economic barometers. Other research includes Global State of Quality, Culture of Quality, and Economics of Quality.

Programs
ASQ offers programs for individuals and companies to learn and grow, and to feature their best work. The Emerging Quality Leaders Program is specifically designed to develop the leadership skills of quality professionals. The Team Excellence award program is the world's premier team recognition program—awarding achievements in improved performance in businesses of all sizes.

Social Networking
ASQ.org is home to an online community with blogs, discussion boards, and forums available to members of the global quality community. You can connect with ASQ on Twitter, Facebook, the Influential Voices blog community, YouTube, and LinkedIn.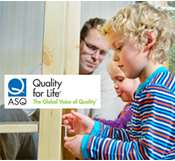 Quality for Life®
ASQ's Quality for Life® initiative shares the stories of quality professionals who use their passion, commitment, and skills to make a difference in their communities and throughout the world.