How we do it
Structure
American Society for Quality (ASQ) members don't just join an organization. They join a community.
ASQ membership is broken down geographically into more than 250 sections and local member communities and topically into more than 25 forums and divisions. Geographic communities, run by volunteer member leaders in several countries, allow members to come together to share and learn on all topics related to quality.
Most sections and local member communities offer meetings, newsletters, online information, educational courses, seminars, conferences and certification exam preparatory programs. As all our leadership comes from within, members can get involved by becoming a section volunteer member leader. This allows them the opportunity to not only support the quality movement in a profound way, but also enhance leadership skills as well.
ASQ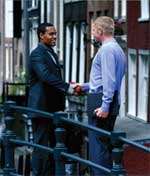 forums and divisions
are unique sources of focused information on quality that can help you in your job. Professionals in your specific field run the forums and divisions on a volunteer basis. They provide a place to turn when you have a question or need a specific type of conference, course, book or paper. You can get involved in collaborative and networking events, and get inspired to try new and innovative ways to improve yourself, your community and your world.
For more information on how to get involved in ASQ's communities, visit the Conferences and Events area.