What is Root Cause Analysis (RCA)?
Quality Glossary Definition: Root cause analysis
A root cause is defined as a factor that caused a nonconformance and should be permanently eliminated through process improvement. The root cause is the core issue—the highest-level cause—that sets in motion the entire cause-and-effect reaction that ultimately leads to the problem(s).
Root cause analysis (RCA) is defined as a collective term that describes a wide range of approaches, tools, and techniques used to uncover causes of problems. Some RCA approaches are geared more toward identifying true root causes than others, some are more general problem-solving techniques, and others simply offer support for the core activity of root cause analysis.
History of Root Cause analysis
Root cause analysis can be traced to the broader field of total quality management (TQM). TQM has developed in different directions, including a number of problem analysis, problem solving, and root cause analysis.
Root cause analysis is part of a more general problem-solving process and an integral part of continuous improvement. Because of this, root cause analysis is one of the core building blocks in an organization's continuous improvement efforts. It's important to note that root cause analysis in itself will not produce any results; it must be made part of a larger problem-solving effort for quality improvement.
Approaches to Root Cause Analysis
There are many methodologies, approaches, and techniques for conducting root cause analysis, including:
Events and causal factor analysis: Widely used for major, single-event problems, such as a refinery explosion, this process uses evidence gathered quickly and methodically to establish a timeline for the activities leading up to the accident. Once the timeline has been established, the causal and contributing factors can be identified.
Change analysis: This approach is applicable to situations where a system's performance has shifted significantly. It explores changes made in people, equipment, information, and more that may have contributed to the change in performance.
Barrier analysis: This technique focuses on what controls are in place in the process to either prevent or detect a problem, and which might have failed.
Management oversight and risk tree analysis: One aspect of this approach is the use of a tree diagram to look at what occurred and why it might have occurred.
Kepner-Tregoe Problem Solving and Decision Making: This model provides four distinct phases for resolving problems:

Situation analysis
Problem analysis
Solution analysis
Potential problem analysis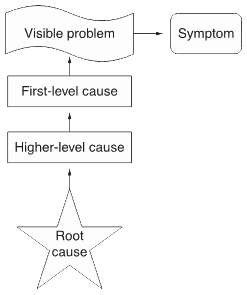 Root Cause Analysis Diagram
Conducting Root Cause Analysis
When carrying out root cause analysis methods and processes, it's important to note:
While many root cause analysis tools can be used by a single person, the outcome generally is better when a group of people work together to find the problem causes.
Those ultimately responsible for removing the identified root cause(s) should be prominent members of the analysis team that sets out to uncover them.
A typical design of a root cause analysis in an organization might follow these steps:
A decision is made to form a small team to conduct the root cause analysis.
Team members are selected from the business process/area of the organization that experiences the problem. The team might be supplemented by:

A line manager with decision authority to implement solutions
An internal customer from the process with problems
A quality improvement expert in the case where the other team members have little experience with this kind of work

The analysis lasts about two months. During the analysis, equal emphasis is placed on defining and understanding the problem, brainstorming its possible causes, analyzing causes and effects, and devising a solution to the problem.
During the analysis period, the team meets at least weekly, sometimes two or three times a week. The meetings are always kept short, at maximum two hours, and since they are meant to be creative in nature, the agenda is quite loose.
One person in the team is assigned the role of making sure the analysis progresses, or tasks are assigned to various members of the team.
Once the solution has been designed and the decision to implement has been taken, it can take anywhere from a day to several months before the change is complete, depending on what is involved in the implementation process.
Root Cause Analysis Resources
You can also search articles, case studies, and publications for RCA resources.
Books
The ASQ Pocket Guide to Root Cause Analysis
Root Cause Analysis: The Core of Problem Solving and Corrective Action
Root Cause Analysis: Simplified Tools and Techniques
Data Quality: Dimensions, Measurement, Strategy, Management, and Governance
Articles
The Art of Root Cause Analysis (Quality Progress) Five whys analysis is the art of systematically drilling down to a real root cause. Essentially, you can find the root cause of a problem and show the relationship of causes by repeatedly asking the question, "Why?"
Under Scrutiny (Quality Progress) A new definition of root cause could help people realize a systematic process beyond cause and effect is needed for root cause analysis.
Digging For the Root Cause (Six Sigma Forum Magazine) At the philosophical level, there is no absolute root cause in the infinite chain of causation. With this concept in mind, the challenge is to know when to stop drilling down and conclude the root cause has been reached. In Six Sigma training there are three keys that can help achieve that end, which this article explores.
Case Studies
The Impact Of Human Factors On Lead Time (Journal for Quality and Participation) EDR, a provider of property management software solutions, applies the DMAIC process to uncover and address the root causes of a customer lead time problem.
Using Exploratory Data Analysis To Improve The Fresh Foods Ordering Process In Retail Stores (PDF) This case study demonstrates how explorative data analysis, root cause analysis, and basic statistics helped reduce the inefficiencies in the retail inventory and ordering process of fresh foods within grocery chains.
Webcasts
Root Cause Analysis for Beginners, Part 1 Jim Rooney, an ASQ Fellow and quality veteran with more than 30 years' experience in numerous industries, walks through the basics of root cause analysis in this first of a two-part webcast series.
Root Cause Analysis for Beginners, Part 2 Jim Rooney, an ASQ Fellow and quality veteran with more than 30 years' experience in numerous industries, walks through the basics of root cause analysis in this second of a two-part webcast series.
Getting The Defects Out Of Root Cause Analysis In this 50-minute presentation, author Duke Okes introduces root cause analysis, covering topics including defining important terminology, describing types of causes, determining how deep to take an investigation, defining the problem clearly, and more.
Certification
Courses
Adapted from Root Cause Analysis: Simplified Tools and Techniques and Root Cause Analysis: The Core of Problem Solving and Corrective Action, ASQ Quality Press.