Continuous Improvement
Quality Glossary Definition: Continuous improvement
Continuous improvement, sometimes called continual improvement, is the ongoing improvement of products, services or processes through incremental and breakthrough improvements. These efforts can seek "incremental" improvement over time or "breakthrough" improvement all at once.
The Continuous Process Improvement Model
Among the most widely used tools for the continuous improvement model is a four-step quality assurance method—the plan-do-check-act (PDCA) cycle:
Plan: Identify an opportunity and plan for change.
Do: Implement the change on a small scale.
Check: Use data to analyze the results of the change and determine whether it made a difference.
Act: If the change was successful, implement it on a wider scale and continuously assess your results. If the change did not work, begin the cycle again.
Other widely used methods of continuous improvement, such as Six Sigma, lean, and total quality management, emphasize employee involvement and teamwork, work to measure and systematize processes, and reduce variation, defects, and cycle times.
Continual or Continuous Improvement
The terms
continuous improvement
and
continual improvement
are frequently used interchangeably, but the main difference between the terms is time:
Common Dictionary Definitions of Continual and Continuous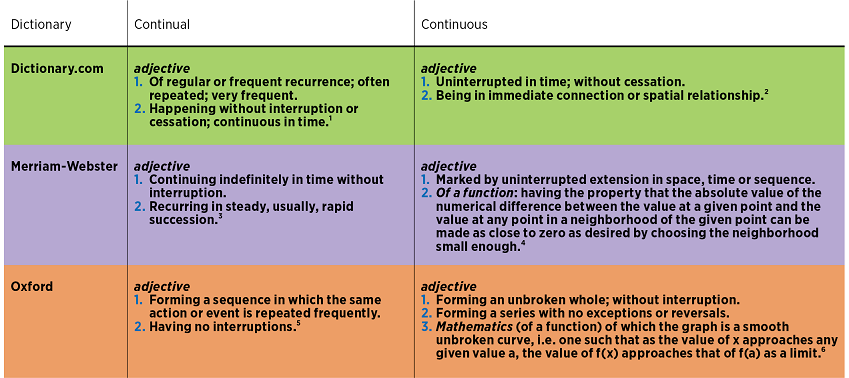 But some quality practitioners make the following distinction:
Continual improvement: A broader term preferred by W. Edwards Deming to refer to general processes of improvement and encompassing "discontinuous" improvements—that is, many different approaches, covering different areas.
Continuous improvement: A subset of continual improvement, with a more specific focus on linear, incremental improvement within an existing process. Some practitioners also associate continuous improvement more closely with techniques of statistical process control.
Excerpted from "In No Uncertain Terms," Quality Progress.
Continuous Improvement Resources
You can also search articles, case studies, and publications for continuous improvement resources.
Articles
Match the Change Vehicle and Method to the Job (Quality Progress) Process improvement teams must understand the definitions of the methodology, tools and change vehicles available to them, because mismatches can be fatal to a quality improvement program.
From Continuous Improvement to Continuous Innovation (Quality Management Journal) A close-up look at the concepts of continuous improvement, continuous innovation, discontinuous innovation, incrementalism, exploitation and exploration.
Continuous Improvement: Methods and Madness (World Conference on Quality and Improvement) Employee involvement, daily and evolutionary improvement, and focusing on product features are all characteristics of continuous improvement.
Switching From Improvement to Innovation on the Fly (Quality Progress) This article proposes a methodology to break logjams in process improvement drives by switching, on the fly, from an improvement to an innovation mode.
Case Studies
Process Improvement (PDF) Can artificial intelligence (AI) improve processes? Authors Sunil Kumar V. Kaushik and Georgios Zameptas believe it can.
Enabling Transformation with Continuous Improvement (PDF) Sheila Shaffie and her team at ProcessArc, a customer experience architecture firm, explain why it is beneficial to use multiple, complementary methodologies in business transformation and continuous improvement.
Continuous Improvement at Two Companies (PDF) Todd Schneider shares lessons learned from helping to integrate continuous improvement into the operations of two companies. Examples of improvement projects at his current employer, Serigraph, show how teams used Six Sigma to improve yield by more than 20%, which saved the company $40,000 in 10 months, and improve vendor material management, which now saves the company $192,000 per year.
Electric Utility Deploys Powerful Approach for Continuous Improvement (PDF) The Information Technology and Business Integration (IT&BI) Business Unit at Southern California Edison launched a three-year plan to increase visibility, awareness, and focus on continuous improvement methods to better meet client needs.
Books
Continuous Permanent Improvement
Modular Kaizen: Continuous and Breakthrough Improvement