Continuous Improvement
Quality Glossary Definition: Continuous improvement
Continuous improvement, sometimes called continual improvement, is the ongoing improvement of products, services or processes through incremental and breakthrough improvements. These efforts can seek "incremental" improvement over time or "breakthrough" improvement all at once.
The Continuous Process Improvement Model
Among the most widely used tools for the continuous improvement model is a four-step quality assurance method—the plan-do-check-act (PDCA) cycle:
Plan: Identify an opportunity and plan for change.
Do: Implement the change on a small scale.
Check: Use data to analyze the results of the change and determine whether it made a difference.
Act: If the change was successful, implement it on a wider scale and continuously assess your results. If the change did not work, begin the cycle again.
Other widely used methods of continuous improvement, such as Six Sigma, lean, and total quality management, emphasize employee involvement and teamwork, work to measure and systematize processes, and reduce variation, defects, and cycle times.
Continual or Continuous Improvement
The terms
continuous improvement
and
continual improvement
are frequently used interchangeably, but the main difference between the terms is time:
Common Dictionary Definitions of Continual and Continuous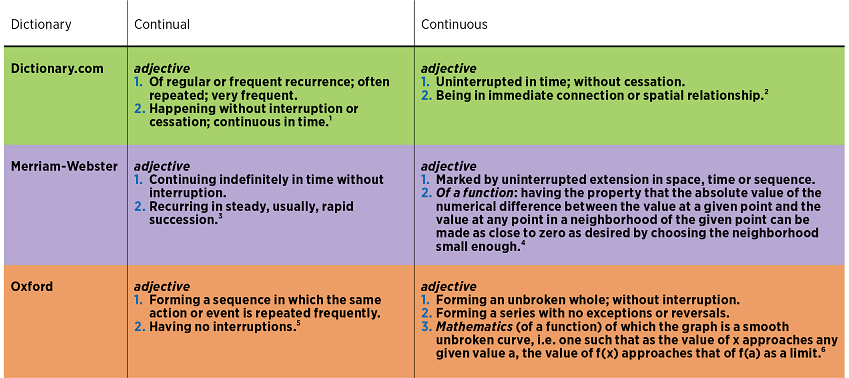 But some quality practitioners make the following distinction:
Continual improvement: A broader term preferred by W. Edwards Deming to refer to general processes of improvement and encompassing "discontinuous" improvements—that is, many different approaches, covering different areas.
Continuous improvement: A subset of continual improvement, with a more specific focus on linear, incremental improvement within an existing process. Some practitioners also associate continuous improvement more closely with techniques of statistical process control.
Excerpted from "In No Uncertain Terms," Quality Progress.
Continuous Improvement Process Case Studies
ASQ has worked with many organizations looking to implement the continuous improvement cycle, and we've gathered ASQ case studies from more than a dozen organizations that have implemented continuous improvement methodologies to achieve great success. To read more examples of success in quality, please visit ASQ Case Studies.
Process Improvement (PDF) Can artificial intelligence (AI) improve processes? Authors Sunil Kumar V. Kaushik and Georgios Zameptas believe it can.
Continuous Improvement at Two Companies (PDF) Todd Schneider shares lessons learned from helping to integrate continuous improvement into the operations of two companies. Examples of improvement projects at his current employer, Serigraph, show how teams used Six Sigma to improve yield by more than 20%, which saved the company $40,000 in 10 months, and improve vendor material management, which now saves the company $192,000 per year.
Electric Utility Deploys Powerful Approach for Continuous Improvement (PDF) The Information Technology and Business Integration (IT&BI) Business Unit at Southern California Edison launched a three-year plan to increase visibility, awareness, and focus on continuous improvement methods to better meet client needs.
The Challenge of Overcoming Success (PDF) A combination of theory of constraints, Six Sigma, and lean helped a DNA testing laboratory take a holistic approach to continual process improvement. Redesigning the workflow and laboratory layout and introducing new operating rules, increased capacity without increasing costs.
Can a Fishbone Diagram Stop a Bully? (PDF) In Community Consolidated School District 15, elementary students use quality tools to set goals, track academic progress, and even address behavioral issues such as playground bullying.
PDSA: A Road Map to Improved Writing Skills (PDF) Using the plan, do, study, act cycle, Winston Campus Elementary in Palatine, Illinois boosted sixth grade student writing test scores by 36%.
Former Baldrige Recipient Rekindles Its Quality Fire (PDF) Since Community Consolidated School District 15 in suburban Chicago received the Baldrige award in 2003, front-line staff members have maintained the continuous improvement effort by relying on quality tools such as the Plan, Do, Study, Act model.
Quality Club Teaches Today's Learners to Become Tomorrow's Leaders (PDF) Students who participate in a quality club at Hunting Ridge School in Palatine, Illinois learn continuous improvement methods and then conduct training sessions for their peers.
Quality Engrained in Culture at Iowa Hospital (PDF) The plan-do-study-act cycle, data-based decision making, and lean methodologies are part of the quality culture at Guttenberg Municipal Hospital. In 2008, the hospital received a Silver Award in the Iowa Recognition for Performance Excellence program.
CONTINUOUS IMPROVEMENT PROCESS articles
Match the Change Vehicle and Method to the Job (Quality Progress) Process improvement teams must understand the definitions of the methodology, tools and change vehicles available to them, because mismatches can be fatal to a quality improvement program.
From Continuous Improvement to Continuous Innovation (PDF) A close-up look at the concepts of continuous improvement, continuous innovation, discontinuous innovation, incrementalism, exploitation and exploration.
Continuous Improvement: Methods and Madness (PDF) Employee involvement, daily and evolutionary improvement, and focusing on product features are all characteristics of continuous improvement.
CONTINUOUS IMPROVEMENT Books
Continuous Permanent Improvement
Modular Kaizen: Continuous and Breakthrough Improvement
The Quality Toolbox, Second Edition
The ASQ Quality Improvement Pocket Guide
References:
Leadership on ASQTV
Culture on ASQTV
Free Continuous Improvement Resources