The Define, Measure, Analyze, Improve, Control (DMAIC) Process
Quality Glossary Definition: DMAIC
Define, measure, analyze, improve, and control (DMAIC) is a data-driven quality strategy used to improve processes. The letters in the acronym represent the five phases that make up the process, including the tools to use to complete those phases shown in Figure 1. It is an integral part of a Six Sigma initiative, but in general can be implemented as a standalone quality improvement procedure or as part of other process improvement initiatives such as lean.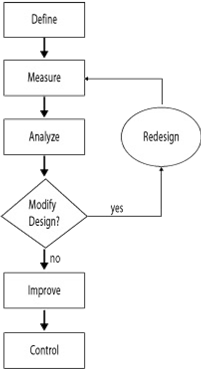 Figure 1: The DMAIC Methodology
The DMAIC Process
DMAIC vs. DMADV
Define, Measure, Analyze, Design, and Verify (DMADV) is a data-driven quality strategy that focuses on the development of new products or services compared to existing ones. The DMADV method or approach is often used when implementing new strategies because of its basis in data, its ability to identify success early, and its method, which requires thorough analysis. Like DMAIC, it is an integral part of a Six Sigma quality initiative.
DMAIC resources
You can also search articles, case studies, and publications for DMAIC resources.
To DMAIC or Not To DMAIC? (Quality Progress) Identify when you need a structured method for problem solving.
DMAIC Failure Modes (Six Sigma Forum Magazine) Read about actual experiences related to some of the key failure modes associated with DMAIC and effective countermeasures you can take.
How to Scope DMAIC Projects (Quality Progress) Scoping is a vital part of the define phase and can have a long-term impact on a Six Sigma program's ultimate success.
Excerpted from The Certified Quality Engineer Handbook, ASQ Quality Press.