Baldrige in Plain English, 2019-2020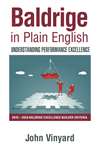 Baldrige in Plain English, 2019-2020
Understanding Performance Excellence
John Vinyard
Softcover,
160 pages, Published 2019
Dimensions: 6 x 9
ISBN: 978-0-87389-989-5
Item Number: H1564
Member Price: $
28.00
List Price: $

40.00
Looking to purchase for a course or large group?
Keywords
Baldrige
leadership
strategy development
customer engagement
workforce engagement
workforce results
Description
Health Care
"Understanding the language, meaning and subtle connections of the Baldrige framework can be daunting.
Baldrige in Plain English
artfully translates this complex model into a useable blueprint to start a journey of becoming more process-honoring!"
Pattie Skriba, Vice President
Advocate Good Samaritan Hospital, 2010 Baldrige Recipient
"Every successful leader understands the importance of continuous improvement.
Baldrige in Plain English
allows any leader to quickly gain a general understanding of the Malcolm Baldrige Criteria for Performance Excellence through simple explanations that describe the principles necessary for every organization to achieve excellence."
Matt Duke, Senior Vice President
San Antonio Methodist Healthcare, 2014 Texas Award for Performance Excellence Recipient
Service/Small Business
"As many years (25 or so) as I have been involved with the Baldrige Framework, I still struggle from time to time as to the meaning of the Baldrige language.
Baldrige in Plain English
helps me with real simple points to understand the underlying theme and how to apply it to our organization."
Lee Butler, Director of Performance Excellence
Don Chalmers Ford, 2016 Baldrige Recipient
All Sectors
"These Baldrige resources add great value to both leaders and organizations who are on their Baldrige journey. At Florida Sterling, we appreciate these translations as a way to help organizations demystify the Baldrige language and quite frankly, put the Criteria into plain English."
Dione Geiger, President
Florida Sterling Council, Southeast Partnership for Business Excellence (Florida and Georgia)