Baldrige for Leaders, 2019-2020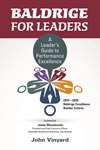 Baldrige for Leaders, 2019-2020
A Leader's Guide to Performance Excellence
John Vinyard
Spiralbound,
101 pages, Published 2019
Dimensions: 6 x 9
ISBN: 978-0-87389-988-8
Item Number: H1563
Member Price: $
28.00
List Price: $

40.00
Looking to purchase for a course or large group?
Keywords
Baldrige
criteria
leadership
strategy
workforce
operations
Description
"Guide me and help me improve our organization from a Baldrige-level perspective. That's what this book does for our ability to lead with excellence every time."
Lee Butler
Director of Performance Excellence
Don Chalmers Ford
2016 Baldrige Recipient
"Leaders must diagnose and understand gaps in strategy and performance. This book is a must-read for leaders to understand where to look and why." Dr. Glenn Crotty
Executive Vice President, COO
Charleston Area Medical Center
2015 Baldrige Recipient
"More than Category 1 (Leadership), this is a leader's guide to Excellence. It addresses all seven Baldrige Categories and helps leaders to use Baldrige to lead, learn and excel."
Paul Worstell
President (Retired)
PRO-TEC Coating Company
2007 Baldrige Recipient
About the Author:
John Vinyard is a Managing Partner and Co-Founder of Genitect. John has worked with numerous international firms in Europe, the Middle East, India, Asia, and the Pacific Rim. He specializes in working with leadership teams to help transform their organizations. John has worked with the Baldrige Award Program since 1991. He has helped 16 organizations become Baldrige Award recipients, including: Charleston Area Medical Center, Don Chalmers Ford, Advocate Good Samaritan Hospital, Poudre Valley Health System, Sharp Healthcare, Northern Mississippi Medical Center, PROTEC Coating, and others.