The Certified Quality Technician Handbook, Third Edition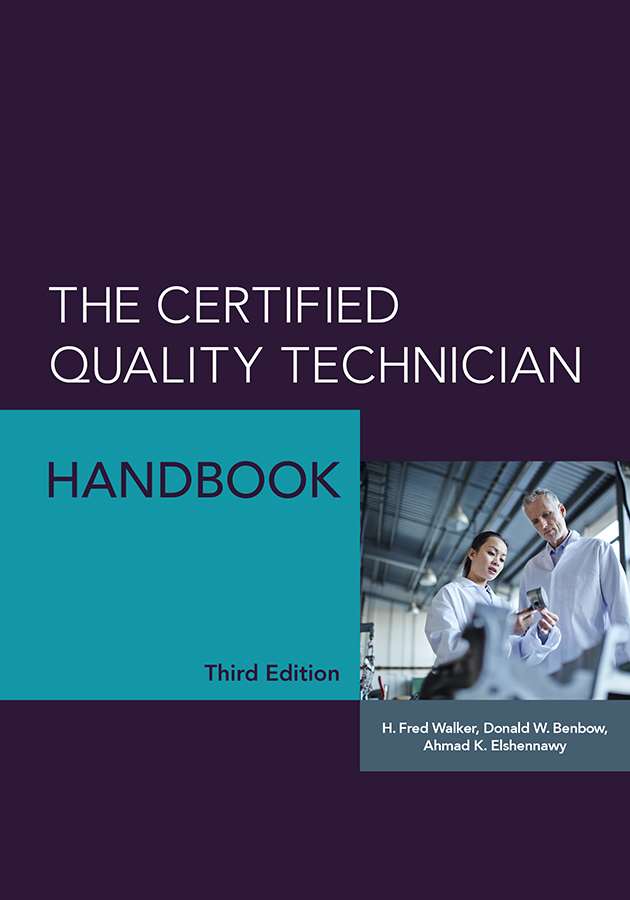 The Certified Quality Technician Handbook, Third Edition
H. Fred Walker, Donald W. Benbow, Ahmad K. Elshennawy
Hardcover,
312 pages, Published 2018
Dimensions: 7 x 10
ISBN: 978-0-87389-976-5
Item Number: H1551
Member Price: $
94.50
List Price: $

135.00
Looking to purchase for a course or large group?
Keywords
Certified Quality Technician
CQT
Description
The quality technician is a person responsible for understanding and utilizing quality concepts and tools, statistical techniques, metrology and calibration procedures and protocols, inspection and test techniques, quality auditing, and preventive and corrective action in the context of product/process/service improvement or in correcting problems. Quality technicians frequently work in the quality function of organizations in the various measurement and inspection laboratories, as well as on the shop floor supporting and interacting with quality engineers, mechanical inspectors, and production/service delivery personnel.
This book supports individuals preparing for, or those already performing, this type of work. It is intended to serve as a ready reference for quality technicians and quality technicians-in-training, as well as a comprehensive reference for those individuals preparing to take the ASQ Certified Quality Technician (CQT) examination. Examples and problems used throughout the handbook are thoroughly explained, are algebra-based, and are drawn from "real world" situations encountered in the quality profession.
To assist readers in using the book as a ready reference or as a study aid, the book has been organized so as to conform closely to the 2018 CQT Body of Knowledge (BoK).