Quality Risk Management in the FDA-Regulated Industry, Second Edition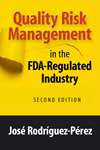 Quality Risk Management in the FDA-Regulated Industry, Second Edition
José Rodríguez-Pérez
Hardcover,
368 pages, Published 2017
Dimensions: 6 x 9
ISBN: 978-0-87389-948-2
Item Number: H1524
Member Price: $
40.60
List Price: $

58.00
Looking to purchase for a course or large group?
Keywords
risk management
FDA-regulated industries
medical and food product manufacturers
Description
The purpose of this new edition is to offer an updated view of the risk management field as it applies to medical products. Since the publication of the first edition (2012), the emphasis on risk-based processes has growth exponentially across all sectors, and risk management is now considered as significant as quality management. ISO 9001 was revised and now requires that top management promote the use of risk-based thinking. ISO 13485:2016, which specifies the requirements for a quality management system specific to the medical devices industry, also now shows a greater emphasis on risk management and risk-based decision making. In addition, the FDA Food Safety Modernization Act (FSMA) is the most important reform of U.S. food safety laws in more than 70 years.
This indispensable book presents a systematic and comprehensive approach to quality risk management. It will assist medical and food product manufacturers with the integration of a risk management system or risk management principles and activities into their existing quality management system by providing practical explanations and examples. The appropriate use of quality risk management can facilitate compliance with regulatory requirements such as good manufacturing practice or good laboratory practice.
All chapters have been updated and revised, and a new chapter has been added to discuss some of the most common pitfalls and misunderstandings regarding risk management, specifically those related to the use of FMEA as the only element of risk management programs. One of the appendices includes 12 case studies, and the companion CD-ROM contains dozens of U.S. FDA and European guidance documents as well as international harmonization documents (ICH and GHTF-IMDRF) related to risk management activities, as well as a 30-question exam (with answers) on the material discussed in the book.