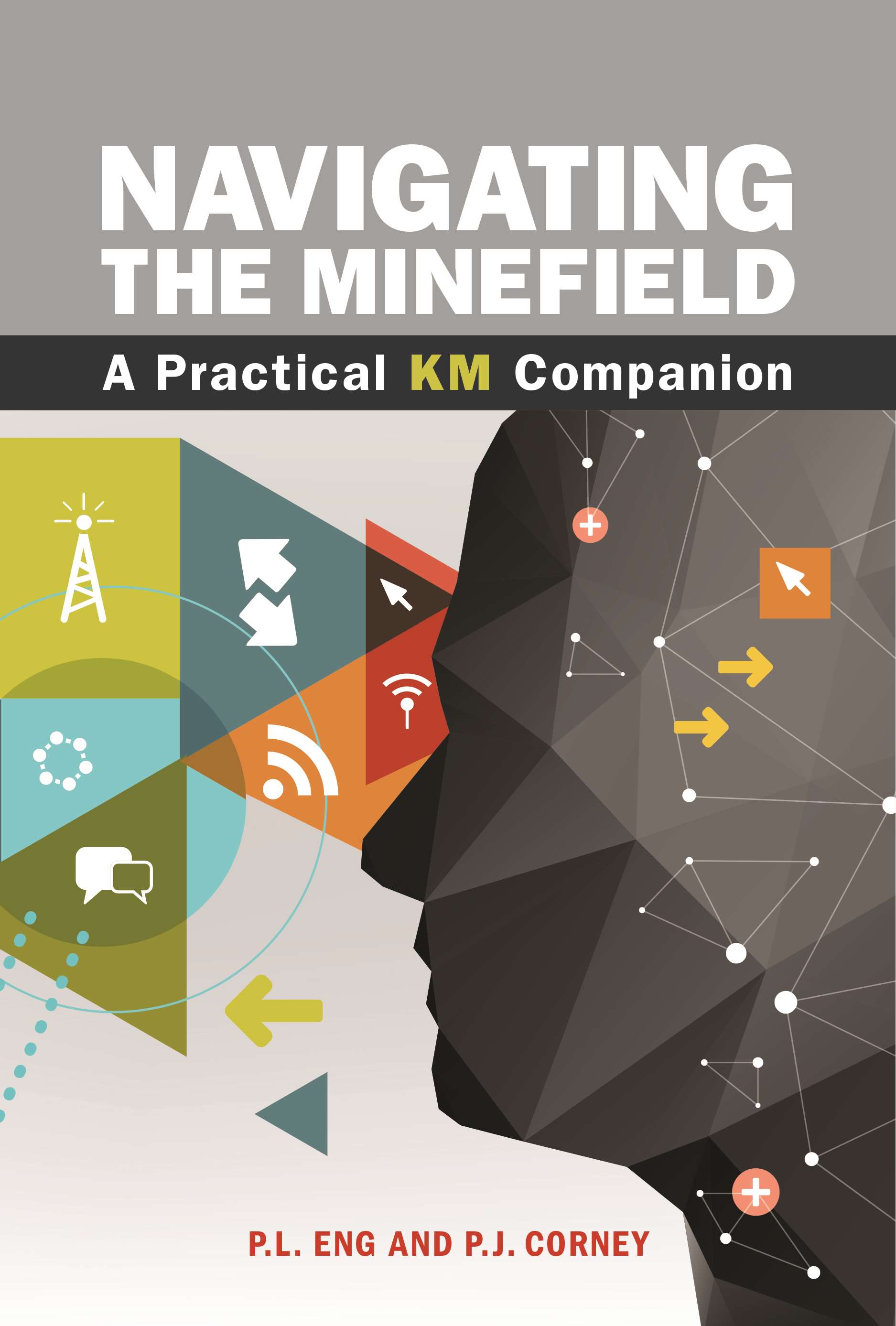 Navigating the Minefield
A Practical KM Companion
Patricia Lee Eng, Paul J. Corney
Hardcover,
140 pages, Published 2017
Dimensions: 6 x 9
ISBN: 978-0-87389-954-3
Item Number: H1529
Member Price: $
24.50
List Price: $

35.00
Looking to purchase for a course or large group?
Description
This book was written for anyone who is interested in using their knowledge more effectively to optimize operations. This knowledge can be their own, that of the teams in which they work, or the knowledge of the wider communities and teams in which they participate.
Whether you are a recently appointed knowledge management (KM) staffer, an experienced 'KMer' who feels stagnant and stuck, or a senior manager with KM oversight responsibility looking for ways to improve the use of knowledge in your organization, this book was written for you. It is based on interviews with individuals who have created and managed successful KM programs around the world. The authors examine and analyze diverse KM programs and tactics, using quotes, insights, and stories to show why these programs are successful and how they improve both knowledge capture and knowledge flow.
The book examines 19 KM programs, including those at Airbus, ARUP, Cadbury Schweppes, Hewlett Packard (HP), the International Center for Tropical Agriculture, (CIAT), Lloyds Register Marine, NASA, MPM PETRONAS, U.K. National Health Service Digital, and the U.S. Army.

Praise for Navigating the Minefield:
"Having worked with Paul both in person and at workshops across the globe, I've found him to be an incredibly insightful individual. Paul has the rare ability to bridge varying points of view within a room, find the commonality, and carry the debate forward through insight and ingenuity. Patricia's experience working through the U.S. Nuclear Regulatory Commission is a fascinating read, and draws the depth of both knowledge management and an engineering background to the fore. This combination is felt throughout the read, and the incredible experience and expertise both Patricia and Paul bring is felt throughout the pages. The breadth of scope covered is truly compelling, illustrating not just innovative approaches towards cost savings and efficiencies from an organizational knowledge sharing sense, but also quality of life, quality of culture, and in a very literal sense, saving lives as illustrated through narrative regarding the U.S. Army. Navigating the Minefield is a fascinating read, and a must for the global knowledge professional. "
Eric Hunter
Director of Knowledge, Technology & Innovation Strategies, Bradford & Barthel, LLP
and Executive Director, Spherical Models, LLC
"Whether you are starting out in KM or have more KM experience, there is something for you in this KM companion. Some of the ideas were new to me and I found much to inspire my own KM efforts. It's good to learn lessons from other KMers, learning from both good and bad KM experiences.
What I like about this companion is that it has a range of realistic up-to-date examples both on how to start KM in an organisation and also how to sustain KM. The examples are drawn from 19 KM programmes from diverse organisations, from government and industry sectors from across the world, and provide great stories to encourage KM in organisations. There are useful anecdotes that you can reuse to sell KM in your organisation ."
Karen McFarlane
CILIP Trustee, CILIP Board Chair
Former UK Government Head of Profession for Knowledge and Information Management
"Books purporting to educate on the multi-dimensional subject of knowledge management often tend to polarise, over-emphasising the near-religious philosophical aspects of the discipline or over-engineering the technology driven tools and techniques.
Eng and Corney have approached the subject from a practical perspective, looking through a selection of concise case studies for what works and what does not across an array of organisations worldwide. That their subject matter comes from multiple sectors across an international pool of organisations with clear multicultural challenges makes the stories documented that much more interesting and useful. As someone who set up the first massively successful knowledge management functions at one of the world's most prominent but risk-averse global financial institutions in its 150-year history, the challenges documented by Eng and Corney and their resolution recommendations resonate. As someone who now has to craft global business strategies by relying on the mature KM solutions of one of the world's most successful consulting firms, the pain points and road blocks highlighted make perfect sense.
A quick and easy read, Navigating the Minefield is not a tome meant to outdo War and Peace, but rather is an easy read and a handy reference guide to everyday KM practitioner problems and practical, implementable solutions. A copy of it will sit within easy reach on my desk."
Larry Campbell
Head of Financial Services Strategy, KPMG
Former Group Chief Knowledge Officer, HSBC
"I first met Patricia Eng when she was describing her KM program at the NRC at KM World in 2009 and was blown away by her candor, her common sense, and her ferocious determination to deliver value. I have worked with Paul Corney on numerous occasions and have always been impressed by his ability to take a strategic, balanced view, followed by an unerring ability to get to the heart of the matter. KM practitioners go deep, KM consultants go broad. When you get an alliance between the two, and then add their formidable personal networks, you get something quite extraordinary. This is an unparalleled distillation of learning and wisdom from multiple continents and organisation types, on how to go about implementing KM. It should be required reading for KM practitioners (and consultants), those who are new and those who want to reflect on their practice."
Patrick Lambe
Partner, Straits Knowledge
"Whether you are new to knowledge management or a seasoned KMer, Navigating the Minefield is an absolute must-read. Chockablock with time-tested techniques and sage advice, this book simplifies the rather complex domain of managing organizational knowledge. Unlike many books in the field, Navigating the Minefield offer solutions that will work in practice, and not just in theory!"
John P. Girard, Ph.D.
Peyton Anderson Endowed Chair
Middle Georgia State University