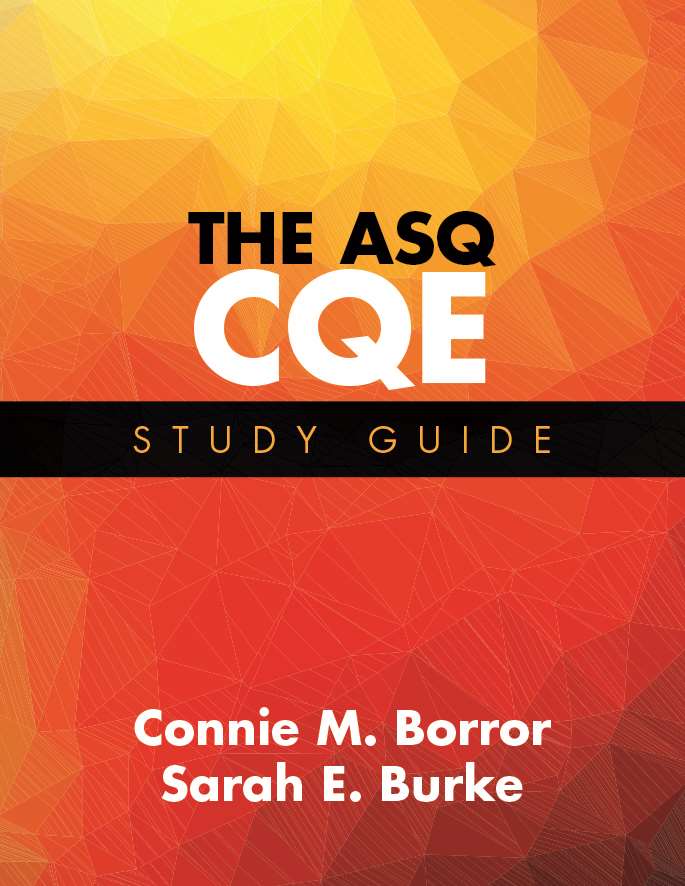 The ASQ CQE Study Guide
Connie M. Borror, Sarah E. Burke
Spiralbound,
254 pages, Published 2015
Dimensions: 81/2 x 11
ISBN: 978-0-87389-919-2
Item Number: H1496
Member Price: $
35.00
List Price: $

50.00
Looking to purchase for a course or large group?
Keywords
Certified Quality Engineer
CQE
Description
This book is primarily meant to aid those taking the ASQ Certified Quality Engineer (CQE) exam and is best used in conjunction with
The Certified Quality Engineer Handbook
. Section 1 provides 380 practice questions organized by the seven parts of the 2015 Body of Knowledge (BOK). Section 2 gives the reader 205 additional practice questions from each of the seven parts, in a randomized order.
For every question in both sections, detailed solutions are provided that explain why each answer is the correct one and also which section of the BOK the question corresponds to so that any further study needed can be focused on specific sections.
A secondary audience is those taking exams for ASQ certifications whose BOKs' have some crossover with the CQE. Namely, the Certified Six Sigma Black Belt (CSSBB), Certified Six Sigma Green Belt (CSSGB), Certified Reliability Engineer (CRE), and Certified Quality Inspector (CQI). Using this guide in studying for any of these exams would be extremely useful, particularly for the statistics portions of the BOKs.
Unlike other resources on the market, all these questions and solutions were developed specifically to address the 2015 CQE Body of Knowledge and help those studying for it, including taking into account the proper depth of knowledge and required levels of cognition. None of this material has appeared in any previous resource or been shoehorned into fitting under the BOK's topics.
NOTE: Practice/sample test questions such as those in this study guide cannot be taken into ASQ certification exam rooms.