International Team Excellence Award
CASE STUDIES. BENCHMARKING. RESULTS. RECOGNITION.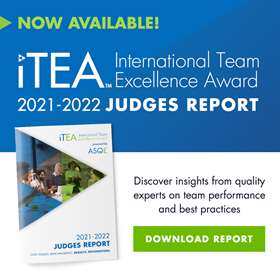 ASQE took ownership of ITEA in January 2020, due to its focus on organizational best practices. The pandemic has forced many organizations to take a hard look at their programs and offerings, and our societies have not been immune to this introspection. Because of this, ASQE has made the difficult decision to discontinue the ITEA program, effective July 1, 2022.
Rooted in quality history, the ITEA program has enjoyed over 35 years advancing the field of quality, inspiring organizational excellence best practices, and recognizing team achievements. The most valued aspects of the program—recognition, member engagement, and knowledge sharing—are of great importance to our societies. They will continue to be our goals as ASQE redeploys the resources, talents, and skills used in the administration of ITEA to evaluate, evolve, and enhance our existing suite of organizational member benefits – all with the focus to drive best practices and thought leadership to improve organizational success.
ASQE and ASQ are extremely grateful to the over 6,000 member judges who have participated in the ITEA program over the years. Their years of experience, knowledge, and expertise ensured that the most qualified of projects earned the prestigious Gold, Silver, and Bronze awards. We are committed to evaluating opportunities to utilize member expertise and add value to the programs we develop in the future.
Resources like the 2021-2022 ITEA Judges Report and 2021-2022 ITEA Showcase recordings of two finalist teams, Samsonite and FedEx, are still available to further professional development in quality using organizational excellence best practices.