Dr. Frank M. Gryna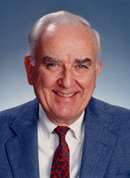 Gryna Dr. Frank M. Gryna was named an ASQ Honorary member. His citation reads, "For an exemplary lifetime of dedicated service to the global quality community as author, educator, consultant, and mentor for his exceptional contributions to the disciplines of quality management and industrial engineering."
An ASQ Fellow, Gryna is professor emeritus of industrial engineering at Bradley University. He was the recipient of ASQ's Distinguished Service Medal in 2002, Edwards Medal in 1993, and the Grant Award in 1979.
Gryna is perhaps best known as the co-author with Joseph M. Juran of the first four editions of the Juran Quality Handbook and the first two editions of Quality Planning and Analysis. He was also a senior vice president of the Juran Institute for more than 15 years. His most recent book, Work Overload-Redesign the Work, was published by ASQ Quality Press.
He earned his doctorate in industrial engineering from the University of Iowa.