William A. Golomski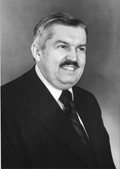 Educator, industrial worker, consultant, and manager
"From that first day in the Fall of 1948 when I saw my first Shewhart control chart, I have been vitally interested in the field of quality control," William A Golomski wrote in Industrial Quality Control in July 1996 as ASQ's president. "I viewed it as an educator, as a worker in industrial positions, as a consultant, and as a manager. Although my interests may have been in fields of industry quite different from yours, the amazing thing to me was the consistency of the underlying principles and their immense practicality."
Golomski was named an Honorary member in 1992 in recognition of his "significant and enduring contributions to ASQ, including his service as president and chair in 1966-1968. In addition to his work in the corporate world, he has been a leader in communicating quality concept, principles, and methodology at the university level. As a distinguished teacher and educator, he has furthered the understanding of those concepts on which the Society's existence is based."
Prior to his retirement, Golomski was president of W.A. Golomski and Associates, a Chicago-based international technical and management consulting firm. He was also a senior lecturer in the business policy and quality management with the Graduate School of Business of the University of Chicago,.
The author of more than 300 papers and 10 books, Golomski holds masters degrees from the Milwaukee School of Engineering, the University of Chicago, Marquette University, and Roosevelt University.
Vigorous promoter
As an author and speaker, Golomski vigorously promoted quality control and the allied arts and sciences in trade associations and other technical and management organizations. While he was ASQ's president, he voiced the need for quality professionals to be involved in the mainstream activities of civilization. But he also recognized that ASQ could not do everything and had to be selective in its involvements, establishing a proper balance among activities that would benefit members and those that would benefit industry and government, reflecting ASQ's broader social responsibilities in the many non-technical areas of human activity.
Golomski was the 1975 Edwards medalist and received the Grant Award in 1990. The Food, Drug, and Cosmetic Division has an award named for Golomski, who has been an ASQ Fellow since 1959. Golomski served as founding editor of the Quality Management Journal. A fellow of the Institute of Industrial Engineers, he received the Award for Excellence of that organization's Quality and Reliability Division. Golomski is also a fellow of the American Association for the Advancement of Science, the Royal Society of Health, and the American Statistical Association. A member and vice president of the International Academy for Quality, he served on the board of overseers and as a judge for the Malcolm Baldrige National Quality Award and was a judge for the RIT/USA Today Quality Cup and Florida's Sterling Award.
Why be professional?
Golomski advocated high standards for the field of quality control and those who practiced in it. In an article titled "Why Be Professional?" in the April 1967 issue of Industrial Quality Control, he wrote, "A professional in any field is a person who has a certain level of competence. Second, it implies a commitment to the field, a desire to improve one's self and, furthermore, pride of performance and interest in one's work. Last, it implies a level of trustworthiness with an underlying social responsibility implication."
He went on to say, "Those of us who have pride in our work and a sense of social responsibility feel that the only way American industry will be able to compete in the days ahead is by having a much higher quality level for our products."
"The professional nature of the quality control within the corporation demands that we influence quality wherever we can," Golomski concluded. "In summary, the reason one would want to be a professional is to be in a position of trust, of service, and of responsibility, at a high level of competence. In particular, the quality professional wants to take on the responsibility for steering the course of quality within the corporation.