Freund Scholar Wants to Design Tools for a Reliability Revolution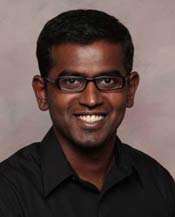 MILWAUKEE July 28, 2008—Amar Thiraviam traces his fascination with the quality disciplines back to his days as a child in Chennai, India, where he would observe the goods for sale in his father's retail store and wonder about how they came to be produced.
"I was fascinated by the seemingly conflicting customer requirements of quality and cost and how these attributes delighted or disappointed a customer," he says. "I used to take a look at things—for example, take a look at a pen, which cost one dollar. I was amazed that somebody could make it for a dollar. I never understood this whole concept of mass production, which makes sense now but it did not make sense then."
For Thiraviam, the recipient of ASQ's 2008 Richard A. Freund International Scholarship, that curiosity about how things are made, and a love of numbers, led him to study quality engineering and reliability engineering. He will use the scholarship to help him pursue a doctorate degree in industrial engineering at the University of Central Florida in Orlando, where he plans to concentrate on developing new reliability testing tools.
"I totally enjoy statistics and I also really like design. I look at reliability engineering as the one discipline that has both in it," he says.
Thiraviam is convinced there is a reliability revolution underway, and he wants to be involved in it.
"Reliability engineering is the discipline that helps you achieve the quality at the very first stage, which is design," he states. "We're in a phase where companies are starting to realize that, and there's more and more emphasis on reliability engineering than ever before."
He sees reliability as a wide-open field offering lots of opportunities for young people like himself who can combine skills and interests in disparate disciplines such as statistics and design.
"Compared to other disciplines, reliability engineering is very young—there's a lot more work to be done improving the tools," he says.
For Amar Thiraviam, designing new reliability tools is the next step in a natural progression from a child's simple questions about how things are made.
About the Freund Scholarship
The Richard A. Freund International Scholarship honors the memory of Richard A. Freund, a past president of the American Society for Quality (1972-73). Freund was recognized internationally for his contributions to quality, international goodwill, and tireless scholarship. During his 34-year career with Eastman Kodak Company, he played a key role in molding the direction of its quality effort.
Awarded annually for the past 12 years, the scholarship supports a candidate's graduate study of the theory and application of quality control, quality assurance, quality improvement, and total quality management. It covers the engineering, statistical, managerial, and behavioral foundations of those fields. The scholarship is offered to members and nonmembers worldwide. Study may take place in one's own country or in another country.
The annual scholarship is funded through a gift of $100,000 that was made to ASQ by Freund's widow, with instructions that ASQ shall administer it. Scholarship applications are received no later than April 1 of each year, with the award being made by June 1 of each year. The approximate amount of the yearly award is $5,000.
The scholarship is given to a student who is planning to enroll, or already is enrolled, in a master's degree or higher level program that focuses on quality engineering, total quality management, quality control, quality assurance, quality improvement, or a similar quality emphasis at any university or college. Candidates must provide documentation they've been accepted into an appropriate program.