Freund Scholar Is a Young Man With a Plan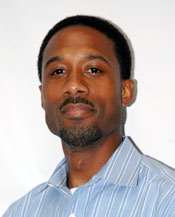 It didn't happen on the first try, or even on the second. But the third time he applied, Edrin Rouse was awarded ASQ's Richard A. Freund International Scholarship for 2006.
"I'm a person who tends to persevere—I just keep trying," says the 36-year-old Rouse, who has a clear and carefully constructed career plan that so far has taken him from holding manufacturing quality assurance positions to serving as a change agent and Six Sigma Black Belt in financial institutions.
Now he wants to use the scholarship to help him pursue the next phase in his plan: his dream of one day becoming a university professor, teaching and doing research in quality and process improvement.
Rouse, who has a master's degree in industrial technology (quality systems) from Eastern Michigan University, has been accepted into the doctor of philosophy program in business administration at Northcentral University.
"I've always been interested in teaching," says Rouse, who is currently doing some teaching as an online professor at California National University for Advanced Studies. "I like being around students—sharing my experiences with them in a setting where they can learn and draw upon my experience and their own experiences to understand the theory and the concepts. I really enjoy that, as well as the interaction."
Rouse has some impressive accomplishments on his resume. He is a senior vice president at Bank of America in Charlotte, North Carolina, where he leads Six Sigma activities and drives large-scale process improvement initiatives. He came to his present position after manufacturing-based stints at Phillip Morris, General Motors, and AMP, Inc., and after moving into the service sector with GE Capital.
"I've taken a traditional route in quality, starting in mainly manufacturing companies," he says. "I worked in quality engineering and as a quality analyst and then at a certain point I started working in the service industry, where I got into some operational consulting."
Realizing that Six Sigma was picking up momentum, Rouse says he saw that many of his skills applied in that arena as well. "I went to work at GE Capital as a Black Belt, and it was a great fit for me there."
While at GE Capital Rouse started to help the HR organization with some quality improvements, using his Six Sigma skills as well as quality engineering skills in the "soft" area of human resources. The organization tapped him to move into an HR consulting role, where he says he came to see that Six Sigma overlaps with HR and organizational development. "You definitely need both of them, because while one focuses on the traditional quality, you also have to manage change effectively when you're making process improvement that deals with the human side of things," Rouse says.
Rouse then went to Bank of America in a personnel management role, where he had to focus more on change management and organizational interventions. Lately, however, his work at the bank has migrated back into a core Black Belt type role.
As he moves into the academic world, Edrin wants to apply his varied work experiences and his academic knowledge to research that will "take the quality profession to the next level, where we need it to go." It's all part of the plan.
About the Freund Scholarship
The Richard A. Freund International Scholarship honors the memory of Richard A. Freund, a past president of the American Society for Quality (1972-73). Freund was recognized internationally for his contributions to quality, international goodwill, and tireless scholarship. During his 34-year career with Eastman Kodak Company, he played a key role in molding the direction of its quality effort.
Awarded annually for the past 12 years, the scholarship supports a candidate's graduate study of the theory and application of quality control, quality assurance, quality improvement, and total quality management. It covers the engineering, statistical, managerial, and behavioral foundations of those fields. The scholarship is offered to members and nonmembers worldwide. Study may take place in one's own country or in another country.
The annual scholarship is funded through a gift of $100,000 that was made to ASQ by Freund's widow, with instructions that ASQ shall administer it. Scholarship applications are received no later than April 1 of each year, with the award being made by June 1 of each year. The approximate amount of the yearly award is $5,000.
The scholarship is given to a student who is planning to enroll, or already is enrolled, in a master's degree or higher level program that focuses on quality engineering, total quality management, quality control, quality assurance, quality improvement, or a similar quality emphasis at any university or college. Candidates must provide documentation they've been accepted into an appropriate program. Deadline for applications is April 1 of each year.
Applicants must have a grade point average (GPA) or equivalent of 3.25 or higher on a 4.0 scale for undergraduate studies (bachelor's degree) in engineering, the sciences, or business. The GPA is the grading system utilized in the United States.