ASQ Freund Scholarship Winner Has Bold Plans for His Future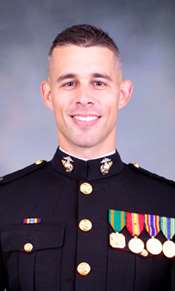 The winner of the Richard A. Freund International Scholarship for 2005 is Capt. Michael S. Lorence of the U.S. Marine Corps. He will use the scholarship funds when he pursues a master of business administration degree at the Darden School of Business at the University of Virginia this fall.
A graduate of the Virginia Military Institute, where he was awarded a bachelor of science degree in mechanical engineering, Lorence recently completed undergraduate business courses at Hawaii Pacific University (where he held a perfect 4.0 average) in preparation for earning his MBA with a concentration in quality management. He noted that he was also accepted to the Yale School of Management, but chose Darden "due to its superior ranking, general management, quality-centered curriculum, and 'fit' for my family." He and his wife, Erica, have family and church ties to the area.
Lorence, 29, plans on using his engineering and leadership skills to create an engineering construction company that will be focused on producing quality public-private infrastructure development and disaster relief reconstruction. He says his Marine Corps training has given him invaluable leadership and engineering skills that will transfer seamlessly to this future venture. However, he felt he still lacked the business acumen required to empower a firm to reach its highest potential and level of quality management in the private sector. Therefore, an MBA with an emphasis on quality management will substantially advance his efforts.
After business school, Lorence plans on spending five years in a management role with an international contracting firm, in order to gain valuable domestic and international construction experience. He will then seek to start his own firm, which will be located in the Southeast. Within 10 years, he plans on growing it into a regionally recognized firm by leveraging his veteran's preference status to win federal contacts. Then, within 25 years, he plans that his company will become nationally recognized by expanding its efforts to rapid development of high-quality military operational infrastructure and national emergency rebuilding efforts. Within 35 years, he says he plans to be an international competitor in the United States and allied government base development.
"I feel I deserve this award because of my successful 10-year association with an organization that viciously pursues quality control, quality improvement, and quality leadership: the United States Marine Corps," Lorence says. "As the premier service in the Department of Defense, the Marine Corps breeds a unique prototype who is adept at the pursuit of quality in all aspects of one's life. Specifically, the Marines have inculcated in me the intangible traits of dependability, initiative, enthusiasm, unselfishness, and moral courage which are the key character ingredients of a professional who truly strives for quality in all areas of professional and personal life. Coupling these traits with my leadership and quantitative abilities, I will be able to pursue an extremely aggressive practice of quality management, quality control, and quality assurance within my future firm."
This scholarship honors the memory of Richard A. Freund, a past president of the American Society for Quality (1972-73) and has been awarded annually for the past 11 years. It is for graduate study of the theory and application of quality control, quality assurance, quality improvement, and total quality management. It covers the engineering, statistical, managerial, and behavioral foundations of those fields. The scholarship is offered to members and nonmembers worldwide. Study may take place in one's own country or in another country.
The annual scholarship is supported through a gift of $100,000 that was made to ASQ by Freund's widow, with instructions that ASQ shall administer it. Scholarship applications are received no later than April 1 of each year, with the award being made by June 1 of each year. The approximate amount of the yearly award is $5,000.
Richard A. Freund was recognized internationally for his contributions to quality, international goodwill, and tireless scholarship. During his 34-year career with Eastman Kodak Company, he played a key role in molding the direction of its quality effort.
Selection criteria for the scholarship are: It is given to a student who is planning to enroll or is already enrolled in a master's degree or higher level program that has a concentration in quality engineering, total quality management, quality control, quality assurance, quality improvement, or similar quality emphasis at any university or college. Documentation indicating acceptance of enrollment into an appropriate program is needed. Payment of the scholarship is contingent on actual acceptance. Membership in ASQ is not a requirement to receive the scholarship.
Applicants must have a grade point average (GPA) or equivalent of 3.25 or higher on a 4.0 scale for undergraduate studies (bachelor's degree) in engineering, the sciences, or business. The GPA is the grading system utilized in the United States.