What is the Malcolm Baldrige National Quality Award (MBNQA)?
Quality Glossary Definition: Malcolm Baldrige National Quality Award (MBNQA)
The Malcolm Baldrige National Quality Award (MBNQA) is an award established by the U.S. Congress in 1987 to raise awareness of quality management and recognize U.S. companies that have implemented successful quality management systems. The award is the nation's highest presidential honor for performance excellence.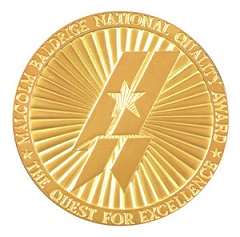 The Malcolm Baldrige National Quality Award (MBNQA)
Three MBNQA awards can be given annually in six categories:
Manufacturing
Service Company
Small Business
Education
Healthcare
Non-profit
The education and healthcare categories were added in 1999, while the government and non-profit categories were added in 2007.
The MBNQA award is named after the late Secretary of Commerce Malcolm Baldrige, a proponent of quality management. The U.S. Commerce Department's National Institute of Standards and Technology manages the award, and ASQ administers it.
Free Baldrige Resources
The Seven Baldrige Award Criteria Categories
Organizations that apply for the Malcolm Baldrige National Quality Award are judged by an independent board of examiners. Recipients are selected based on achievement and improvement in seven areas, known as the Baldrige Criteria for Performance Excellence:
Leadership: How upper management leads the organization, and how the organization leads within the community.
Strategy: How the organization establishes and plans to implement strategic directions.
Customers: How the organization builds and maintains strong, lasting relationships with customers.
Measurement, analysis, and knowledge management: How the organization uses data to support key processes and manage performance.
Workforce: How the organization empowers and involves its workforce.
Operations: How the organization designs, manages, and improves key processes.
Results: How the organization performs in terms of customer satisfaction, finances, human resources, supplier and partner performance, operations, governance and social responsibility, and how the organization compares to its competitors.
The 2019-2020 Baldrige Excellence Framework is available for the business/nonprofit, healthcare, and education industries. The criteria focuses on managing all components of an organization as a whole, cybersecurity risks, and understanding the role of risk management within a systems perspective of organizational performance management.
MALCOLM BALDRIGE BOOKS
Malcolm Baldrige Award Case Studies
ASQ's case study collection offers insight into the Baldrige journeys of organizations in healthcare, education, services, and more.
Aligning, Improving Key Measures Net Texas Healthcare Organization Baldrige Honor
When St. David's HealthCare first adopted the Baldrige criteria, leaders viewed it as an improvement framework to shape a culture of quality and performance excellence. Once immersed in the framework, leaders used it as a tool to help align and improve the work of the organization and key performance measures. The organization's emergency departments served as a prime example of improving key metrics, as wait times were significantly shortened to meet competitive challenges. In 2014, St. David's HealthCare earned the nation's top honor for performance excellence, the Malcolm Baldrige National Quality Award.

10-Year Quality Journey Leads to Baldrige Honor for Wisconsin School District
A decade ago, as the Pewaukee School District deployed the Baldrige framework, it also embraced a systematic problem solving culture, resulting in innovative solutions for serving students. By tailoring instruction to meet students' needs, key measures such as graduation rates and ACT scores improved significantly. Using quality examiner feedback as an improvement road map, the district captured three Wisconsin Forward Awards before earning the nation's highest quality recognition, the Malcolm Baldrige National Quality Award, in 2013.

Journey to Perfect: Mayo Clinic and the Path to Quality
Learn about the system-wide transformation achieved at one of the most respected names in healthcare worldwide. Also view a companion video featuring Mayo leaders on how the organization created patient-centered, reliable care across more than 70 locations.

Critical Success Factors Lead to Second Baldrige Award (PDF)
After its flagship hospital received a Baldrige Award in 2006, North Mississippi Health Services deployed the Baldrige Criteria throughout the entire organization. Focusing on its five critical success factors, the system received the Baldrige in 2012.

Solid Commitment to People Is Main Ingredient for Texas Restaurant Excellence
In 2010, K&N Management became the second food service recipient of the Malcolm Baldrige National Quality Award and the first restaurant group ever to receive the Texas Award for Performance Excellence.

Former Baldrige Recipient Rekindles Its Quality Fire (PDF)
Since Community Consolidated School District 15 in suburban Chicago received the Baldrige award in 2003, front-line staff members have continued the improvement effort by relying on quality tools such as the plan, do, study, act model.

What's Your Story?
Do you have an accomplishment to share from using the Baldrige framework or process?

Let ASQ publish your success story.
Malcolm Baldrige Award Articles
Insights from the Baldrige Award Item-Level Blinded Applicant Scoring Data (Quality Management Journal) Examining applicant scoring data of the Malcolm Baldrige National Quality Award, this paper provides longitudinal and a cross-sectional views of the data and makes observations on how award applicants' scores have evolved over time.
Management System Design for Sustainable Excellence (Quality Management Journal) The author presents a framework and approach for management system design, building on Baldrige-based performance excellence concepts and integrating aspects of systems theory, design thinking, appreciative inquiry, and sustainability.
The Impact of Baldrige on Organizational Performance (Journal for Quality and Participation, ASQ member exclusive content) Many organizational leaders are unaware of or unwilling to commit to the Baldrige criteria. One reason may be the incorrect belief that the return only applies to award-winning organizations, but a number of studies demonstrate that this is not the case.
CEO Attitudes and Motivations: Are They Different for High-Performing Organizations? (Quality Management Journal) This article details the findings from an exploratory, mixed-method, multiple case study on the motivational and attitudinal patterns of CEOs who have led successful organization transformations.
Avoid Random Acts of Improvement With Baldrige (Quality Progress) The Baldrige National Quality Program's improvement model can help guide organizations to select projects that align with strategic needs and focus on maintaining their value chains.
Danger Zones: The 10 toughest aspects of the Baldrige criteria (Quality Progress) The rigorous Baldrige criteria force organizations to deal with difficult questions about their operations, but answering the questions adequately and appropriately can be the key to reaching higher levels of business excellence.
Beginning the Journey Towards Baldrige (Journal for Quality and Participation) In 1999, the Baldrige National Quality Program expanded to allow educational organizations to participate. This article shows the thoughts and experiences of educators beginning the journey toward Baldrige excellence.
More MBNQA articles and content
Featured MBNQA Partners