EMS - Case Studies & ISO 14001 Sustainability Articles
ISO 14001 on ASQTV™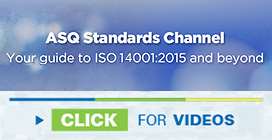 Purchase ISO 14001:2015
Published hard copy
PDF e-standard
Learn about implementing the ISO 14001 standard and establishing an effective environmental management system (EMS) for your organization by reading EMS case studies and ISO 14001 articles from ASQ. These case studies and sustainability articles detail what other organizations have done and the specific benefits each organization achieved. Many have seen increases in revenue, quality, and cost savings after implementing quality and environmental management system standards with an eco-friendly focus.
Please note: These environmental management case studies are provided as examples of how companies have improved using ISO 14001, not ISO 14001:2015.
Environmental Management System Case Studies Featuring ISO 14001
Fortis' Integrated Quality, Health, Safety, and Environmental Management System Implementation
ASQ Quality in Mining Interest Group, October 2014

Fortis Mining, Engineering and Manufacturing, based in Canada, learned that employee participation was key to the successful implementation of its quality, health, safety, and environmental management system.

Download for free with registration.

For the Greater Good
Quality Progress, October 2013

In 2006, the Coffs Harbour Laboratory of Sullivan Nicolaides Pathology in Australia implemented an environmental management system, designed to expand on its existing quality management system. After achieving ISO 14001:2004 certification in 2009, the laboratory realized financial savings through reduced waste and improved operational efficiencies and saw increased staff engagement.

ASQ member exclusive.




Integrated Pest Management (IPM) Quality Self-Assessment
May 2013

Integrated pest management (IPM) is an approach that emphasizes nonchemical pest prevention, focusing on facility maintenance and sanitation before considering chemical options. This 10-question self-assessment is designed to help individuals and facilities better understand the pest management processes used in their environments. See where you stand on a 50-point scale of IPM quality.

Download for free with registration.

Serigraph's Journey to ISO 14001
Journal for Quality and Participation, January 2013

Leaders of Serigraph understand that sustainability and social responsibility require the simultaneous promotion of equitable economic growth, environmental protection, and social well-being. Serigraph uses ISO 14001, Six Sigma, and lean as its templates for environmental and sustainability improvement.

Download for free with registration.

Ford Team Uses Six Sigma to Reduce Costs While Improving Environmental Impact
ASQ case study, December 2011

A cross-functional team at a Ford Motor Co. site in Saarlouis, Germany, used Six Sigma to reduce paint expenditures, achieving a $2 million annual savings.

Download for free with registration.

The Triple Top Line
Quality Progress, February 2004

Quality and sustainability are deeply connected and provide winning solutions for social responsibility, environmental performance, and business results—the triple bottom line. Quality professionals have a role as catalysts for change. As with quality, huge waste results when sustainability is not designed into a product or service.

Download for free with registration.

Climbing Mount Sustainability
Quality Progress, February 2004

Learn how carpet maker Interface's sustainability program saved the company a cumulative total of $222 million. Quality doesn't cost; it pays. The same is true of sustainability.

ASQ member exclusive.

A Framework for the Development of an Environmental Management System: A Case Study in a Thermal Power Plant
Quality Engineering, September 2002

NP Power, the electric power company of New Brunswick, Canada, developed a framework to assess its compliance to the ISO 14001 standard. Results indicated that NP Power should develop and maintain an official environmental management system to focus its resources on areas most in need of improvement. The study also recommended modifications in the company's environmental policy.

Download for free with registration.

Performing A "Green" Gap Analysis
Annual Quality Congress, May 2002

An environmental (green) gap analysis can serve as the basis for developing an integration strategy for an environmental management system.

Download for free with registration.

Manufacturing Companies' Attitudes to System Integration: A Case Study Examination
Quality Engineering, May 1998

A report on a case study of the integration issues of quality management, environmental management, and occupational health and safety management systems in five manufacturing companies reveals that the main problems experienced relate to the requirements of certification bodies, management support, and middle management resistance.

Download for free with registration.

NASA's ISO 14001 Decisionmaking Business Case
Annual Quality Congress, May 1998

The National Aeronautics and Space Administration (NASA) implemented a five-part project to determine its approach to environmental management. This included gap analysis at 14 sites, validation of gap analysis data, benchmark studies of federal and private facilities, cost analyses by environmental economists and management system experts, and business case development.

Download for free with registration.
Do you have environmental management results to share? Let ASQ publish your success story.