Excellence Roundtable
---
May and November 2023


Engage and Network
As the capstone event to the Ascend Webinar series, the Excellence Roundtable (ERT) features the latest insights from the Insights on Excellence research, as well as networking discussions with ASQE and ASQ subject matter experts across a variety of industries. Quality professionals and executives can connect on trending topics from key takeaways within the 2022 IoE Executive Brief, with the unique opportunity to gain actionable insight using real-world data.
In 2023, ERT will return to ASQ's annual World Conference on Quality & Improvement, welcoming conference attendees to engage and network with ASQE and quality thought leaders. In addition, in celebration of World Quality Month, ASQE will continue to host a virtual ERT exclusively for Organizational Members.
ASQE Organizational Member contacts will receive emailed invites to attend both ERT events, per their status as either active Affiliate Employees or Affiliate Members. ASQE Organizational Members have the additional benefit of redeeming their complimentary conference registrations to attend WCQI. Please see the details below for dates and locations.
2023 Excellence Roundtable Schedule and Topics
May 9, 2023
Philadelphia, PA
Answering the Call: ESG's Demand for a Quality Workforce
Join ASQE as we offer all WCQI attendees the rare opportunity to experience one of our signature thought-leadership events – the Excellence Roundtable (ERT). Presented as a panel forum, with facilitated breakout discussions for participants, this year's ERT topic is "Answering the Call: ESG's Demand for a Quality Workforce," and features the newest Insights on Excellence® (IoE) research Category of Environmental, Social and Governance (ESG) practices. ESG focuses on how to conduct business within a complex, interdependent world for long-term success to improve organizational performance and corporate responsibility. The ERT delivers knowledge sharing and emerging trends from subject matter experts, with networking on key takeaways exploring how to leverage existing workforces to drive current and future-state ESG initiatives. Engage in this discussion of aligning quality and sustainable development principles, connect with fellow quality professionals and executives, and learn how your organization can benefit from IoE resources from ASQE. For more information about IoE, visit ASQE Insights on Excellence (IoE).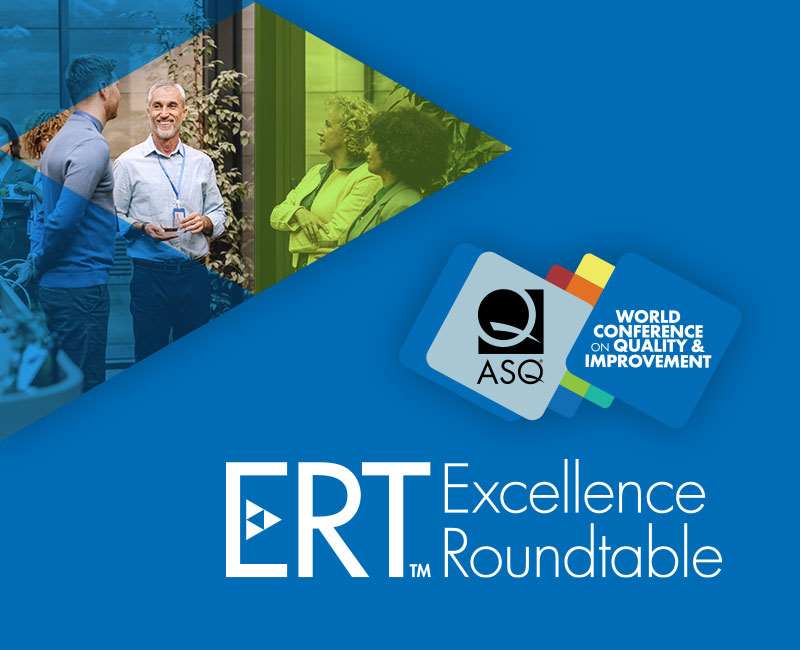 November 1, 2023
Virtual
Quality Methodologies That Drive Sustainability Performance Maturity
Effective environmental, social, and governance (ESG) practices include understanding and adherence to a variety of regulatory frameworks and standards of performance. Quality professionals are uniquely trained and understand how to enhance the cross-functional teamwork and rollout initiatives that ESG practices require. This includes compliance, adapting processes to standards, and collecting meaningful measurements for reporting purposes. However, it is critical that leadership champions these efforts, understands the benefits that ESG practices can make, and how to leverage their quality workforce and tools to enhance stakeholder alignment and performance results. Join ASQE as we celebrate World Quality Month with our virtual ERT, featuring a panel of subject matter experts to speak about how quality methodologies can drive ESG performance maturity for any size of organization. This includes exploring low-cost / low-tech solutions, mindset shifts about long-term impact, and treating the ecosystem as a shareholder. The ERT also features announcements on behalf of ASQE and ASQ, a keynote on holistic quality and sustainable development practices, as well as facilitated breakout group discussions on how to integrate ESG within your quality management system.
Event Agenda: 10:00am – 11:45am CDT
Welcome & Brief ASQE Announcements
ASQ Announcements
2023 IoE Benchmarking Season Recap & Highlights
Keynote presented by Willy Vandenbrande
Panel Discussion on Quality + ESG with Subject Matter Experts
Breakout Discussion and Networking
Summary & Wrap Up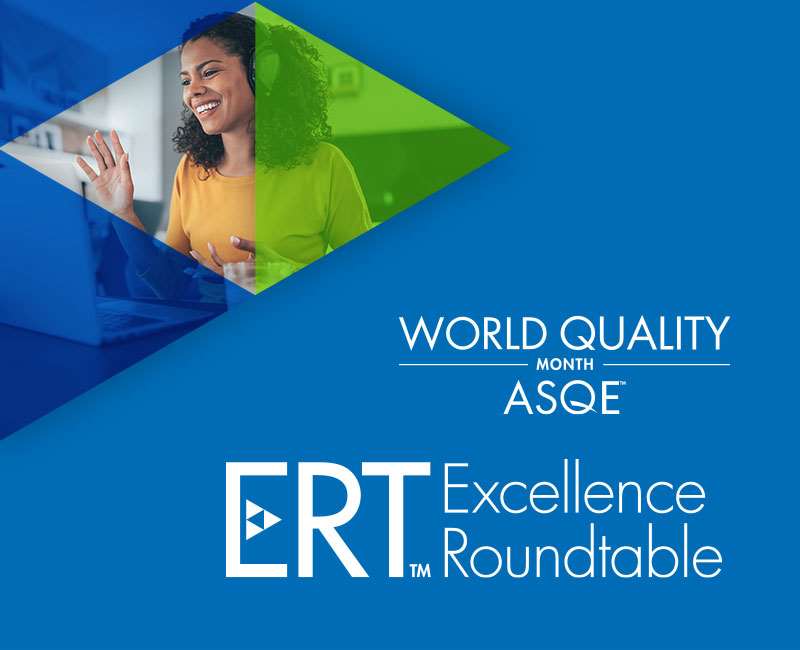 November 2023 ERT Presenters and Panelists:
ASQE Updates
Steve Wilson – 2023 Chair of ASQE Board of Directors; ASQ Fellow; Chief, Seafood Inspection Program at National Marine Fisheries Service (NMFS)
Steve's vast experience in quality includes working for USDA poultry and in 1988, he joined a division within the National Oceanic and Atmospheric Administration, which is responsible for the stewardship of the nation's ocean resources and their habitat. Over time, he's held a variety of positions within NOAA, such as Deputy Director of Field Operations, Chief Quality Officer, and Assistant Director of Quality and Technology. Steve currently serves as the Chief of the Seafood Inspection Program for the Office of International Affairs and Seafood Inspection.
Technical Communities Updates
Daniella (Dani) Picciotti, CQE, CMQ/OE, CSQP – Past Chair of ASQE Board of Directors; QMS Alliance
Dani has over 25 years of progressive management experience in leading quality and mission assurance organizations. A team unifier blending leadership and execution expertise within industrial, aerospace, and nuclear industries, Dani has worked at several Fortune 500 Aerospace and Engineering/Construction companies. She is process focused with a strong background in collaboration and continuous improvement driving value-added activities for strategic results. Dani is also a certified ISO 9001:2015 and AS9100D Lead QMS Auditor.
Keynote Speaker & Panelist
Willy Vandenbrande – Quality Thinker, ir.; Master TQM; ASQ Fellow & Certified SSBB; IAQ Academician
Willy has been working in the field of Quality Management for over 35 years; first as a quality manager and later as a consultant. Willy has delivered many presentations at international conferences (WCQI, EOQ, and many others) and written numerous articles on Quality Management. His current main topics of interest are sustainability, the future of quality, and service quality. Willy is an ASQ fellow and an Academician to the International Academy for Quality, where he is the current chair of the Quality in Planet Earth Concerns Think Tank, promoting the link between quality and sustainability. In 2019 Willy was the recipient of the ASQ Lancaster Medal.
Facilitator
Matt Meuleners – Executive Partner and Leadership Trainer, FOCUS Training
FOCUS Training is an interactive leadership development company that has been helping people achieve excellence through understanding and action for nearly 30 years. Matt Meuleners, Executive Partner of FOCUS Training, has facilitated numerous ASQE member-exclusive thought leadership events, including our Ascend Webinar series and past ERTs, and he will continue lending his expertise to this year's exciting panel discussion.
Panelist
John Bayless, MBA, MS Mechanical Engineering – Director, Sustainability Engineering Programs, Brunswick
In John's nineteen-year career at Brunswick, he has had a variety of roles focused on product development, including Mercury Marine's Large Outboard Product Director, Mercury Marine's Director of Strategy and Program Management, and Life Fitness' Vice President of Product Development and Engineering. Today, John works in Brunswick's corporate sustainability teams. John earned a B.S. in Systems Engineering from the U.S. Naval Academy, M.B.A. from the University of Michigan, and an M.S. in Mechanical Engineering from Marquette University.
Panelist
Marcel C. Minutolo, Ph.D., CSSBB – Professor of Strategic Management, Rockwell School of Business, Robert Morris University
Marcel has been an entrepreneur and a business development consultant for over 25 years. He is currently a Professor of Strategic Management with a focus on artificial intelligence at Robert Morris University where he teaches graduate and undergraduate courses in strategic management, data analytics, sustainability, and corporate social responsibility. He has adjunct at the University of Pittsburgh, Carnegie Mellon University, Chatham University, and Universidad Técnica Federico Santa Ma in Chile. He has an earned Doctorate of Philosophy in Business Strategy from the Joseph M. Katz Graduate School of Business, University of Pittsburgh.
Excellence Roundtable Benefits
Each ERT is designed to connect organizational best practices with real-world benchmarking results. Rooted in IoE research, ERT offers ASQE member companies and their employees a unique way to engage with experts and expand their quality community network.
"Here is a great opportunity to gain a deeper understanding of how ASQE and ASQ members can collaborate to increase member value. By attending Ascend Workshops, you can share thoughts and ideas on topics like focusing our technological tools to obtain the results we want. Your inputs will also be summarized and shared with ASQ technical communities. I have participated in three workshops this year, and they are wonderful opportunities for thought leadership and networking."
---
"ASQE provides valuable resources that help us to serve our customers more effectively."
---