Excellence Roundtable
---
May and November 2023


Engage and Network
As the capstone event to the Ascend Webinar series, the Excellence Roundtable (ERT) features the latest insights from the Insights on Excellence research, as well as networking discussions with ASQE and ASQ subject matter experts across a variety of industries. Quality professionals and executives can connect on trending topics from key takeaways within the 2022 IoE Executive Brief, with the unique opportunity to gain actionable insight using real-world data.
In 2023, ERT will return to ASQ's annual World Conference on Quality & Improvement, welcoming conference attendees to engage and network with ASQE and quality thought leaders. In addition, in celebration of World Quality Month, ASQE will continue to host a virtual ERT exclusively for Organizational Members.
ASQE Organizational Member contacts will receive emailed invites to attend both ERT events, per their status as either active Affiliate Employees or Affiliate Members. ASQE Organizational Members have the additional benefit of redeeming their complimentary conference registrations to attend WCQI. Please see the details below for dates and locations.
2023 Excellence Roundtable Schedule and Topics
May 9, 2023
Philadelphia, PA
Answering the Call: ESG's Demand for a Quality Workforce
Join ASQE as we offer all WCQI attendees the rare opportunity to experience one of our signature thought-leadership events – the Excellence Roundtable (ERT). Presented as a panel forum, with facilitated breakout discussions for participants, this year's ERT topic is "Answering the Call: ESG's Demand for a Quality Workforce," and features the newest Insights on Excellence® (IoE) research Category of Environmental, Social and Governance (ESG) practices. ESG focuses on how to conduct business within a complex, interdependent world for long-term success to improve organizational performance and corporate responsibility. The ERT delivers knowledge sharing and emerging trends from subject matter experts, with networking on key takeaways exploring how to leverage existing workforces to drive current and future-state ESG initiatives. Engage in this discussion of aligning quality and sustainable development principles, connect with fellow quality professionals and executives, and learn how your organization can benefit from IoE resources from ASQE. For more information about IoE, visit ASQE Insights on Excellence (IoE).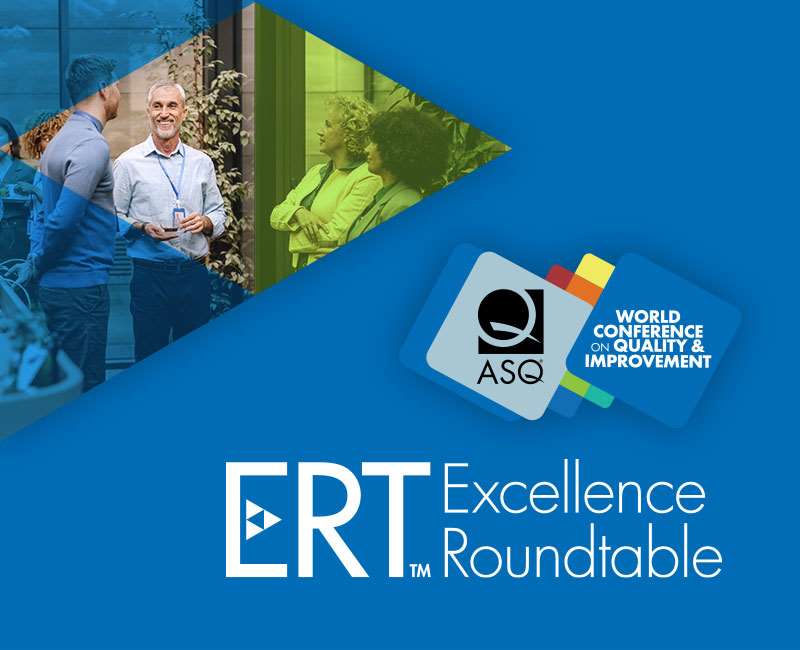 November 1, 2023
Virtual
Held via Zoom, ASQE celebrates World Quality Month with our virtual Excellence Roundtable, featuring association accomplishments and a keynote with the latest Insights on Excellence research. Attendees join facilitated roundtable discussions with virtual breakout groups, focused on corporate social responsibility and the impact of organizational excellence rooted in ESG.
Details coming soon.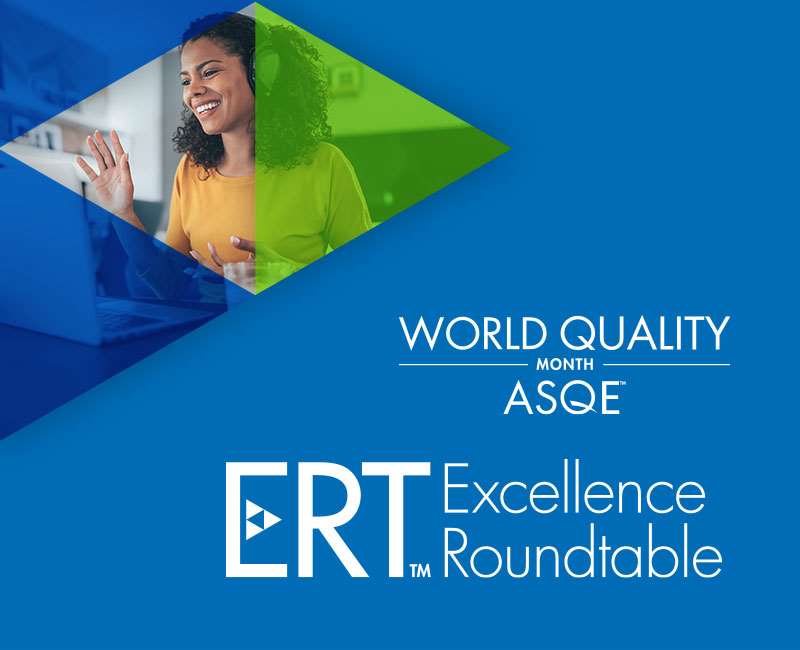 Excellence Roundtable Benefits
Each ERT is designed to connect organizational best practices with real-world benchmarking results. Rooted in IoE research, ERT offers ASQE member companies and their employees a unique way to engage with experts and expand their quality community network.
"Here is a great opportunity to gain a deeper understanding of how ASQE and ASQ members can collaborate to increase member value. By attending Ascend Workshops, you can share thoughts and ideas on topics like focusing our technological tools to obtain the results we want. Your inputs will also be summarized and shared with ASQ technical communities. I have participated in three workshops this year, and they are wonderful opportunities for thought leadership and networking."
---
"ASQE provides valuable resources that help us to serve our customers more effectively."
---