Agile Enterprise vs. Lean Enterprise Tutorial
A lean enterprise operates by creating products and services to meet customer orders rather than marketing forecasts. This results in dramatic reductions in development times for new products and services, reducing the cycle time to market.
In manufacturing, lean capabilities result from the introduction of more flexible, more automated, computer-controlled production machinery. The efficiency and flexibility created by these innovations in manufacturing and assembly processes result in expanded model variety as seen in the lean enterprise process flowchart in Figure 1.
Fig. 1 – Lean Enterprise Process Flowchart

What Is Agile Enterprise?
An agile enterprise is one whose organizational structures and administrative processes enable fast and fluid translations of this initiative into customer-enriching business activities. An agile enterprise (or agile organization) aggressively embraces change. To be agile is to be capable of operating profitably in a highly competitive environment of continually, and unpredictably, changing customer opportunities.
What Is Business Agility?
Agility has emerged as the successor to mass production. Agility is a comprehensive response to the business challenges of profiting from rapidly changing and continually fragmenting global markets for high-quality, high-performance, customer-configured goods and services. It is a continual readiness to change, sometimes radically, what companies and people must do and how they will do it. The transition to business agility is justified by the vision of sharing in highly profitable markets for information and service-rich products configured to the requirements of individual customers.
Pass Through Lean Before Agile
An agile enterprise permits the customer, jointly with the supplier, to determine the nature of the product.
In a lean enterprise organization, a customer burden exists. The challenge is that the broad range of customer choices is driven by producers who declare that customers will have a broad range of choices; however, these choices are selected by the producers. Within an agile enterprise, choice is driven by the consumers.
Both the organization and the methods of lean enterprise are key components for an organization becoming an agile enterprise. Enterprises should pass through lean before agile (Figure 2). Skipping lean is both expensive and wasteful.
Fig. 2 – Enterprise Transformation Process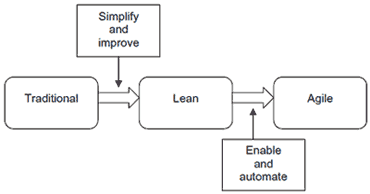 Adapted from Quality Essentials: A Reference Guide from A to Z, ASQ Quality Press.