Careers at ASQE Headquarters
ASQExcellence (ASQE) was founded in January 2020 as a trade association whose mission is to set the standard for quality-driven offerings and insights worldwide, inspiring the organizations it serves to achieve excellence. ASQE provides expertise, insights, thought leadership, networks and resources to a global membership of organizations and their affiliated individuals representing a wide range of industries and cultures.
ASQE is a registered trademark of ASQ, which was founded in 1946. Both are headquartered in Milwaukee, Wis., USA. ASQ and ASQE complement and enhance each other by providing member value for both individuals and organizations. Are you looking for a diverse, collaborative, and team-oriented environment? Apply to ASQE World Headquarters!
Find the ASQE job opportunity that's right for you.
If you need assistance seeking a job opportunity at ASQE's headquarters in Milwaukee, WI, or if you need reasonable accommodation with the application process, please call 414-298-8789 or contact [email protected]. Please note, this contact information is only for positions within ASQE headquarters.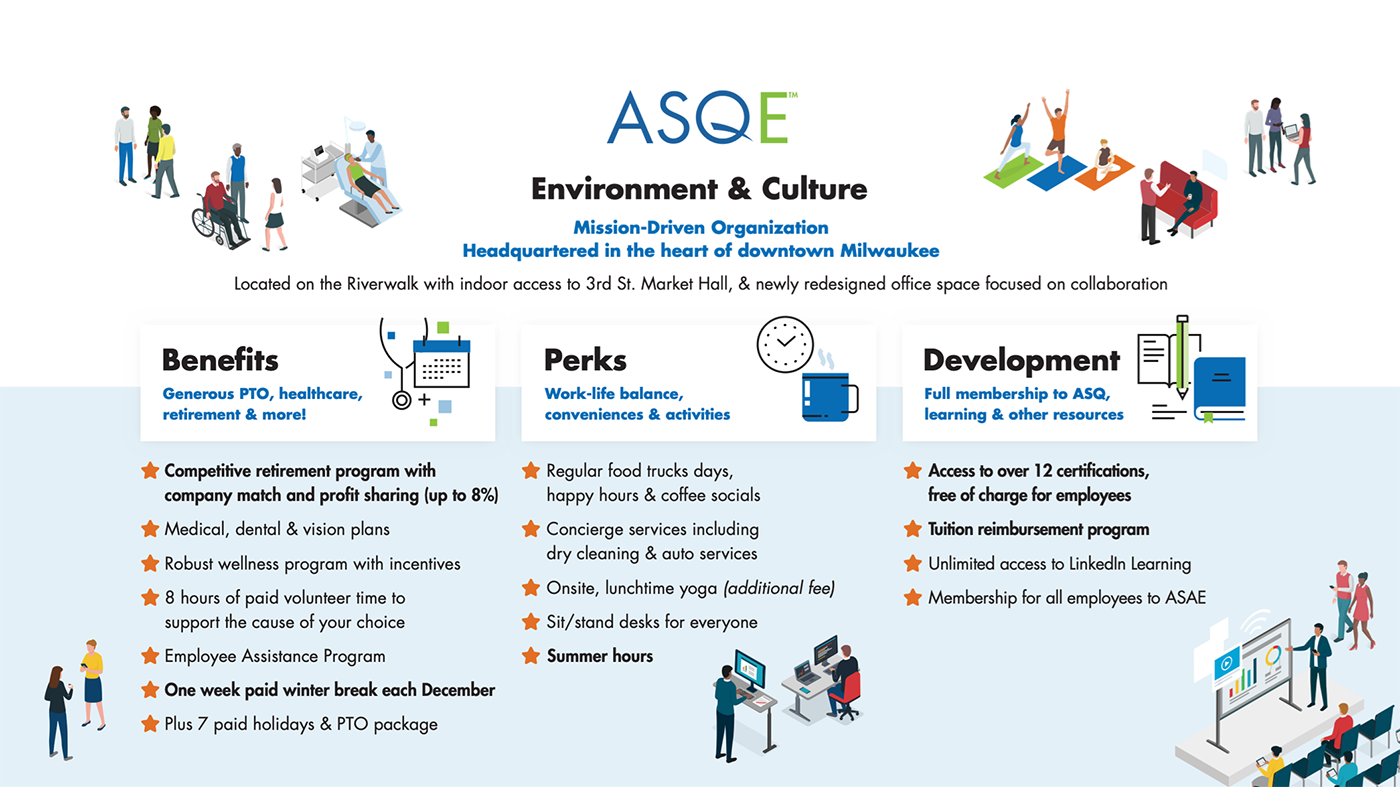 Benefits at ASQE
ASQE offers an excellent benefits package that includes:
Medical, Dental, Vision, and life insurance
401(k) retirement plan with company match and contributions
12 paid holidays and Accrued PTO
Tuition reimbursement
Short- and long-term disability
ASQE Competencies
ASQE employees exemplify the following competencies:
Accountability: Owns up to words and actions; can be relied on consistently.
Communication: Accepts the responsibility to communicate effectively; laterally, up and down. Asks, "Who else needs to know?"
Continuous Improvement: Continually strives to simplify and enhance processes and products, constantly evaluating for efficiency and effectiveness.
Developing Self and Staff: Strives to develop new skills and enhance existing skillset.
Ethics: Consistently adheres to a set of standards; rewards ASQE's values and strives to correct values that don't align with ASQE; practices what they preach.
Teamwork: Works as a team, with a unified approach to help others; understands it's not about what you own, but how we succeed together.
Diversity at ASQE
ASQE's mission and core values require each staff member to perform professionally and personably. How the employee relates to coworkers, customers, and visitors is as important as the employee's technical knowledge and ability. Respect and consideration for coworkers, customers, and visitors is a requisite of successful role performance. ASQE's diversity vision requires each employee to promote in principle and in practice an inclusive environment that maximizes opportunity and responsibility for each member, volunteer, employee, and stakeholder in the organization.
ASQE is an Equal Opportunity Employer does not discriminate against any employee or applicant for employment because of race, color, sex, age, national origin, religion, sexual orientation, gender identity, status as a veteran, and basis of disability or any other federal, state or local protected class. ASQE maintains a drug-free workplace and performs pre-employment substance abuse testing.
Pay Transparency Policy Statement: The contractor will not discharge or in any other manner discriminate against employees or applicants because they have inquired about, discussed, or disclosed their own pay or the pay of another employee or applicant. However, employees who have access to the compensation information of other employees or applicants as a part of their essential job functions cannot disclose the pay of other employees or applicants to individuals who do not otherwise have access to compensation information, unless the disclosure is (a) in response to a formal complaint or charge, (b) in furtherance of an investigation, proceeding, hearing, or action, including an investigation conducted by the employer, or (c) consistent with the contractor's legal duty to furnish information. 41 CFR 60-1.35(c)
EEOC-P/E-1 (Revised 11/09) | Supplement to EEOC-P/E-1 (Revised 11/09)