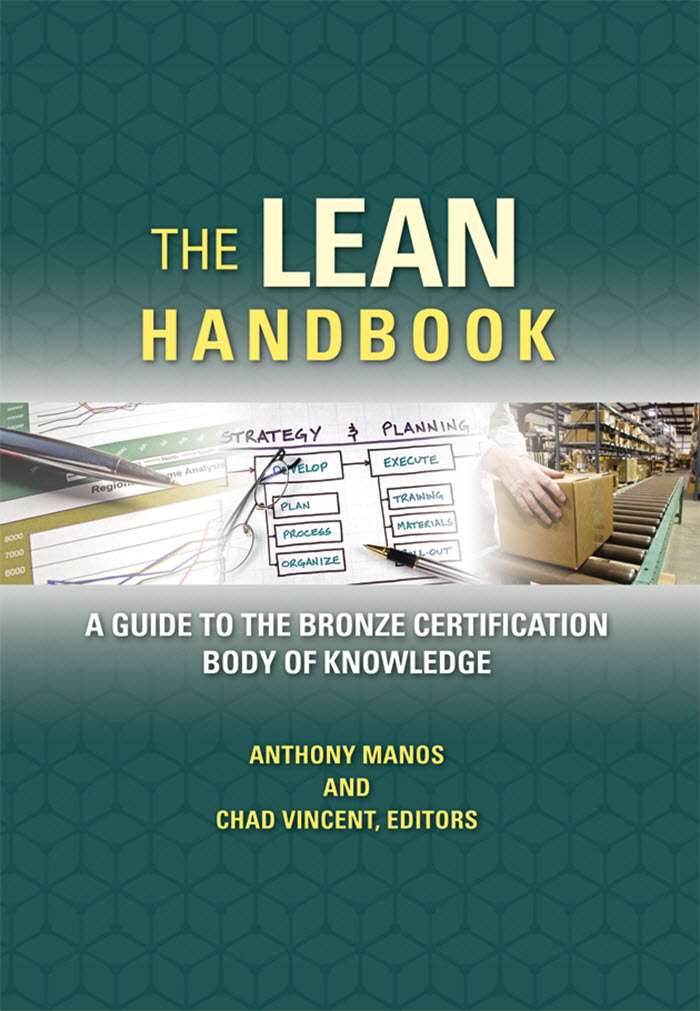 The Lean Handbook
A Guide to the Bronze Certification Body of Knowledge
Anthony Manos, Chad Vincent
PDF,
464 pages, Published 2012
Dimensions: 7 x 10
ISBN: 9780873898225
Item Number: E1403
Member Price: $
94.50
List Price: $

135.00
Looking to purchase for a course or large group?
Keywords
lean certification
Shingo
bronze level
Six Sigma
Description
This handbook's intention is to gather into a single reference the information related to the joint lean certification program of SME, AME, The Shingo Prize, and ASQ. This book will enhance your understanding of the certification's Body of Knowledge (BOK) as a whole and give you a more holistic look at lean.
This comprehensive handbook covers all the topics included in the BOK: cultural enablers, continuous process improvement, consistent lean enterprise culture, and business results. Written by a team of lean experts with years of experience in the field, it will be indispensible to anyone interested in implementing and sustaining a lean initiative. The book is written, by design, at the Bronze Level for certification knowledge. This means that the weightings used in the Lean BOK for the Bronze Certification were considered for the depth and breadth of material considered for each rubric. By addressing the Lean BOK at the Bronze Level, this book provides a basic understanding of the lean principles, systems, and tools at a tactical level to drive improvements with measureable results.
Material from several lean practitioners with differing backgrounds and experience has been gathered to create this handbook, which serves as an ideal starting point for practitioners who want both a holistic view of lean in general and also specifically the BOK of this groundbreaking joint certification program.