Advanced QFD Applications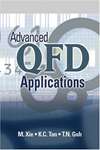 Advanced QFD Applications
T. N. Goh, K. C. Tan, M Xie
PDF,
216 pages, Published 2003
ISBN: 9780873892940
Item Number: E1177
Member Price: $
28.00
List Price: $

40.00
Looking to purchase for a course or large group?
Keywords
Software Development
Manufacturing
Electronics
Chemical
Quality Function Deployment
Product Development and Recall
Statistics
Description
This book focuses on the collection, interpretation, and analysis of the voice of the customers (VOC) and serves as an excellent reference or textbook for learning how to apply QFD. Following this unique approach for capturing the VOC will ensure your product/service meets their needs. Included is a discussion of recent advances in QFD methodology, methods for strategically analyzing and selecting benchmarks, and examples through case studies.
Contents:

Introduction to Quality Function Deployment
Decision Making Using the House of Quality
Variability Analysis in QFD
QFD for Service Quality Analysis
The Implementation of QFD-based Linguistic Data
Benchmarking in QFD for Quality Improvement