2023-2024 Baldrige Excellence Builder (10-pack)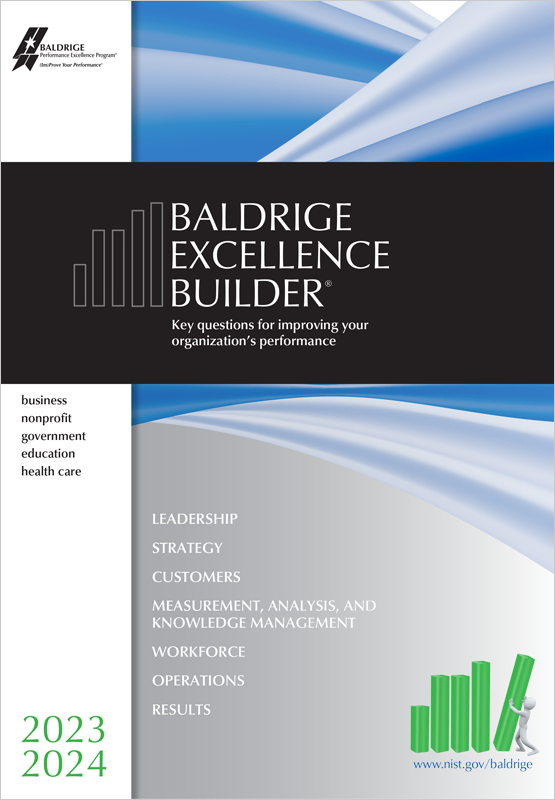 2023-2024 Baldrige Excellence Builder (10-pack)
Key Questions for Improving Your Organization's Performance
Baldrige Performance Excellence Program At NIST
Softcover,
Published 2023
Item Number: T1668
Member Price: $
50.00 (Sold as 10-pack)
List Price: $

50.00
Looking to purchase for a course or large group?
Keywords
performance excellence
Baldrige Criteria
Baldrige Framework
Description
You will receive a 10-pack of the Baldrige Excellence Builder when purchasing this item.

The Baldrige Excellence Builder is based on the Baldrige Excellence Framework and its Criteria for Performance Excellence. Use the Excellence Builder to:
assess your organization against the most important features of organizational performance excellence, and
learn about the Baldrige Excellence Framework.
The Baldrige Excellence Builder helps you understand how well you are accomplishing what is important to your organization, like:

Are your processes consistently effective?
Do your approaches address your organization's needs?
How good are your results?
Is your organization learning and improving?
Contents

About the Baldrige Excellence Builder
Core Values and Concepts
Baldrige Excellence Builder
Assessing Your Responses
Assessment Rubric
Glossary of Key Terms
The Baldrige Excellence Builder does not include the full version of the Criteria for Performance Excellence. The full criteria are found in the Baldrige Excellence Framework booklets.
Download a complimentary single copy PDF version of the 2023-2024 Baldrige Excellence Builder.