The Six Sigma Memory Jogger™ II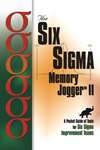 The Six Sigma Memory Jogger™ II
A Pocket Guide of Tools for Six Sigma Improvement Teams
GOAL/QPC
Spiralbound,
272 pages, Published 2003
Dimensions: 3½ x 5½
ISBN: 978-1-57681-044-6
Item Number: P991
Member Price: $
21.95
List Price: $

21.95
Looking to purchase for a course or large group?
Description
This pocket guide opens your team members' minds to the power of Six Sigma to close the value gap between you and your competitors... Increase your company's profitability...strengthen your market position...and make your company a happier, more successful place to work!
Beginning with an overview and introduction to Six Sigma concepts, primary terminology, and the basics of the DMAIC method, this valuable pocket guide presents forty-one Six Sigma tools including the CTQ (Critical To Quality) Tree, FMEA (Failure Mode and Effects Analysis), Kano Model, MSA (Measurement Systems Analysis), process sigma, regression, SIPOC (Suppliers, Inputs, Process, Outputs, Customers), Six Sigma Storyboard, VOC Data-Collection System, and y=f(x) formula.