The ASQ Certified Medical Device Auditor Handbook, Fourth Edition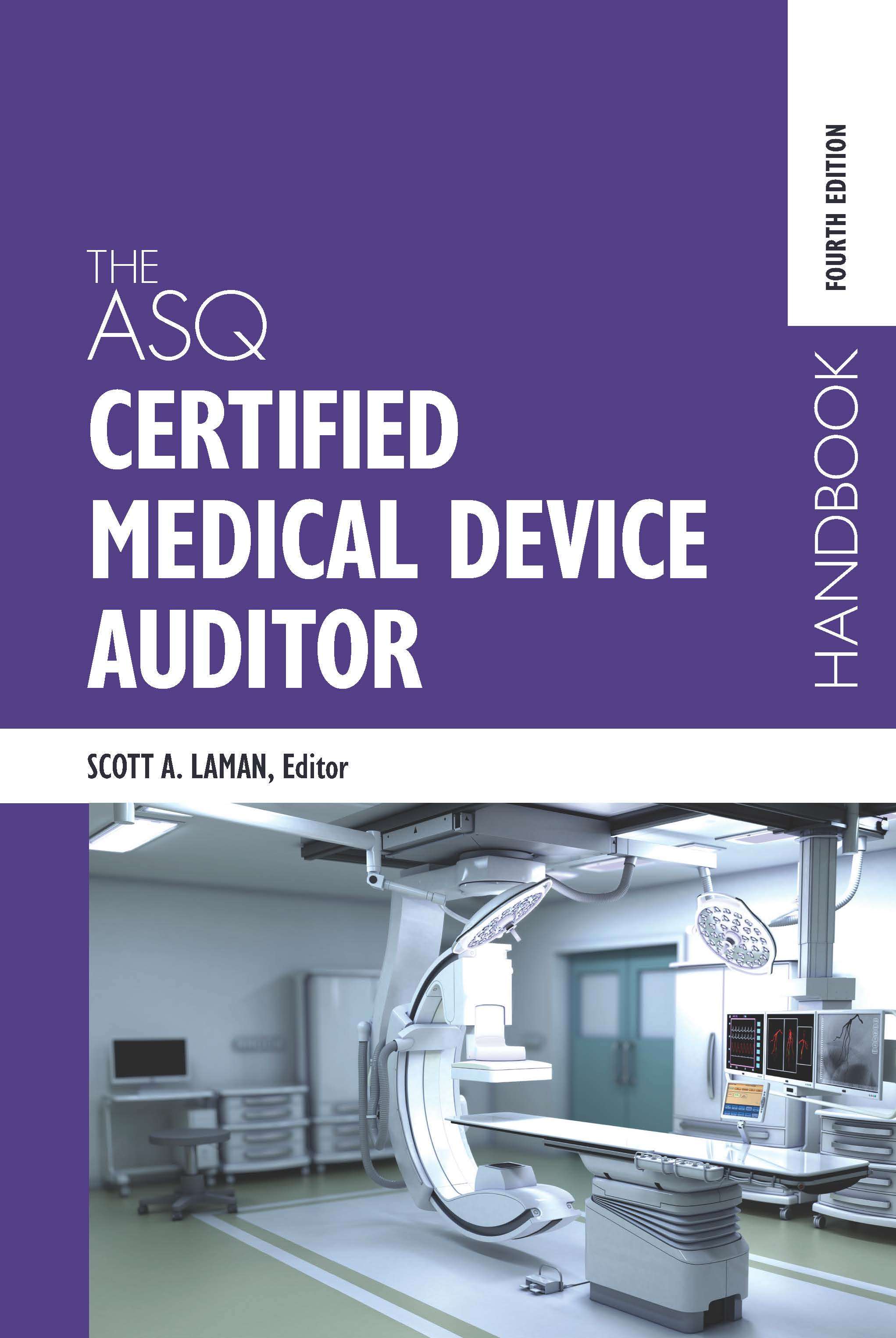 The ASQ Certified Medical Device Auditor Handbook, Fourth Edition
Scott A. Laman
Hardcover,
372 pages, Published 2021
Dimensions: 7 x 10 inches
ISBN: 978-1-953079-96-1
Item Number: H1572
Member Price: $
105.00
List Price: $

150.00
Keywords
medical devices
certification preparation
Description
The ASQ Certified Medical Device Auditor Handbook (formerly The Biomedical Quality Auditor Handbook) was developed by the ASQ Medical Device Division (formerly Biomedical Division) in support of its mission to promote the awareness and use of quality principles, concepts, and technologies in the medical device community. It principally serves as a resource to candidates preparing for the Certified Medical Device Auditor (CMDA) certification exam. The fourth edition of this handbook has been reorganized to align with the 2020 certification exam Body of Knowledge (BoK) and reference list. The combination of this handbook with other reference materials can provide a well-rounded background in medical device auditing.

Updates to this edition include:
• A discussion of data privacy, data integrity principles, and the Medical Device Single Audit Program (MDSAP)
• Current information about federal and international regulations
• New content regarding human factors and usability engineering, general safety and performance requirements, labeling, validation, risk management, and cybersecurity considerations
• A thorough explanation of quality tools and techniques


About the Editor
Scott A. Laman
is Senior Manager, Quality Engineering and Risk Management at Teleflex, a medical device company. He holds B.S. and M.S. degrees in Chemical Engineering from Syracuse University. Scott is a PMI-certified PMP, Fellow of the American Society for Quality (ASQ), and has seven professional ASQ certifications.
About the ASQ Medical Device Division:
The Medical Device Division provides training opportunities through division conferences, regional discussion groups, joint programs with other ASQ divisions and sections, sessions with regulatory agencies, activities with other professional organizations, and presentations at the World Conference on Quality and Improvement. Its members include medical device manufacturers and users; hospital and healthcare professionals; regulatory personnel; instrumentation producers and users; government agency personnel; and contractors, consultants, and suppliers to these groups.