The ASQ Certified Quality Auditor Handbook Fifth Edition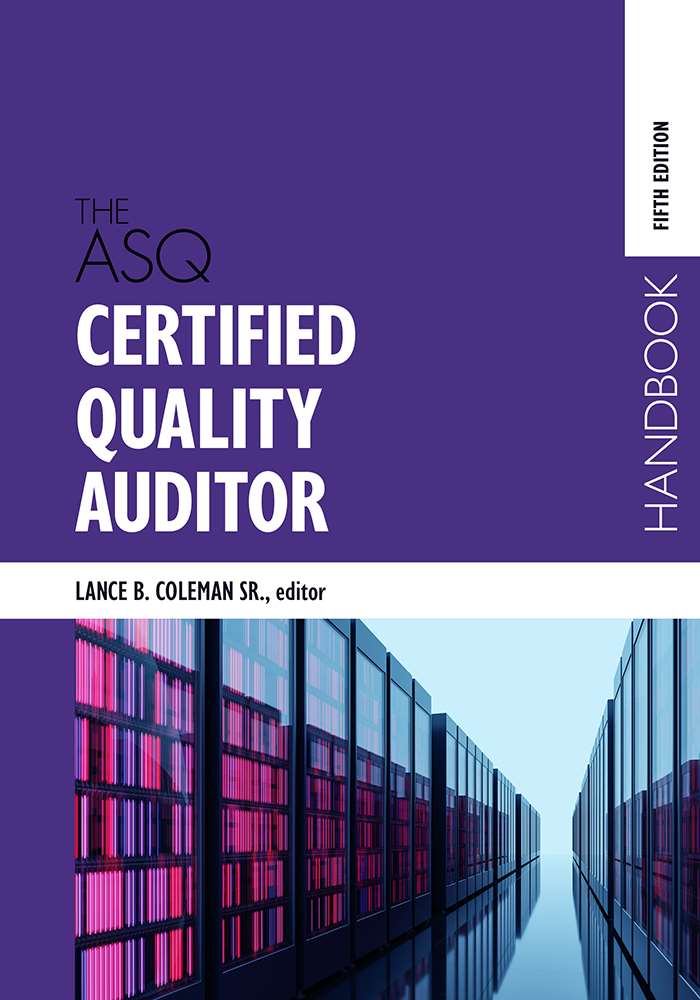 The ASQ Certified Quality Auditor Handbook Fifth Edition
Lance B. Coleman Sr.
Hardcover,
393 pages, Published 2020
Dimensions: 7 x 10 inches
ISBN: 978-1-951058-09-8
Item Number: H1570
Member Price: $
94.50
List Price: $

135.00
Looking to purchase for a course or large group?
Keywords
CQA
Certified quality auditor
Continuous improvement
Certification handbook
Auditing
Description
The value of the ASQ Certified Quality Auditor Handbook, Fifth Edition, is clear. It is designed to help new auditors gain an understanding of the field and prepare for the ASQ CQA exam. In addition, experienced auditors can refer to it as a helpful reference; audit managers and quality managers can rely on it for guiding their auditing programs; and trainers and educators can use it for teaching fundamentals.
This in-depth overview of quality auditing represents auditing practices for internal and external applications. It provides practical guidance for both system and process auditors as well. Many current topics have been expanded to reflect changes in auditing practices since 2012, with guidance from the recent 2017 update of ISO 19011. In addition, readers will find example audit situations, stories, and review comments to enhance their understanding of the field.
Topics covered include the common elements of all types of system and process audits (quality, environmental, safety, and health):
Auditing fundamentals, including types of quality audits, purpose and scope of auditing, terms and definitions, roles and responsibilities of participants, and professional conduct
The audit process, from preparation and planning, to performance and reporting, to follow-up and closure
Auditor competencies, including resource management, conflict resolution, communication, interviewing, and team dynamics
Audit program management and business applications, including staffing, training and development, program evaluation, organizational risk management, and best practices
Quality tools and techniques, including problem-solving tools, process improvement techniques, basic statistics, verification, and validation
"This book is an encyclopedia of all major bodies of information a new or experienced quality auditor would need. It covers both the qualitative and the quantitative, which is a strength. I can't think of a quality auditor that would not find this work helpful."
Kim H. Pries, CRE, CQE, CSQE, CSSBB, CMQ/OE, CQA
"This handbook will be helpful to those who are new to auditing or require more in-depth knowledge of the implementation of an audit program. Boxed examples or scenarios provide some of the practical challenges encountered during auditing."
Govind Ramu, ASQ Fellow, Co-Author ASQ SSGB Handbook, Author ASQ CSSYB Handbook

Lance B. Coleman, Sr. has over 25 years of leadership experience in the areas of quality engineering, Lean implementation, quality, and risk management in the Medical Device, Aerospace, and other regulated industries. He has presented, trained, and consulted throughout the United States and abroad. Lance is currently a Director of Quality for IDEX Health and Science, LLC, in Oak Harbor, Washington.