Connected, Intelligent, Automated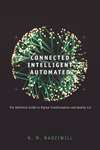 Connected, Intelligent, Automated
The Definitive Guide to Digital Transformation and Quality 4.0
N. M. Radziwill
Softcover,
447 pages, Published 2020
Dimensions: 6 x 9
ISBN: 978-1-951058-00-5
Item Number: H1567
Member Price: $
42.00
List Price: $

60.00
Looking to purchase for a course or large group?
Keywords
digital transformation
Quality 4.0
Industry 4.0
automation
connectivity
AI
machine learning
AR
blockchain
big data
data science
cybersecurity
Description
Quality 4.0 is for all industries, and this book is for anyone who wants to learn how Industry 4.0 and Quality 4.0 can help improve quality and performance in their team or company. This comprehensive guide is the culmination of 25 years of research and practice—exploring, implementing, and critically examining the quality and performance improvement aspects of Industry 4.0 technologies. Navigate the connected, intelligent, and automated ecosystems of infrastructure, people, objects, machines, and data. Sift through the noise around AI, AR, big data, blockchain, cybersecurity, and other rising technologies and emerging issues to find the signals for your organization. Discover the value proposition of Quality 4.0 and the leading role for quality professionals to drive successful digital transformation initiatives. The changes ahead are powerful, exciting, and overwhelming—and we can draw on the lessons from past work to mitigate the risks we face today. Connected, Intelligent, Automated provides you with the techniques, philosophies, and broad overall knowledge you need to understand Quality 4.0, and helps you leverage those things for the future success of your enterprise.
Chapter 1: Quality 4.0 and the Fourth Industrial Revolution
Chapter 2: Connected Ecosystems
Chapter 3: Intelligent Agents and Machine Learning
Chapter 4: Automation: From Manual Labor to Autonomy
Chapter 5: Quality 4.0 Use Cases Across Industries
Chapter 6: From Algorithms to Advanced Analytics
Chapter 7: Delivering Value and Impact Through Data Science
Chapter 8: Data Quality and Data Management
Chapter 9: Software Applications & Data Platforms
Chapter 10: Blockchain
Chapter 11: Performance Excellence
Chapter 12: Environment, Health, Safety, Quality (EHSQ), and Cybersecurity
Chapter 13: Voice of the Customer (VoC)
Chapter 14: Elements of a Quality 4.0 Strategy
Chapter 15: Playbook for Transformation
N. M. Radziwill is Senior VP of Quality and Strategy at Ultranauts, a professional services firm specializing in quality assurance and quality engineering for software, data science, and digital transformation. Radziwill is editor of the journal, Software Quality Professional, an ASQ fellow, and an ASQ-certified Six Sigma Black Belt. Radziwill is one of ASQ's Influential Voices and blogs at http://qualityandinnovation.com.