Implementing ISO/IEC 17025:2017, Second Edition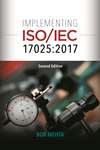 Implementing ISO/IEC 17025:2017, Second Edition
Bob Mehta
Hardcover,
203 pages, Published 2019
Dimensions: 6 x 9
ISBN: 978-0-87389-980-2
Item Number: H1555
Member Price: $
52.50
List Price: $

75.00
Looking to purchase for a course or large group?
Keywords
ISO/IEC 17025:2017
requirements
sampling
measurement uncertainty
management system documentation
Description
The focus of this book is to demystify the requirements delineated within ISO/IEC 17025:2017, while providing a road map for organizations wishing to receive accreditation for their laboratories.

AS9100, ISO 9001:2015, and ISO 13485:2016 are standards that have been created to support the development and implementation of effective approaches to quality management, and are recognized blueprints for the establishment of a quality management system (QMS) for many diverse industries. Similar to these recognized QMS standards, ISO/IEC 17025:2017 for laboratory accreditation serves a unique purpose. It is not unusual for laboratories to retain dual certification in ISO 9001:2015 and ISO/IEC 17025:2017. However, ISO/IEC 17025:2017 contains requirements specific to the laboratory environment that are not addressed by ISO 9001:2015.

This book highlights those differences between ISO 9001:2015 and ISO/IEC 17025:2017, while providing practical insight and tools needed for laboratories wishing to achieve or sustain accreditation to ISO/IEC 17025:2017. For those currently or formerly accredited to the 2005 version of ISO/IEC 17025, an appendix outlines the changes between the 2005 and 2017 versions of the standard.