How to Establish a Document Control System for Compliance with ISO 9001:2015, ISO 13485:2016, and FDA Requirements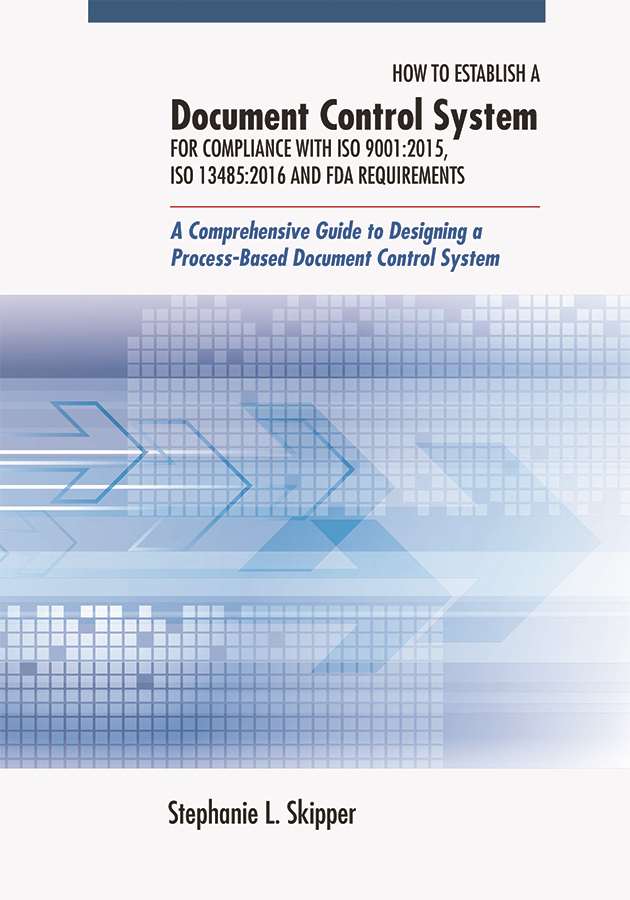 How to Establish a Document Control System for Compliance with ISO 9001:2015, ISO 13485:2016, and FDA Requirements
A Comprehensive Guide to Designing a Process-Based Document Control System
Stephanie L. Skipper
Hardcover,
156 pages, Published 2015
Dimensions: 7 x 10
ISBN: 978-0-87389-917-8
Item Number: H1491
Member Price: $
35.00
List Price: $

50.00
Looking to purchase for a course or large group?
Keywords
Document Control System
Compliance
ISO 9001:2015
ISO 13485:2016
FDA Requirements
Description
This book explains the requirements for compliance with FDA regulations and ISO standards (9001/13485) for documented information controls, and presents a methodology for compliance.
The document control system (DCS), or documented information control system (DICS), is the foundation of a quality management system. It is the first quality system element that must be implemented because the establishment and control of documented processes and information in a quality-controlled environment is dependent on the ability to proactively manage access to documents and the movement of documents through the document life cycle. A well-developed document control system benefits business by:
Improving knowledge retention and knowledge transfer within and across business units
Improving access to knowledge-based information
Improving employee performance by providing standardized processes and communicating clear expectations
Improving customer communication and satisfaction by providing documented information from which common understanding can be achieved
Providing traceability of activities and documentation throughout the organization
Improving organization of and access to documents and data
Sample documents are included in the appendixes of this book to help clarify explanations.

This book provides a process-based approach that can be used for controlling all forms of documented information that are required to be managed under the quality management system.