ISO 9001:2015 Explained, Fourth Edition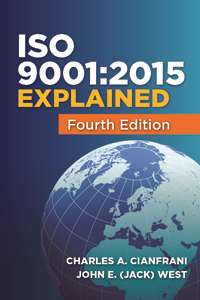 ISO 9001:2015 Explained, Fourth Edition
Charles A. Cianfrani, John E. (Jack) West
Hardcover,
264 pages, Published 2015
Dimensions: 6 x 9
ISBN: 978-0-87389-901-7
Item Number: H1476
Member Price: $
56.00
List Price: $

80.00
Looking to purchase for a course or large group?
Keywords
ISO 9001:2015
quality management systems
QMS
Description
The 2015 edition of ISO 9001 has been modernized to update terminology and content to meet current and anticipated user needs. The major emphasis of ISO 9001:2015 is still consistent provision of products and services that meet customer and applicable statutory and regulatory requirements.
This book explains the meaning and intent of the requirements of ISO 9001:2015 and discusses the requirements as they relate to each of the product categories. Where appropriate, it includes an elaboration of why the requirements are important. It also includes typical audit-type questions that an organization may consider to assess conformity to internal needs and ISO 9001 requirements. Recommendations for implementation are also included.
This book addresses the needs of:

Users and organizations seeking a general understanding of the contents of ISO 9001:2015
Users and organizations desiring guidance to ensure their ISO 9001:2015 QMS meets the new version requirements
Users and organizations considering the use of ISO 9001:2015 as a foundation for the development of a comprehensive QMS
Educators who require a textbook to accompany a training class or course on ISO 9001:2015
Auditors who desire to increase their level of auditing competence
Authors Cianfrani and West, members of the expert group that developed ISO 9001:2015, strive to provide a context for all requirements to enable you to develop and deploy processes that will strengthen your QMS. Getting or retaining a certificate is not the real objective. Satisfied customers and organizational sustainability should be primary objectives for the organization.