The ASQ Certified Supplier Quality Professional Handbook, Second Edition (e-book)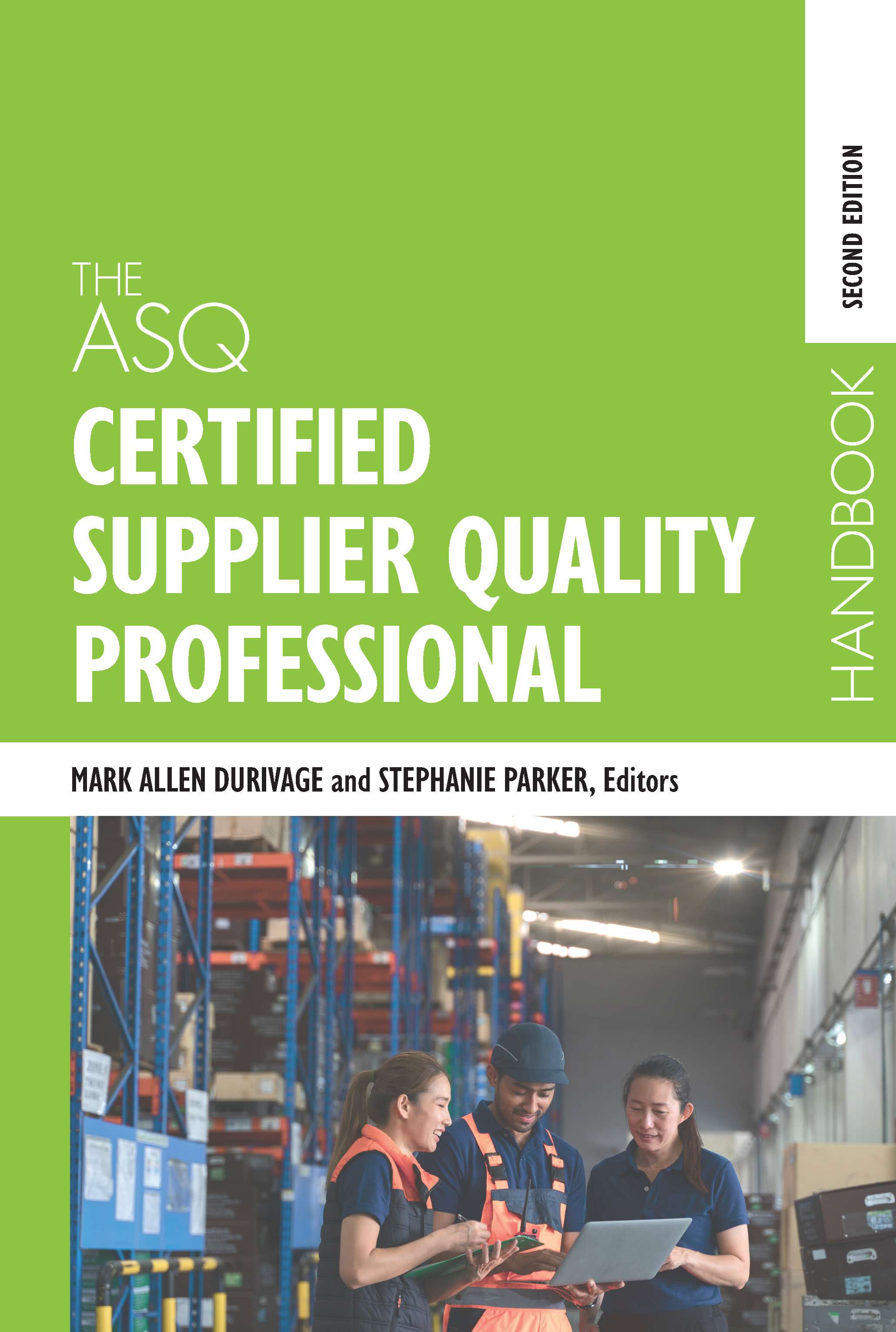 The ASQ Certified Supplier Quality Professional Handbook, Second Edition (e-book)
Mark Allen Durivage, Stephanie Parker
PDF,
382 pages, Published 2023
Dimensions: 7x10 inches
ISBN: 978-1-63694-120-2
Item Number: E1605
Member Price: $
105
List Price: $

150
Looking to purchase for a course or large group?
Keywords
CSQP
certification preparation
supplier quality management
risk management
process improvement and quality assurance plans
Description
Due to the globalization of the supply chain, managing supplier quality is critical to success—especially in the manufacturing and service industries.
The ASQ Certified Supplier Quality Professional Handbook, Second Edition
, offers a roadmap for professionals tasked with ensuring a safe, reliable, cost-effective, high-quality, integral, and nimble supply chain. With this handbook, users will learn how to partner with their key suppliers to continuously improve performance by implementing process controls and developing quality assurance plans. The handbook is designed to prepare candidates for the ASQ Certified Supplier Quality Professional (CSQP) examination as well as provide a current reference for working professionals.
This updated handbook includes:
A thorough discussion of all sections included in the 2023 ASQ CSQP Body of Knowledge (BoK).
Discussions of newly introduced topics, such as supplier and quality agreements, finalization controls, supplier risk identification and categorization, and sustainability.
Additional helpful tools, such as conflict resolution techniques, weighted decision matrices, total risk factor analysis, and RACI matrix.
Mark Allen Durivage, CRE, CQE, CQA, CSQP, CSSBB, RAC (Global), and CTBS, has worked as a practitioner, educator, and consultant. He is Managing Principal Consultant at Quality Systems Compliance LLC, ASQ Fellow, SRE Fellow, and an Expert Faculty Member for AAMI. Durivage has written several books available through Quality Press and has published articles in Quality Progress and Life Science Connect.
Stephanie Parker, CSSBB, CQE, CQA, and CSQP, is the Director of Quality for Boon Edam Americas and has extensive experience in designing, implementing, and improving quality management systems across a variety of industries. She is a Senior Member of ASQ and is a past chair of the Customer-Supplier Division and the Conference Council.