The ASQ Certified Quality Engineer Study Guide, Second Edition (e-book)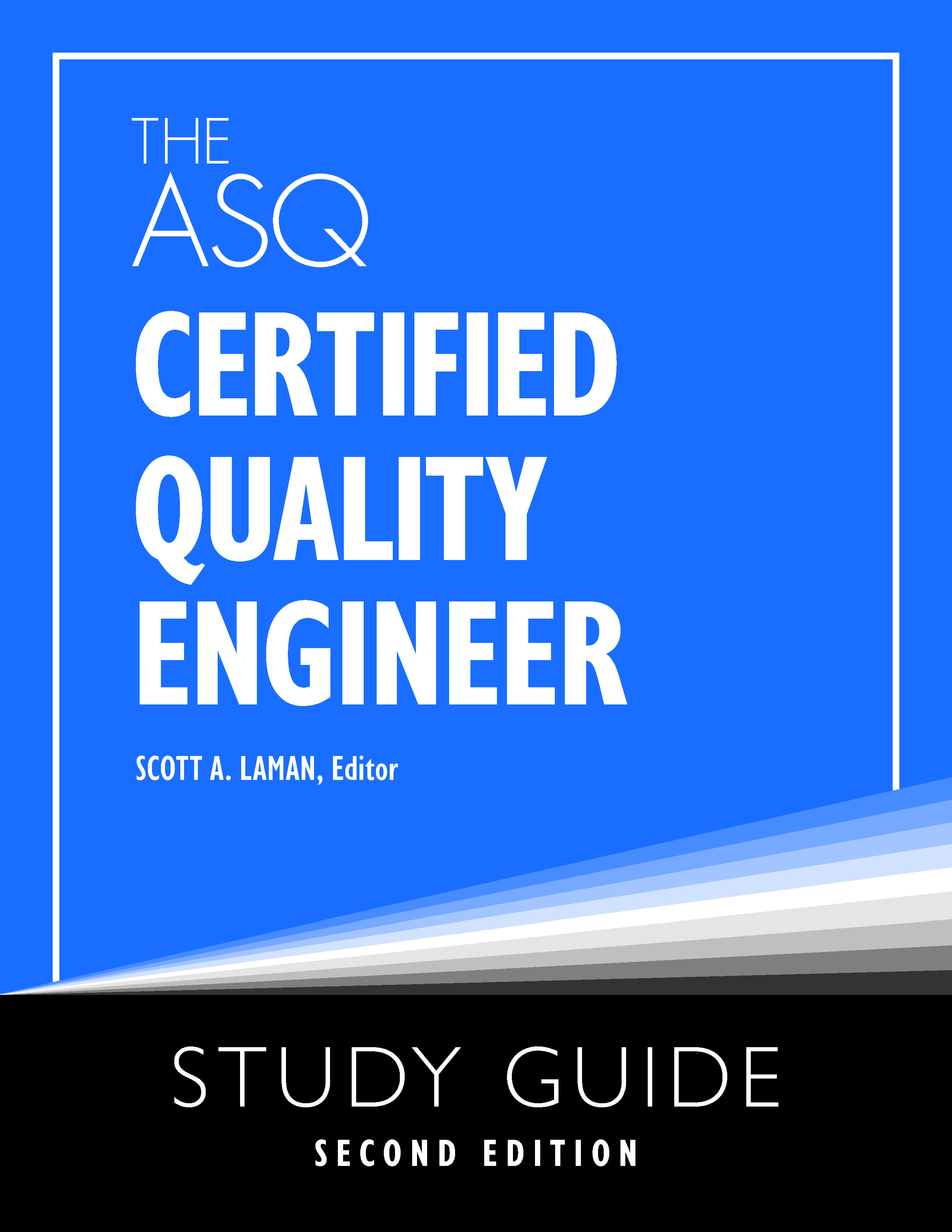 The ASQ Certified Quality Engineer Study Guide, Second Edition (e-book)
Scott A. Laman
ePub,
278 pages, Published 2023
Dimensions: 8.5 x 11 inches
ISBN: 978-1-63694-115-8
Item Number: E1601
Member Price: $
42
List Price: $

60
Looking to purchase for a course or large group?
Keywords
certification
CQE
certified quality engineer
study guide
Description
As a companion to
The ASQ Certified Quality Engineer Handbook
, this study guide is helpful for anyone planning to take the ASQ Certified Quality Engineer (CQE) exam. Unlike other resources, this book has been developed specifically to address the 2022 CQE Body of Knowledge (BoK), considering the proper depth of knowledge and required levels of cognition. Every practice question includes an explanation of the correct answer along with the corresponding section of the BoK for further study, and over half of the questions have been revised and improved to reflect current testing standards.
Inside, you will find:
SECTION 1, which offers 399 practice questions organized by the seven parts of the BoK
SECTION 2, which offers 216 additional questions from each of the seven parts in randomized order
Brand-new questions that address the addition of data automation and database integration, cost-benefit analysis, the RACI matrix, assessing risks in auditing, overall equipment effectiveness, critical-to-quality concepts, 5 Whys, and a much more intensive treatment of risk management
Scott A. Laman
is Director, Global Design Assurance Systems at Teleflex, a global provider of medical technologies. He holds B.S. and M.S. degrees in Chemical Engineering from Syracuse University. Laman is a PMI-certified PMP, is a Fellow of the American Society for Quality (ASQ), and has seven professional ASQ certifications. He is also the editor of
The ASQ Certified Quality Engineer Handbook, Fifth Edition.