Member Gift
ASQ Member Gifts are an exclusive benefit for all ASQ members. Each monthly gift bundle addresses a specific quality hot topic, method, or tool and can include dozens of valuable resources from ASQ's vast and ever-growing knowledge repository including in-depth expert webcasts, complete Quality Press eBooks, journal articles, industry case studies and benchmarking reports, and downloadable templates.
How do you access your ASQ member gifts?
ASQ Member Gifts are emailed to members on the first business day of each month, and the most current edition can always be accessed from this page.
Join now to access the most recent ASQ Member Gifts!
Access your member gift today
Already a member?
Not a member? Take advantage of one of ASQ's most popular member benefits.
---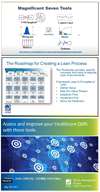 June 2022
ASQ Benefits and Resources
In this gift, we showcase just a sampling of the vast array of ASQ benefits and resources you have access to, including six publications with thousands of articles, 150 topic introductions, and dozens of additional resources including e-books, webcasts, ASQTV videos, newsletters, the ASQ Mobile App, and learning events.
This gift is one to save. Enjoy!
Member Gift Archive
June 2022 — ASQ Benefits and Resources

May 2022 — Quality in Healthcare and Life Sciences

April 2022

— Team Success

March 2022

— Implementing and Optimizing Your QMS

February 2022

— Supply Chain Quality Management Primer

January 2022 — Skills for Career Success
December 2021 — Annual Recap of the Year's Best Resources
November 2021

— Root Cause Analysis

October 2021 — Advanced Auditing Techniques
August 2021 — Essential Quality Tools
July 2021 — Risk Management