join THE CELEBRATION
November is World Quality Month
It's time to showcase the vital role quality professionals have in achieving excellence through quality and the positive impact quality has made in our organizations and communities around the world. Join us all through November in celebrating the global quality community with World Quality Month (WQM)!

Our 2020 celebration will include brand new custom downloads, printable materials, and interactive digital content to share with your office and professional network. Share how you are celebrating #WorldQualityMonth with us on social media (and watch for exclusive social media content) and join our discussion myASQ.
ASQE Organizational Members
Showcase how your organization celebrates quality with these customized banners, webcam backgrounds, posters and celebration guides.
Celebration Guide
Looking for ideas on how to celebrate? We have put together a list of weekly suggestions for how you can join the celebration in person or virtually.
Banners
These banners and headers can be used in e-newletters, webpages, email headers, and other digital channels.
Choose from four different sizes, designed to accommodate multiple templates.
Which Quality Tool Are You?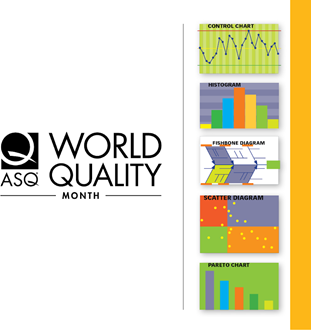 What quality tool best matches your personality? Take the Which Quality Tool Are You? quiz to find out, and be sure to share your results on social media!

Webcam, Desktop and Mobile Wallpapers
Download a WQM wallpaper to showcase the month-long celebration on your webcam meetings, and on your desktop and cell phone.
Choose from a variety of designs.
Trivia
Each day we will be sharing quality trivia and interesting factoids on our Twitter account @ASQ. At the end of each week, we will share the trivia tiles on this page for you to download.
Check back each day to download new tiles.
Posters
Encourage others to celebrate by downloading printable posters. These posters can be hung in your personal workspace or communal areas in your workplace. Two different sizes are available to accommodate multiple spaces.
Quality Noir Comic
Quality Progress contributor Greg Herzing has provided a special World Quality Month edition of his "Quality Noir" comic strip, which asks the question, what would the world be without quality?
DOWNLOAD COMIC