What is a Spaghetti Diagram?
Quality Glossary Definition: Spaghetti diagram
A spaghetti diagram is defined as a visual representation using a continuous flow line tracing the path of an item or activity through a process. As a process analysis tool, the continuous flow line enables process teams to identify redundancies in the work flow and opportunities to expedite process flow.
For example, areas where many walkways overlap are causes of congestion and delay. Waiting is one of the eight wastes of lean, because it is considered "unnecessary motion." The spaghetti diagram helps highlight major intersection points such as these that may not be noticed otherwise.
Spaghetti Diagram Example
The diagram in the figure below reflects a study done by a health department administrative office. The intent of the study was to identify ways to shorten the walking time from one activity to another for frequently performed tasks.
Improving staff collaboration was a secondary benefit of creating the spaghetti diagram. The health department quality improvement coordinator facilitated a brainstorming session to identify areas of congestion and wasted movement among the office personnel. Focusing on a common goal brought the team closer together while highlighting the purpose for placement of some work areas. The spaghetti diagram helped the team see how they might rearrange work areas for optimum efficiency.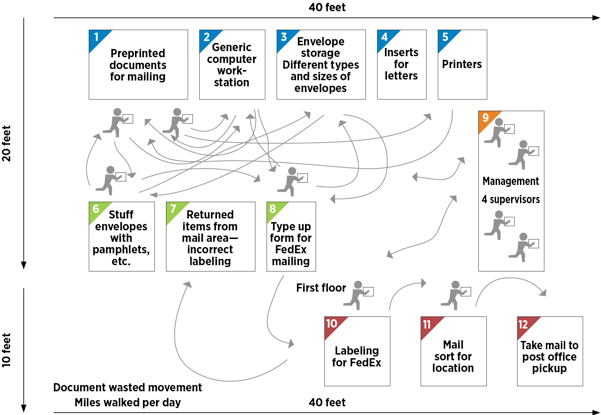 Spaghetti Diagram Example
Adapted from The Public Health Quality Improvement Handbook, ASQ Quality Press.