What is Insights on Excellence®?
ASQE's Insights on Excellence® (IoE) Benchmarking Tool establishes a global data set of organizational performance excellence across eight categories of criteria: Operations, Voice of the Customer, Workforce, Leadership, Strategy, Technology, Measurements & Results, and Barriers & Disruptors.
Survey participation in the IoE Benchmarking Tool is an exclusive benefit of ASQE Organizational Membership, but the benchmarking results are compiled annually by ASQE to create industry- and category-specific reports that are available to members and nonmembers of both ASQ and ASQE.
ASQE's new Organizational Membership levels feature the leading benefit of access to the IoE Benchmarking Tool, coordinated with member-exclusive events like the Ascend Virtual Workshop series and Excellence Roundtable that dive deep into key IoE research takeaways, and provide networking opportunities with quality thought leaders across industries.

Explore the connected programs and benefits of ASQE: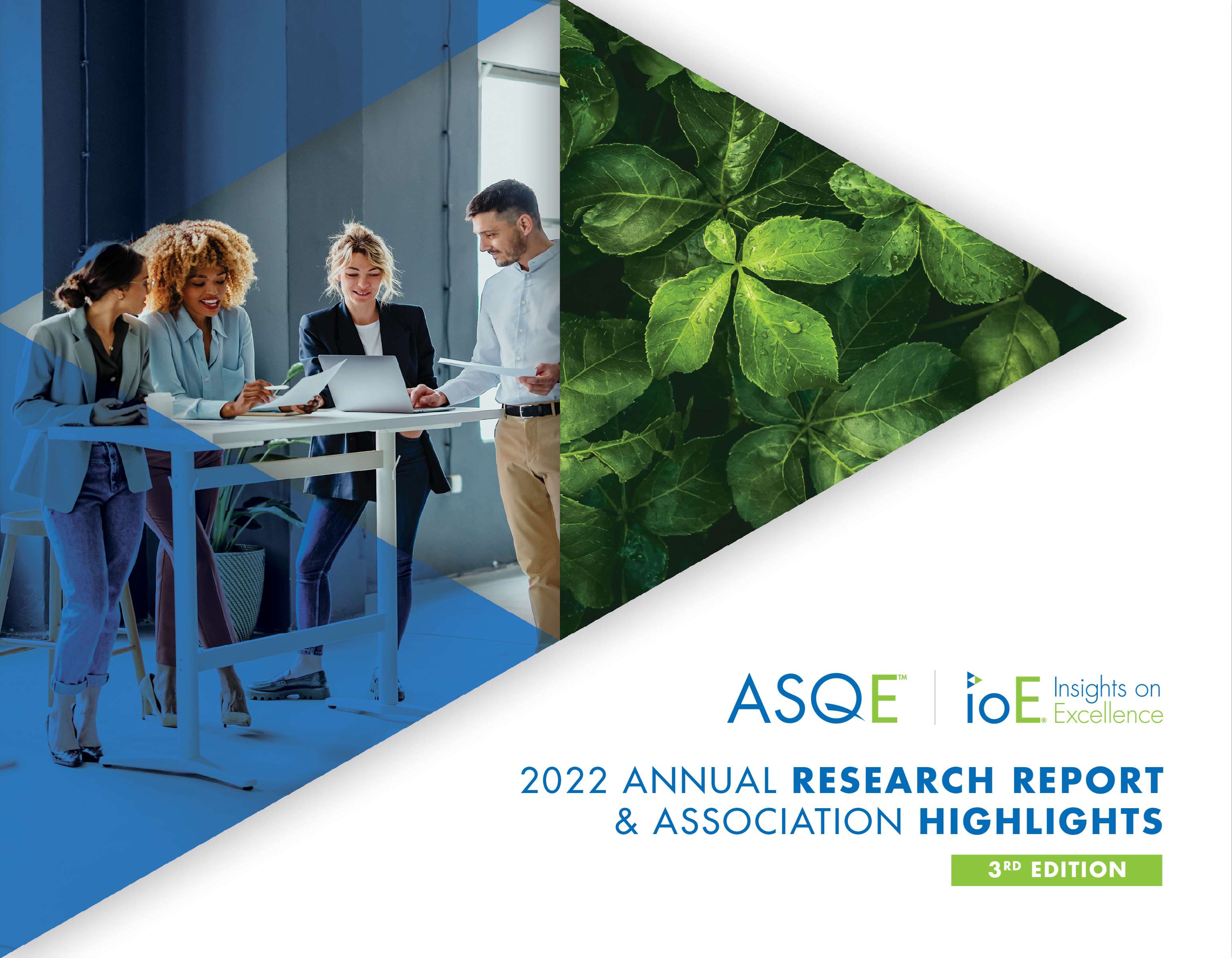 Each year, the ASQE Annual Report delivers a deeper look at the latest data in our research offerings, and focuses on two key Insights on Excellence benchmarking performance categories: Strategy and Environmental, Social and Governance (ESG) practices. The objective of this global research, now in its third edition, is to deliver actionable guidance to our member communities and organizations to pursue best practices and holistic operations.
This comprehensive report provides regional comparisons, and a clearer understanding of quality's role in driving Strategy and leveraging Environmental, Social and Governance (ESG) practices – the quality industry is poised to lead with inherent expertise and strengths to navigate the new definitions of organizational excellence in the 21st century.

As a trade association, ASQE is committed to delivering research, benefits, and opportunities that provide thought leadership and relevant trends to organizations. These efforts align with our mission to set the standard for quality-driven offerings and insights worldwide, inspiring the organizations we serve to achieve excellence. In addition to the research topics mentioned above, this report also provides association announcements on leadership and governance, an overview of ASQE accomplishments, as well as updates on benefits available to our ASQE Organizational Members such as the IoE Benchmarking Tool. We are also pleased to share a look forward to the future, as ASQE continues to evolve and create new offerings, and further develop our connection with ASQ.
"People take action after bad things happen. It takes a big event like a major recall or the pandemic to get companies aligned to have good prevention plans in place."
---
"As a non-profit organization dedicated to training, certifying and supporting the field of quality, we knew that who we partnered with to deliver Insights on Excellence was going to be essential to achieving our goals. Forbes Insights is a globally-recognized strategic research organization with the resources to bring our vision to life and provide comprehensive data so we can help organizations move forward on a path to excellence."
---