Quality 4.0
Quality Glossary Definition: Quality 4.0
Also called: Industry 4.0, digital transformation
Technological advances of the past decade have resulted in a new industrial revolution often referred to as the fourth industrial revolution or "Industry 4.0." It's a revolution driven by the exponential growth of disruptive technologies and the changes those technologies are bringing to the workplace, the workforce, and the markets organizations serve.
"Quality 4.0" is a term that references the future of quality and organizational excellence within the context of Industry 4.0. Quality professionals can play a vital role in leading their organizations to apply proven quality disciplines to new, digital, and disruptive technologies.
During the first industrial revolution (late 1700s and early 1800s), innovations in steam and water power made it possible for production facilities to scale up and expand potential production locations. Before then, manufacturing facilities had to be constructed along rivers so waterwheels could be used to generate power.
By the late 1800s, the discovery of electricity and development of infrastructure enabled engineers to build machinery for mass production. Iron ore production increased, enabling machines themselves to be mass produced. In the United States, the expansion of railways made it easier to obtain supplies and deliver finished goods.
The widespread availability of reliable power sparked a renaissance in computing. Toward the end of World War II—around the time when ASQ (then ASQC) was formed—digital computing started to emerge from its analog roots, first with mainframes, then client-server computing and PCs, followed by the advent of the internet and early e-commerce sites. The third industrial revolution came at the end of the 1960s with the invention of the programmable logic controller. This made it possible to automate processes, such as filling and reloading tanks, turning engines on and off, and controlling sequences of events based on the state of the process and changing environmental conditions.
Mobile devices and cloud computing led to a convergence of services, as multiple customer touch points (phone, fax, web, and tablets) gradually blended into the single view of the customer that most organizations now have. Just 20 years ago, organizations were barely able to link your phone calls to customer service, emails and web form queries. Now, it's taken for granted.
The first industrial revolution was characterized by steam-powered machines, and the second by electricity and assembly lines. Innovations in computing and industrial automation defined the third. The fourth industrial revolution brings us machine intelligence, pervasive computing, affordable storage and robust connectivity (Figure 1).
Figure 1: Industrial Advances and the Evolution of Quality 4.0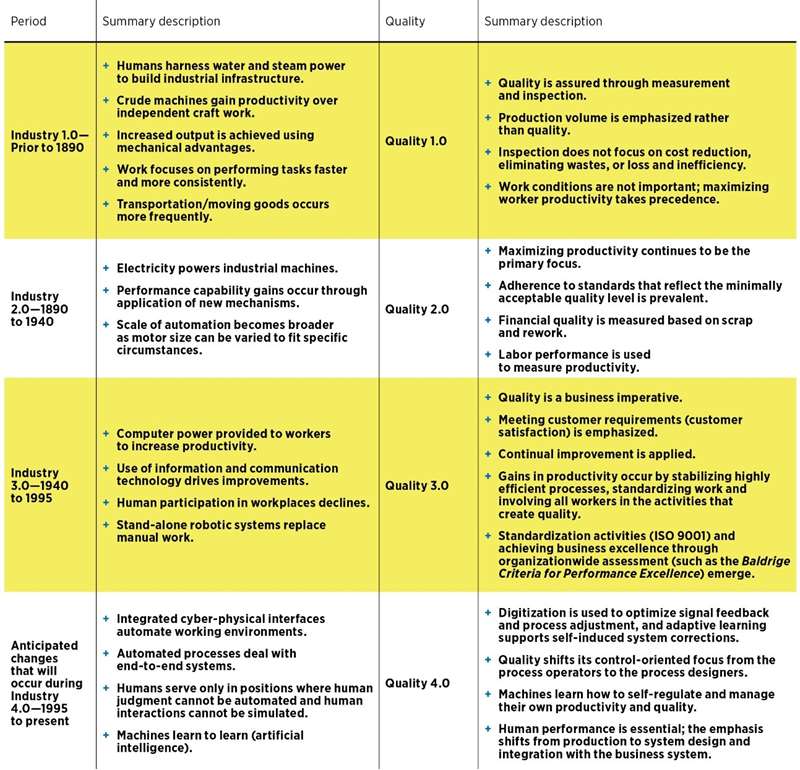 To achieve excellence through quality is to embrace the future of quality. It is paramount that quality professionals help their organizations make the vital connection between quality excellence and their ability to thrive in disruption, using quality principles to enable transformation and growth.
People
Quality 4.0 is more than technology. It's a new way for quality professionals to manage quality with the digital tools available today and understanding how to apply them and achieve excellence through quality. By speaking the digital language and making the case for quality in disruption, quality professionals can elevate their role from enforcers to navigators to successfully guide organizations through digital disruption and toward excellence.
Process
As more work is automated the need for flawless processes remains the same, if not more important. Existing processes will be broken and the need to educate the next generation of workers to implement new processes and strategies will be vital to not only the quality professional but also business operations. Quality is a vital link and should be included at the strategic level for sustainability during digital transformation.
Technology
Technology is growing 10 times faster than it used to, and organizations' platforms, such as processes, systems, data, operations and governance, must keep pace. Technology also is a great leveler because it gives any individual with the right idea and intent the capability that previously was available only to large organizations. Quality professionals must move from data analyst roles to data wrangler roles by engaging with new technologies, understanding these technologic advancements and the potential outputs they create, and determining how and when to use them.
Deploying an organization's digital strategy won't be without hiccups. There will be some common challenges that cut across all industries and digital maturity levels, and others that are specific to an organization. In addition to the timeless and well-known quality tools and principles, the Quality 4.0 tools below should be leveraged to alleviate these challenges when implementing and deploying systems to support digital transformation.
Figure 2: The Ecosystem of Quality 4.0 Tools

New technology should always be introduced with a clear articulation of the desired benefits it will deliver and, sometimes, how it will happen. Value propositions for Quality 4.0 initiatives fall into six categories, listed in order of significance:
Augment (or improve upon) human intelligence.
Increase the speed and quality of decision making.
Improve transparency, traceability, and auditability.
Anticipate changes, reveal biases, and adapt to new circumstances and knowledge.
Evolve relationships, organizational boundaries, and concept of trust to reveal opportunities for continuous improvement and new business models.
Learn how to learn by cultivating self awareness and other awareness as skills.
Quality professionals are perfectly positioned to propose and lead digital transformation initiatives because they have deep skills in:
In 2018, Boston Consulting Group (BCG) invited ASQ to partner in a study exploring Quality 4.0, focused primarily on the manufacturing sector in the U.S. and Germany. The study sought professionals' perceptions of skills needed to implement Quality 4.0, obstacles to implementing, and cases for the use of digital quality management.
The study responses revealed five key themes:
Only 16% of organizations surveyed have implemented Quality 4.0 initiatives, and 63% have not started planning (Figure 3).



Frontrunners have lower expectations for Quality 4.0 impact because of implementation challenges (Figure 4).



47% and 41% state that digital technology initiatives have the highest impact for manufacturing and R&D, respectively.
The number one challenge to implementing Quality 4.0 is the digital skills talent gap. For frontrunners in Quality 4.0 implementation, data-related barriers are also emphasized (Figure 5).



69% of organizations plan on worker upskilling, with data analytics identified as the largest expertise delta.
Start Fast, Design for Scale
In the journey towards implementing Quality 4.0 initiatives, the ASQ-BCG study recommends that organizations should start fast and design for scale (Figure 6):
Look at your pain points—where are you having issues in your processes and procedures?
Ideate opportunities around these pain points and then prioritize them—where do you think you're going to get the most value with some of these new technologies?
Define and implement on a small scale—at headquarters via dashboards, at a pilot plant, etc.
See if you get proof of concept and return of investment.
If yes, take your detailed roadmap and go to scale, implementing the initiative across the entire organization.
Figure 6: Study Recommendations for Implementing Quality 4.0 Initiatives

You can also search articles, case studies, and publications for Quality 4.0 resources.
Books
Digital Transformation
Connected, Intelligent, Automated: The Definitive Guide to Digital Transformation and Quality 4.0
NEW Smart Cities
Culture
Innovation
Lean Six Sigma In The Age Of Artificial Intelligence
Data Quality: Dimensions, Measurement, Strategy, Management, and Governance
Articles
Make the Connection (Quality Progress) Quality control is integral to optimizing supply chain efficiencies. Quality 4.0 takes quality control to another level, aligning quality management practices with Industry 4.0 technologies to optimize the bottom line of the entire supply chain.
Preparing for The Revolution (Quality Progress) In quality, as in any field affected by AI, education and training will be critical for adaptation. In the whole economy, there is a race between education and jobs lost to technology. Here's how to adapt to the fast-approaching workplace transformation.
Data Quality and Data Quality Dimensions (Software Quality Professional) This article summarizes the case for data quality, discusses the different data quality dimensions and their role in ensuring quality, and the central role data quality plays in ensuring quality and compliance in the digital age.
Expert Perspectives on the Future of The Quality Profession and its Practitioners (Journal for Quality and Participation) The focus groups and survey that were conducted by ASQ and IAQ invited participants to share their perspectives regarding quality practices and the professionals who lead their application.
Data Quality Management for Industry 4.0: A Survey (Software Quality Professional) This article surveys 51 papers to identify how select applications of Industry 4.0 technologies can be impacted by data quality. The authors identified relevant characteristics and frameworks that reduce the potential for bad or poor data.
Quality in Chatbots and Intelligent Conversational Agents (Software Quality Professional) This paper presents a review of quality attributes as they relate to the contemporary issue of chatbot development and implementation. A quality assessment method based on these attributes and the analytic hierarchy process is proposed and examined.
The Changing Role of Quality in the Future: Required Competencies for Quality Professionals to Succeed (Journal for Quality and Participation) A look at the results from 2016 research studies to gauge professional opinions on the future of quality.
Case Studies
Virtual Reality For Quality (PDF) Virtual reality applications help in connecting the processes, problems, and knowledge beyond geographies. Sunil Kaushik, freelance Six Sigma trainer and consultant, created a 360-degree virtual classroom and students then used their smartphones and Google Cardboard to view the virtual environment.
Videos
Webcasts
Adapted from "Let's Get Digital" (Quality Progress), "The Ascent of Quality 4.0" (Quality Progress), and "Ahead of the Curve" (Quality Progress). Quality 4.0 study by Boston Consulting Group (BCG), American Society for Quality (ASQ), and Deutsche Gesellschaft für Qualität (DGQ).