20 Years of Quality Milestones Mark United Arab Emirates' Journey to Excellence
by Sunil Thawani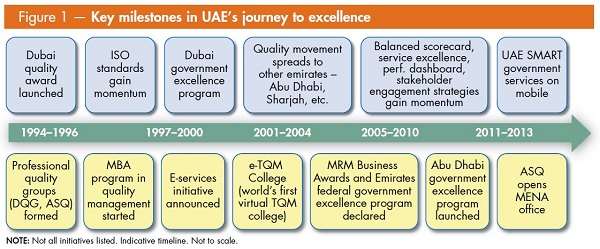 Oil and gas has always been a major contributor to the United Arab Emirates (UAE) economy. In the mid-1990s, visionary leaders of UAE started diversifying the economy to reduce reliance on oil and set up policies to encourage trade, travel, tourism, real estate, construction, services, and more.
Given the context that the UAE was gradually becoming a service- and knowledge-based economy, UAE's leaders realized the need for organizations to improve quality and customer service to become competitive. In this case study, you'll learn that in order to accomplish this, the leaders instituted a number of strategic and far-reaching macro-level quality and excellence initiatives for all sectors of the economy, namely the government departments and the public and private sectors.
Case Study At a Glance . . .
20 Years of Quality Milestones Mark United Arab Emirates' Journey to Excellence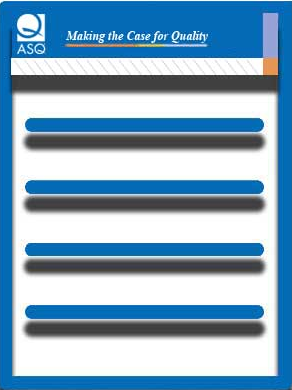 -To enhance competitiveness of organizations and the nation as a whole, the United Arab Emirates in the 1990s instituted a number of strategic quality and excellence initiatives to improve quality and customer service.
-The adoption of quality frameworks and standards has led to significant improvements in quality, productivity, customer experience, and improving UAE's competitive ranking in the world.
-Although challenges remain, there is optimism and passion for quality, and the journey toward excellence continues.
Download the entire case study (PDF) or continue reading below for highlights.
Find More Case Studies
Search Examples of Global Quality Success
The ASQ case study collection contains more than 1,700 examples of quality solutions to real-world problems. Find other global case studies to learn about how organizations around the world are using quality tools and approaches to improve processes, save money and drive revenue, and increase customer satisfaction.
UAE Case Study Highlights
About the United Arab Emirates
The UAE is composed of seven emirates, namely, Abu Dhabi, Ajman, Dubai, Fujairah, Ras Al Khaimah, Sharjah, and Umm Al Quwain. Abu Dhabi is the capital. The country's gross domestic product (at constant prices) reached about United Arab Emirates dirham (AED) $981 billion in 2011 (about USD $270 billion).
Key Milestones in UAE's Journey to Excellence
Listed below are some of the most significant quality and excellence initiatives launched in the UAE in the past 20 years. You can read about more initiatives by downloading the full case study, but even that list is by no means exhaustive; the intent is to provide individual insights into UAE's journey toward excellence.
Dubai Quality Award: Dubai's "Drive for Quality" began with a vision of His Highness Sheikh Mohammed Bin Rashid Al Maktoum, the ruler of Dubai, and the vice president and prime minister of UAE, with establishment of the Dubai Quality Award (DQA) in 1994. The DQA—intended initially only for private-sector organizations—was introduced to improve the business standards of those operating in Dubai, and thus boosting external and internal trade.
The DQA is awarded to companies that have demonstrated a consistent commitment to best practices in their respective fields, and to promote organizational excellence. Organizations from 11 sectors of the economy such as manufacturing, service, tourism, and construction can participate in the award program. As seen in Figure 2, there are three levels of recognition: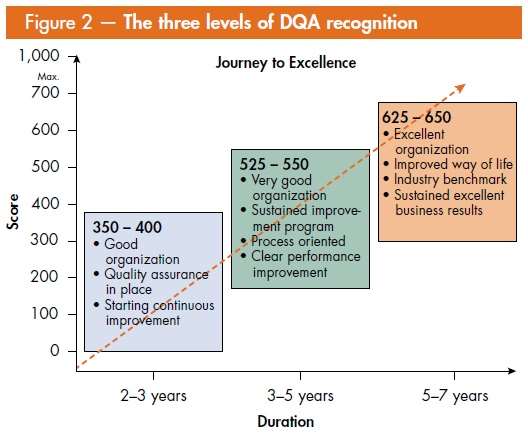 The DQA model was initially based on the Malcolm Baldrige National Quality Award framework and began to show closer alignment with the European Foundation for Quality Management (EFQM) model in 1999.
Since 1994, the DQA has played a role in the efforts of thousands of individuals and organizations seeking to build capacity and competence in the field of quality (see Table 1).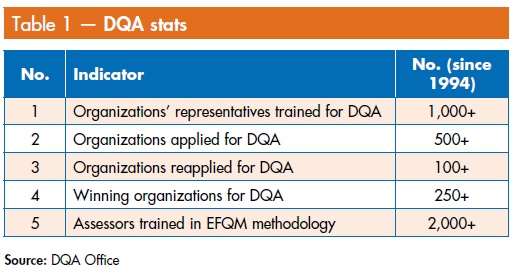 Dubai Quality Group (DQG): Established in 1994, DQG is a not-for-profit business organization to develop and promote quality and business excellence practices in UAE. The DQG has made positive contributions in raising the voice of quality and enhancing competencies.
ISO 9000: Around the same time, organizations started implementing international quality management systems standards, including ISO 9000. In 1995, 104 certifications were issued in UAE, while the figure had increased to more than 3,200 by December 2012, according to the 2012 ISO Survey Report. Implementing ISO standards has helped organizations build a foundation for institutionalizing the improvements made, while adoption of management systems has significantly increased the number of businesses offering ISO consulting, training, and certification services, and thereby the competencies of quality professionals.
Dubai Service Excellence Scheme (DSES): To promote excellence in customer service standards in the private sector, and to make the experience of shopping in Dubai a pleasurable one, DQA office launched the DSES in 2002. It is a membership-based program wherein member organizations, primarily retail businesses, must commit to customer service excellence standards and code of business ethics and comply. Core principles of DSES are:
Transparency of product pricing and policies on refund, replacement, etc.
Integrity: no fraud, counterfeit products
Reliability of services and responsiveness
Customer care
Competence of staff—product knowledge and behavior
Continual improvement
Compliance and commitment is monitored through a robust mystery-shopping program.
The UAE Journey Continues
The UAE is progressing toward realizing its UAE Vision 2021 to be among the best countries in the world by 2021. A few indicators are:
According to the World Economic Forum, UAE's ranking in the Global Competitive Index has improved from 37 (in 2007–2008) to 19 (in 2012–2013) out of 148 nations.
According to the World Happiness Report, released by the United Nations, UAE's ranking (in 2010–2012) is 14th out of 156 nations.
While there is no scientific evidence or credible research study to prove it, many quality professionals believe that quality and excellence initiatives launched by UAE leaders have made positive contributions in improving the competitiveness of the UAE and making it a happier place in which to live and prosper.
Though challenges remain, there is tremendous optimism and passion in the UAE about continually improving the quality, productivity, customer experience, and competitiveness of organizations and the UAE as a nation.
About the Author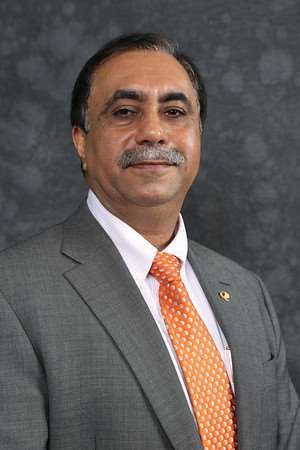 Sunil Thawani is an ASQ Fellow and member of the ASQ Global Advisory Committee, which advises the organization's board of directors on ASQ Global's plans and activities. He has also served as a member of the jury for the Dubai Quality Award.
Sunil, who lives in the UAE, has presented and published 50 papers, as well as authored the book, Business Excellence Awards – Strategies for Winning. He has traveled around the world on motorcycle (www.worldwideonwheels.com).
Related Resources